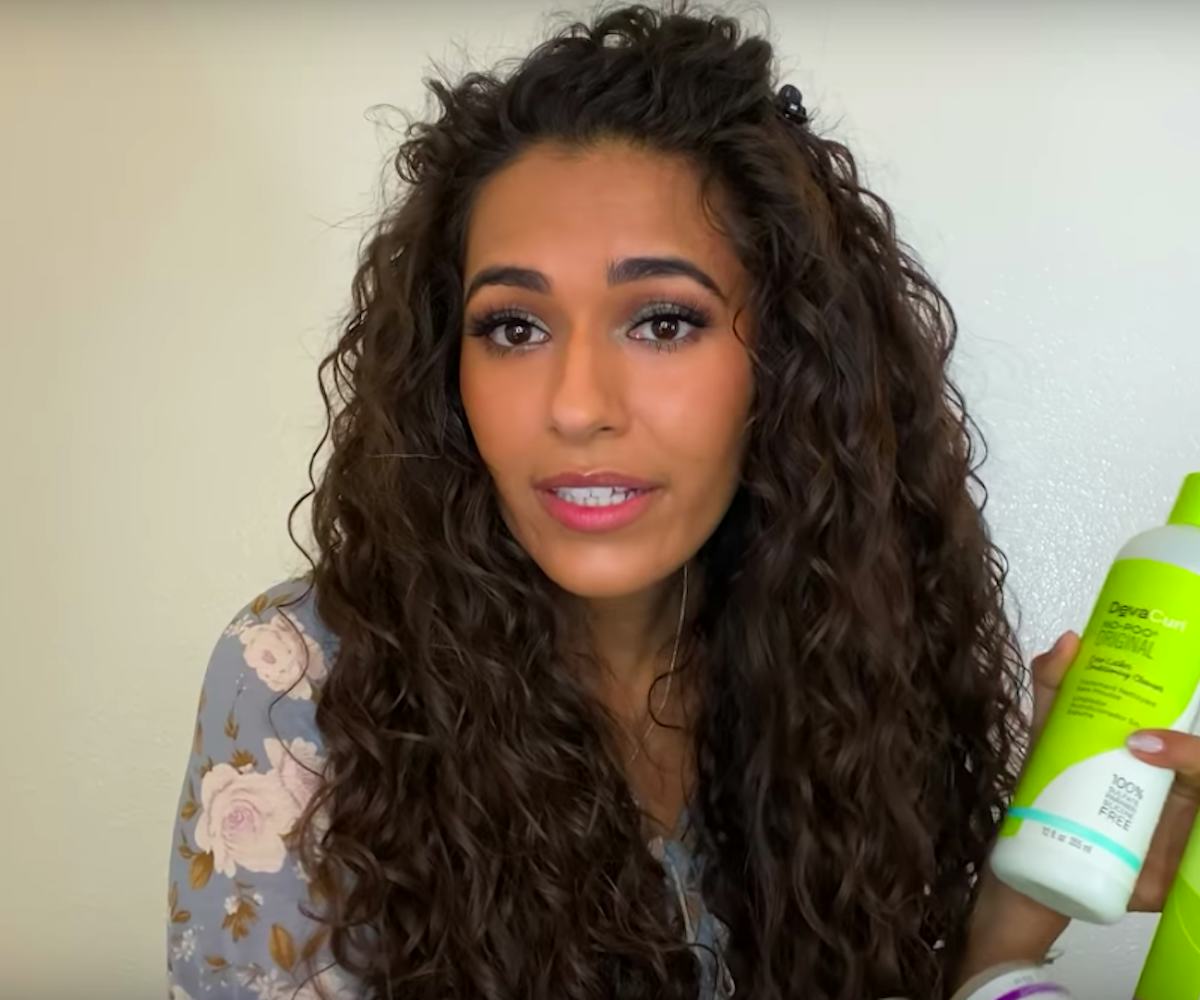 Screenshot from Ayesha Malik YouTube video
Influencers Allege That DevaCurl Products Ruined Their Hair
Consumers are coming forth with claims of hair damage, hair loss, and scalp irritation after using the brand's products
After years of using DevaCurl products, Ayesha Malik, a YouTuber known for sharing curly hair tutorial videos, has spoken out against the brand. In a video, Malik claims DevaCurl products damaged her hair and resulted in unwanted side effects. Although DevaCurl has since responded, offering assurance to customers, others on social media have since shared their negative experiences with the products.
On Jan. 31, Malik posted the video, "Why I Stopped Using DevaCurl." The 16-minute long clip details that after years of using DevaCurl items, and enjoying how her hair looked, she began to notice changes. "I thought it was one bad hair day, then two bad hair days, then three bad hair days, and it came to the point where I never saw a good hair day ever again," she said.
Malik alleges that when she used DevaCurl, she would have days where her scalp had felt like it was on fire and itchy. She believed that using more DevaCurl product would potentially help. "I didn't know what it was, so I used more DevaCurl, thinking it would fix it, not knowing the problem was DevaCurl all along," she said.
It was only during an appointment with noted curly hairstylist Shai Amiel that Malik was alerted to the possibility that her regimen of DevaCurl products could be causing the problem. After encouraging Malik to research DevaCurl on Think DIrty, an app that offers ingredient lists for cosmetic products, the curly hair influencer made the decision to quit using the brand's products.
Although she alleges that she discontinued her use of DevaCurl items months ago, she concludes the video with a look at her current hair state. "It looks like I took a brush and brushed out all my curls, but I didn't touch them," she says. "I've spent thousands of hours taking care of the health of my hair, only for it to be stripped away from me like that. And I don't know what else to do, except for literally shave my whole head."
Since the video was posted, others on Twitter have come forward to share their experience with using DevaCurl products. "My curls are barely anything anymore," one user wrote alongside a selfie. "Pls believe these products will do more harm than good to your hair," another person warned. Additional accounts from consumers even allege that the products have made their hair fall out. "I started off using DevaCurl when I first started my natural hair journey in 2018, and noticed so much of my hair began to fall out," shared one former customer. " I used their products for at least a year (maybe even more) and noticed the fall out, noticed the stunted growth, noticed that my hair always still felt dry and this explains EVERTHING IM MAD," shared another. On Facebook, a private support group named "Hair Damage & Loss From Devacurl — You're Not Alone Or Crazy," has amassed over 23,000 members.
In response to Malik's video, DevaCurl offered further information about the quality of its line, telling The Daily Dot, "We want everyone to have positive experiences with DevaCurl and we're really sorry to hear these concerns. We take them seriously and want to provide reassurance about the quality and safety of our products. Information about our commitment to quality and ingredients is available here."
DevaCurl later expanded on its comment in a response to Vice, writing, "Over two decades ago, DevaCurl was born from conversations with our consumers and from our salons and stylists about what they wanted and needed to embrace their curls. As a result, our community has grown to include millions of Devas around the world who use our products every day. All of our formulas are subject to rigorous and thorough testing to ensure our products meet strict internal quality assurance standards and regulatory requirements before they reach the market. We don't speculate on why some people are attributing the challenges with their curls to our products." The brand goes on to say that as part of its "ongoing commitment to product safety and satisfaction," it would be conducting further testing with a third party agency, as well as encouraging consumers to share their experiences with using the brand at customercare@devacurl.com. "We will go above and beyond to help anyone on their curl journey," the statement concluded.
Devacurl did not respond to NYLON for additional comment at the time of publishing.
Watch Malik's full video on her experience with using DevaCurl products, below.