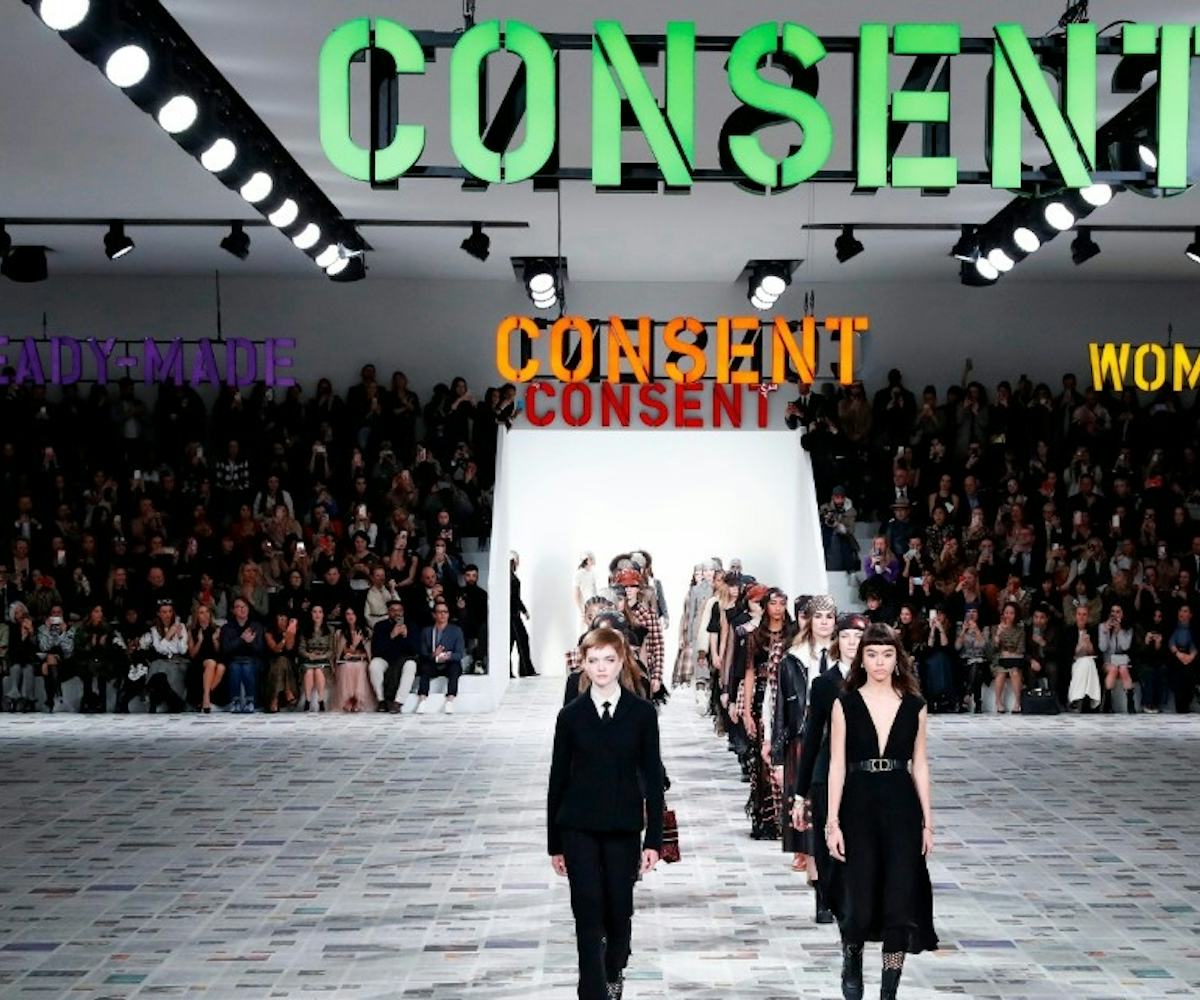 Photo by Estrop/Getty Images
Twitter Has A Lot Of Thoughts On Dior's Fall 2020 Runway Set
The venue featured bold, neon statements like "CONSENT" and "Patriarchy = Repression"
Paris Fashion Week is in full swing, and Dior's Fall 2020 collection debuted with another politically-charged runway show on Tuesday, teaming up with French feminist artist Claire Fontaine to create the set. The venue featured bold, neon statements like "CONSENT," "When Women Strike, The World Stops," "Women's Love Is Unpaid Labour," "Patriarchy = Repression," and "Patriarchy = CO2." Naturally, Twitter had many thoughts!
"The collaboration between Claire Fontaine and Maria Grazia Chiuri was born of a shared passion for the history of feminism and the necessity of highlighting key moments of women's emancipation," according to Dior's show notes, adding that the neon phrases were to "act as subtitles [to the collection]."
But its safe to say that not everyone was impressed by the Instagram-ready set. Writer Arabelle Sicardi posted photos of the neon signs to Twitter writing, "my eyeballs boutta roll out my head @ this dior show...choice," while fashion journalist Pam Boy retweeted, adding a gif of an unenthused Anna Wintour from an old 60 Minutes special. Editor of The Face, Trey Taylor, tweeted: "Nothing like the pulsing glow of a "CONSENT" neon at a Dior show to really chide its audience of few to zero straight men on how to behave." You get the drift.
Since joining Dior as creative director in 2016, Maria Grazia Chiuri has presented her collections with an "easy-to-digest" feminist ethos, including those $860 "We Should All Be Feminists" T-shirts — worn by everyone from Rihanna to Natalie Portman — from her debut collection for the French fashion house. While many have praised the recent show over its timeliness of her recent collection in the wake of Harvey Weinstein's recent rape conviction, the sentiments surely weren't unanimous.