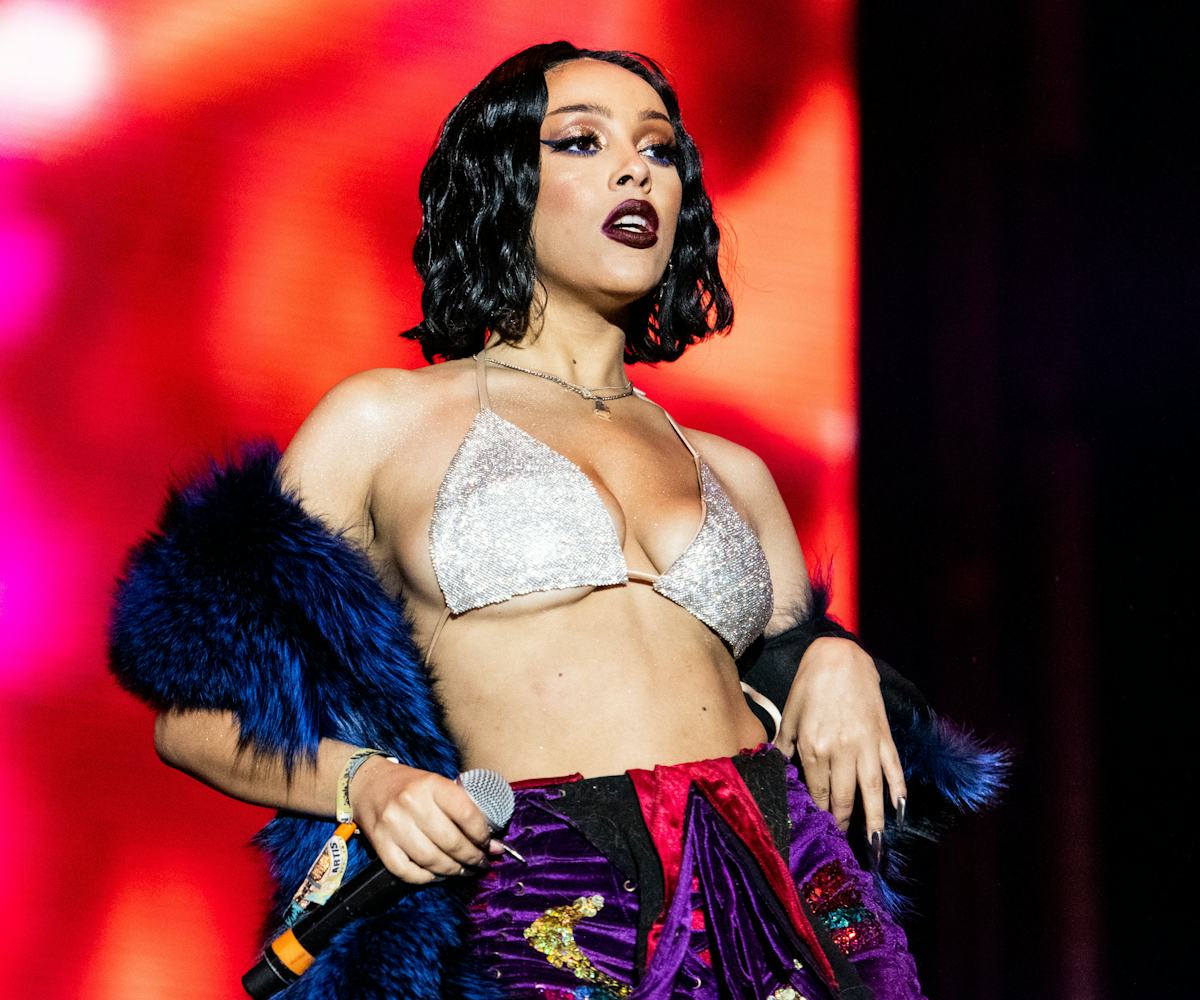 Photo by Timothy Norris/WireImage
Doja Cat Wore Her Natural Hair, And Twitter Can't Stop Hyping Her Up
It's not all of the time that the internet comes together to genuinely hype someone up, but that's exactly what happened over the weekend when "Say So" singer Doja Cat showed off her natural hair on Instagram Live. Typically covered under neon lace front wigs, in the new video, her hair was worn in a fringe pineapple updo, which she modeled while her boyfriend, musician Johnny Utah, boosted her up in the background. It was a sweet moment, and the wholesomeness only continued when clips and screenshots of the video started to make their rounds on Twitter.
Fans were showering Doja Cat — who went viral in 2018 for her weirdly good joke track "Mooo!" — in compliments, asking why she doesn't wear her natural hair out more often. Many were quick to point out her 4C texture, a more tightly coiled and coarse hair type that hardly gets representation in film or television, or even on social media. "Doja Cat wearing her natural 4C hair out gives me a little bit more confidence for me to do the same," one fan tweeted. "Doja Cat with 4C hair? I have to stan. Nice to see someone represented with the same hair texture as me," shared another.
While this isn't the first time the singer's natural hair has been out online, it is the first time in a long while that we've seen Doja Cat give her wigs a break. Hopefully, all of the love and praise will have the singer embracing her curls more in 2020.
See the video, and full natural hair look, below.