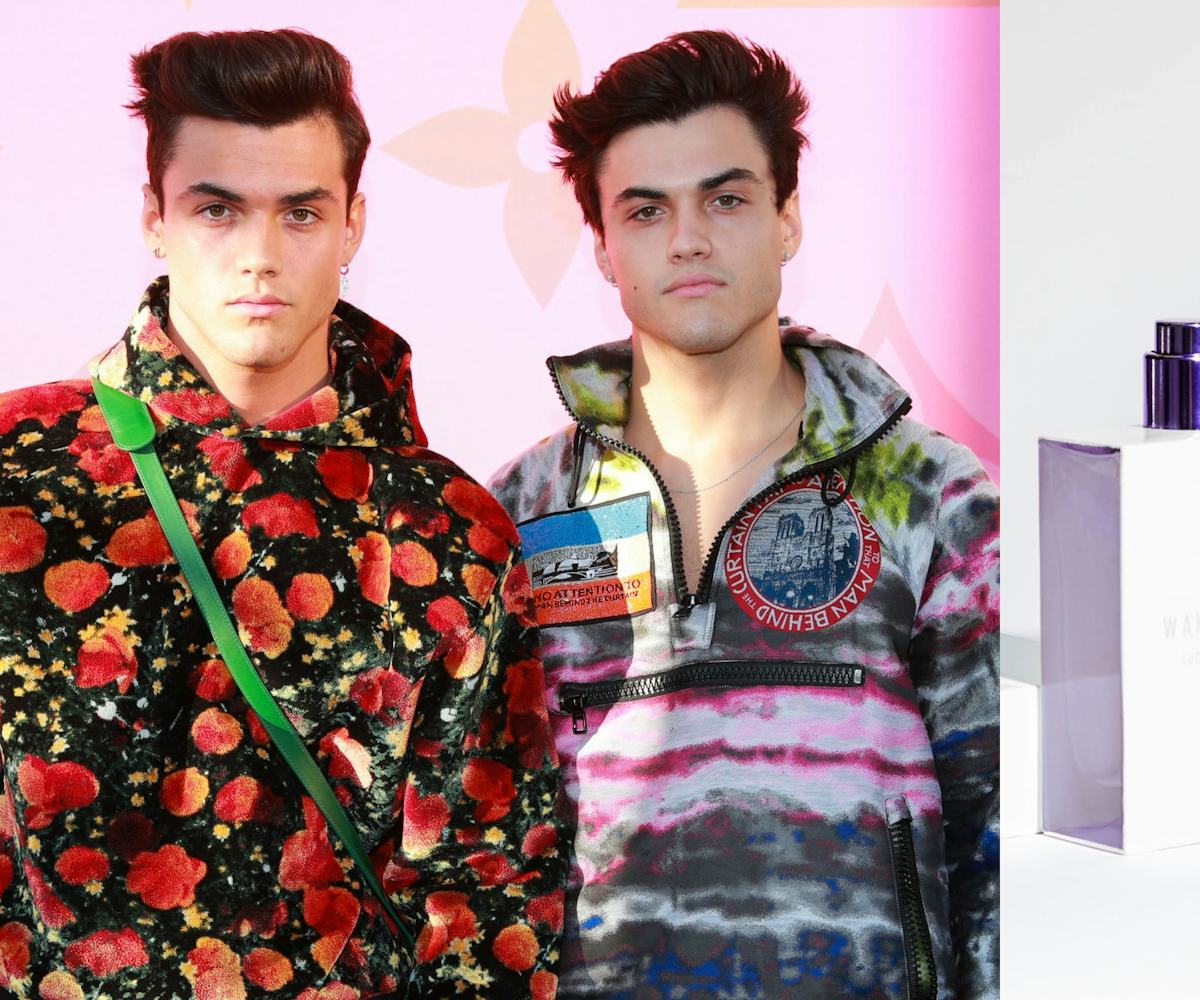 L; Photo by Rich Fury/Getty Images
The Dolan Twins Are The Latest YouTubers To Pivot To Fragrance
After releasing their own signature scents in 2019, the twins are leaning even further into the category
After announcing to their over 10 million YouTube subscribers that they'd no longer be posting weekly videos to their channel in October, Ethan and Grayson Dolan have devoted some of their newfound free time somewhere not-so-obvious: the beauty industry. While it's no secret that the two launched fragrance brand Wakeheart back in 2019 — featuring only two signature fragrances based on their personal scents — the Dolan twins are introducing the brand's first stand-alone fragrance collection, titled Enterlight.
Available Friday exclusively through the brand's website, the unisex collection consists of three fragrances: Sunlit Sensations, with notes of vanilla sea salt and sparkling pomelo; Lucid Locations, a blend of apricot blossoms, mandarin tea leaves, and jasmine petals; and Conscience Conversations, featuring notes of white lilies and sweet orange blossom. The brothers worked closely with a New York City-based lab to create a scent that would, according to a press release, "capture people, places and memorable moments," and essentially convey and inspire confidence and comfort in every wearer. Each bottle rings in at $49 — right on par with fellow YouTuber Tana Mongeau's fragrance, Tana by Tana, that launched earlier this week to mixed reviews.
"Part of the reason why we chose fragrance is because of the confidence it can generate for an individual," Ethan Dolan tells NYLON. "For us, it was proof of ourselves; every time we wore certain fragrances we felt like our greatest. So to be able to share that confidence with our viewers and the people we care about and respect so much was our main focus on creating this company."
While the Dolan twins didn't come up the ranks as beauty YouTubers, they're not strangers to that booming segment of the platform or the creators within it, having made numerous collaboration videos with the likes of James Charles and Jeffree Star, arguably two of the biggest beauty creators on YouTube. "Moving to LA, we really had no idea or interest in the beauty space," Grayson tells NYLON. "I do believe hanging around beauty influencers and people who have a really big voice in the beauty industry had us learning about a lot of new things, but it really was self-inspired to get into the category," he adds, noting that they'd been wearing (and gaining confidence from) fragrances from a young age.
In a video posted to their channel in October 2019 announcing their decision to scale back on weekly YouTube uploads for the first time in over five years, the twins attributed the change of schedule to the then-recent death of their father, and the toll weekly uploads inevitably took on their mental health. "Stepping back definitely let us open our eyes up a bit to see what we're actually really passionate about," says Ethan. "When we were doing the same thing every week, we were able to find joy in that, but we were missing out on a lot."
"I don't see fragrance as a new passion, but a passion we've always had," adds Grayson. "With this extra time we were able to create this brand that we really love. It's definitely a big part of what we want our futures to be, but we're not going to stop one thing to do another, it's just another passion of ours we're exploring."