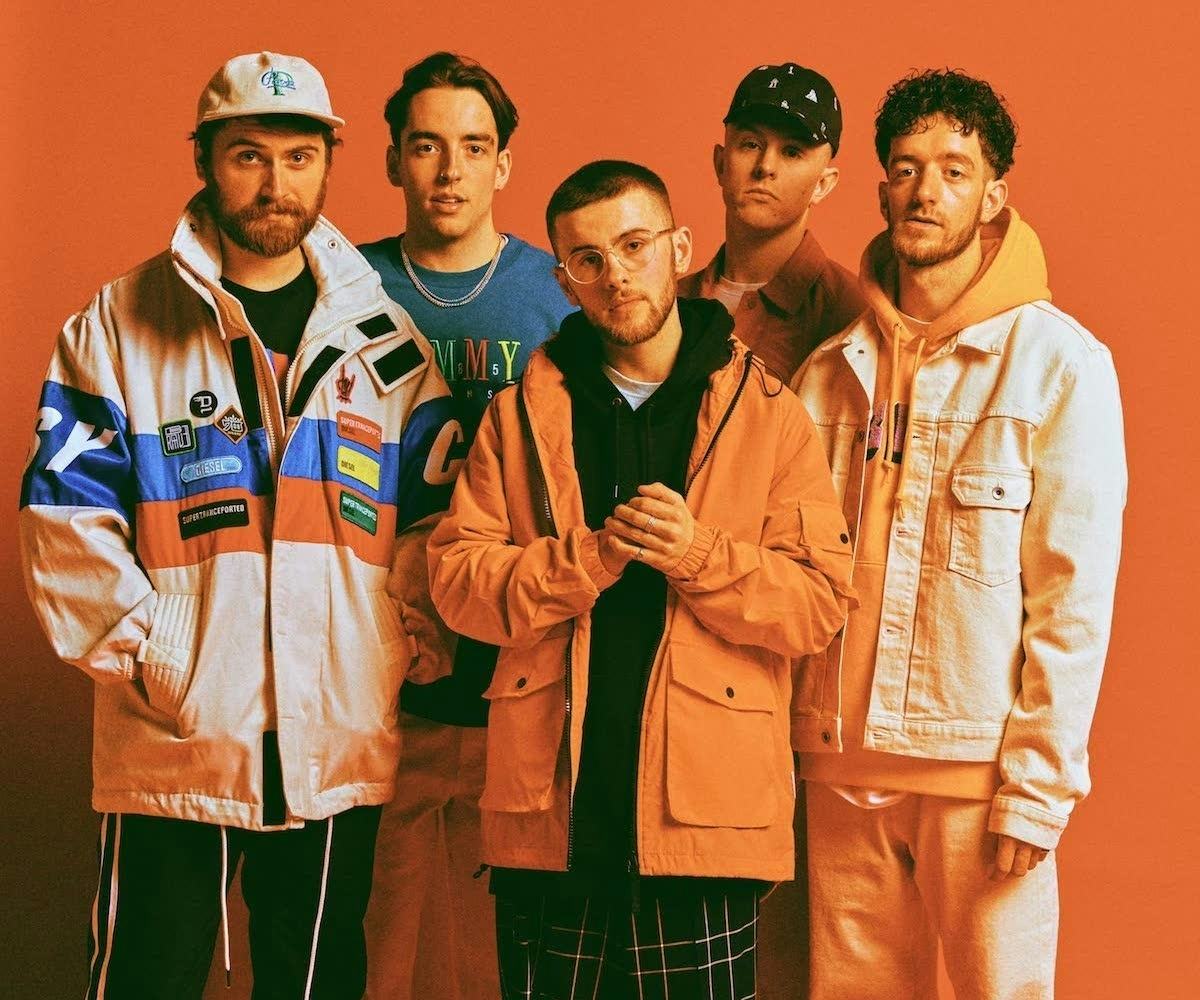 Easy Life On Their New EP—And Why They Cast Trump In A Music Video
The British band couldn't resist the irony
What do you get when you combine Beatle-mania, Donald Trump, and... a cult? Easy Life's cheeky music video for their aptly titled single "Nice Guy," the lighter of the pair of back-to-back releases dropped by the British pop-R&B group over the past few weeks. The video creates a fantasy world for the song to live in, where a sexless cult of women is driven mad by the smooth sounds of Easy Life, and completely undistracted by the appearance of the POTUS. "The idea was that they were a group who pride themselves of chastity; however, they can't help but get ravenous after hearing the music," frontman Murray told NYLON, adding that it was a "very self-indulgent fantasy, but one which I think made a lots of sense at the time." The band teamed up with frequent collaborator, director Greg Barth, to create the frenzied visuals for their single.
But don't let an aversion to Trump content cause you to sleep on the band. The band's second video, "Sangria" ft. Arlo Parks, is a brooding, complicated love song made sweet with Parks' delicate vocals and a minimalist video treatment—and for Americans burnt out on politics, a great starting point to offer Easy Life a fair first assessment (and find yourself a new favorite band in the process).
And they're just getting started; last Thursday, Easy Life announced their Junk Food EP is set for a January 17 release, just a few weeks before the band plays its first-ever U.S. tour. Below, we caught up with Murray about all things Easy Life — from Trump, to touring, and everything in between.
Tell me a little more about the inspiration behind "Nice Guys."
We wrote the song out in LA and sonically it leans on a lot of the archetypal sounds of that area geographically. Contextually, it's a song about getting fucked up and trying your best to continue to behave yourself in a world that is constantly trying to corrupt and undermine your best intentions.
Why did you choose to include a cameo from a Donald Trump lookalike?
Donald Trump has the unique ability to make anything funny. We needed a mystery guest for our show and he was the obvious choice. Also the irony of Donald Trump singing about being a 'Nice Guy' was also too perfect to miss... We found a lookalike who was such a legend and a pleasure to work with. We had an amazing prosthetics team on site as well and they helped make him look even more miserable and bitter.
You have a pretty well-developed aesthetic — is that a group effort, or does one of you take the stylish reigns?
Aesthetic is important to us, as I think it should be. For each project and mixtape we try and build a whole aesthetic universe around it in order for the music to make sense visually. Making artwork and videos is as much fun as writing the music. We will always be like this.
Easy Life formed quite recently. When did you decide to start making music together?
We've always made music in various forms but the Easy Life project was the first time we had all got together in this way. It was really organic, we just started jamming and before you know it we were writing and playing together a lot lore frequently. I guess these things just kind of happen, there isn't really an interesting story or sub plot I'm afraid.
What's your writing process like?
It's different for every song and moment. I'm forever writing lyrics and ideas down on my phone and it seems I'll be cursed to do this forever, I really can't help myself. I write all the time, it's like therapy, any writer will tell you that I'm sure.
What artists do you have on heavy rotation?
Spotify says that currently it is Solomon Burke, Dexter Gordan, and Snoh Aalegra.
You've already played music festivals in the United States, but your first official tour over here is quickly approaching — how do you feel?
We can't wait. The states is an amazing place to explore and we are all really stoked to be playing shows out there. Counting down the days. [Next,] we are putting a mixtape out at the start of next year called Junk Food. It's a good vibe. After that, it's time for the album. I finally feel able enough to actually write it so will probably start that pretty soon; let's wait and see.