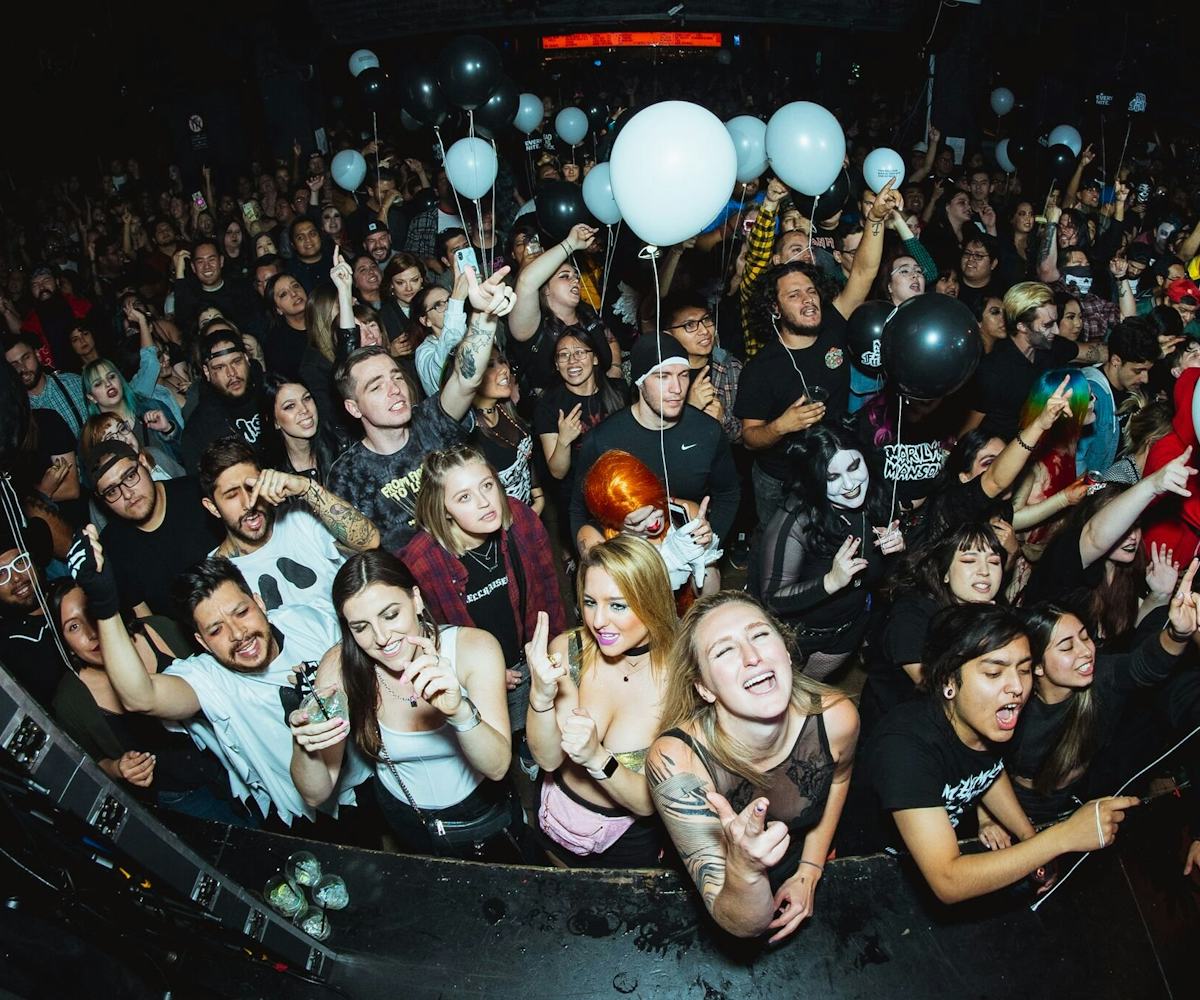 Photo: Jasmine Denisse
Catching Up With The Emo Nite LA Crew After Five Years In Business
The LA-based trio has built both a growing brand and a community for likeminded music fans who revel in being sad online — and off
For millennial and Gen-Z consumers, nostalgia is big business. Just look at the runway trends, retail collaborations, television reboots, and music releases that have made headlines over the last few years — think Jennifer Lopez modeling a version of her 2000 Grammys dress on the Versace Spring 2020 runway, the reissue of the Motorola Razr flip phone, or the recent pervasiveness of "The Matrix" as designer inspiration. A fondness for the aesthetic of the aughts is especially popular right now, and Instagram is teeming with accounts that celebrate Y2K style. E-boy and e-girl fashion were among the most Googled topics of 2019, both of which are a sartorial evolution of another top 2019 search term: emo.
Fans of emo and pop punk — which both had an early millennium heyday — are enjoying a resurgence of the nostalgic genre of their youth nearly two decades later. Marquee acts are either reuniting or putting out new music, most notably My Chemical Romance, who announced a limited run of gigs back in October and played a sold-out comeback show in Los Angeles just before Christmas. The Used, Taking Back Sunday, Dashboard Confessional, and Motion City Soundtrack are heading out on the road in 2020; Hayley Williams of Paramore fame is back in the spotlight, too, after kicking off her solo career with a new track and accompanying video earlier this month.
But it's not just the bands who are keeping the genre alive. Over the past five years, devotees of this particular brand of rock could count on Emo Nite LA to satiate their need for an emo sing (or scream)-along. The brainchild of Babs Szabo, T.J. Petracca, and Morgan Freed — who share an appreciation for the genre as well as a knack for both throwing and marketing a party — Emo Nite has grown from a small group hang in Silverlake to a nationwide tour, complete with regular surprise guests and seasonal, on-trend merch drops, the next of which lands on February 7. The trio, who are adamant about the fact that they're neither a band nor DJs, will even be bringing the Emo Nite experience to Coachella for the first time in April, with Saturday sets both weekends to cap off a cross-country run of dozens of shows.
Emo kids past and present not only find community at these live events, but also on the internet — particularly through memes, the virality of which have helped skyrocket Emo Nite to over 148K Instagram followers, and helped the brand to expand their reach to fans the world over, including celebrities like Phoebe Bridgers, Post Malone, and the late Lil Peep. Just before the new year, NYLON caught up with the Emo Nite LA crew over the phone about their major five-year milestone, putting a positive spin on the word "emo," the evolution of the genre, how perception of it has changed post-#MeToo, and their secrets to success in building a brand and a haven for likeminded music fans who revel in being sad online — and off.
Five years is a huge milestone for any brand. What would you estimate are some of your keys to longevity and success?
T.J. Petracca: When we started Emo Nite, it was never with the intention of creating a company or being what it is now, five years down the line. I think everything that we do for this event, we do it with love and with passion and with care, because it's something that we care about a lot. Sometimes we put that above making money. Our goal was never to make money on this thing. We're very fortunate because it's grown into a successful business, but I think if we had approached this thing from the beginning with the intention to make money, people would see through a lack of authenticity. So, I would say, just making sure that you're authentic and doing things that you care about and that you actually love, otherwise, what's the point?
Are there certain songs that always hit with the crowd, no matter what market you are in?
Petracca: We can literally play "I Write Sins Not Tragedies" [by Panic! At The Disco] for four hours straight. There's "Mr. Brightside" by The Killers which is always a really big hit, even though it's not technically in the [emo] realm, but it doesn't really even matter anymore. It's the emotion that went into making these songs that is what qualifies anything to be considered emo.
Morgan Freed: "Black Parade" [by My Chemical Romance] is the "Bohemian Rhapsody" of our generation — it's better than "Bohemian Rhapsody." We play "Sugar, We're Going Down" by Fall Out Boy as the first song at every single Emo Nite. It's kind of our national anthem.
"Black Parade" is the "Bohemian Rhapsody" of our generation — it's better than "Bohemian Rhapsody."
How have you seen the genre evolve during your time putting on Emo Nite? I know Lil Peep once deejayed.
Babs Szabo: Through doing Emo Nite for five years, we've seen a lot of different variations of what emo can become. Pretty early on, we had Captain Cuts start performing during the last hour, and they do EDM mashups of emo and hip-hop songs.
I think that was the first time I had ever heard of emo being used in that genre, and, I'm obsessed with it. I always am so excited when they perform. Of course, there's the whole SoundCloud emo rapper world, which has also been really interesting to watch. We went on tour with Lil Aaron and 3OH!3 last year, which was kind of a cool way to combine what we do with a traditional live show, in that there is not a single instrument on the tour.
We threw the event to look like a house party, which was really cool and combined all the different ways in which emo can be heard in a live setting. But then, also we've had a lot of the original emo bands and artists come and perform and deejay, and that's been really cool to see as well. Dashboard Confessional played an acoustic set, for instance. It really takes you back to when you were 16 and saw them live for the first time.
Are artists generally down to be a guest at Emo Nite or have you found that they are hesitant to lean too much on nostalgia when they're trying to move forward professionally?
Petracca: I think we ourselves are hesitant to lean on nostalgia with our event. I think there's a lot of people doing emo nights where they lean into making it a corny thing where you dress up with swoopy hair and eyeliner and almost try to relive something in your past. But, we have really tried to make Emo Nite something very current and a night that you want to go out to in 2020.
You can see that in the fashion of Emo Nite: If you look at pictures from 2014 when we first started the event, people were digging out their old band t-shirts. But now, this new sense of style has evolved in how people dress to go to the events, because they're dressing not to relive something in their past, but to go out now and see their friends now at an event that they want to be at in 2020.
Freed: It takes a little bit of explaining or just seeing Emo Nite firsthand sometimes for a lot of these artists to understand that we're not trying to pigeonhole them as sort of a "nostalgia" act. But once people get involved with it, they understand it a little more clearly. They leave with an understanding of what we're trying to do with the culture. There's kids in their 20s who definitely didn't live through the mid-2000s that come to our parties and have a good time. It's not a nostalgia thing for them, because they weren't there [the first time].
The genre has taken some hits in the #MeToo era — Jesse Lacey from Brand New comes to mind first. Have you had to navigate this at all with either your event or your brand, and if so, how?
Petracca: We don't play Brand New anymore. We have to be aware of that kind of stuff. We tell most of the people who deejay our events to be aware of that stuff; it can be very triggering for somebody to hear a song like "Me vs. Maradona vs. Elvis" and we try to avoid that at our events. That's all we can really do.
There's a lot of other music in this genre that is fairly safe to play. We do still play "Misery Business" [by Paramore]. I saw Hayley do it on their last tour, but she prefaced it by being like, this is the last tour I'm going to play this song, which is understandable. I think it's just something that happens over time, as cultural norms shift and change. You even see it with the launch of Disney+ — how they have to edit old movies or update the "Pirates of the Caribbean" ride to make it more appropriate for the time. I think as curators, we just have to be aware of it and do the best we can.
Who's your white whale that you would you love to perform at Emo Nite?
Szabo: That's a difficult question because we've had so many artists that we would have never in our wildest dreams thought that would ever come to an event when we started. [In 2019] we got to do a show in New Orleans with From First to Last — their first show back was at Emo Nite. That was the craziest feeling of all time. I'm not sure I have anything that would top that to be honest.
Petracca: Obviously, My Chemical Romance would be amazing.
Szabo: I always wish I could erase my memory and attend just as an attendee and just be surprised by what's happening. I did get to kind of experience that this year because Young Thug showed up at emo night and I had no idea. I didn't check my phone, so I was like in the back with my friends and then Morgan comes out and he's like, "Anyway, [here is] Machine Gun Kelly and Young Thug," and it was probably the only time in the whole like five years of doing this I was like, "What? He's here? That's crazy."
Freed: It's also cool to when we reach outside of the genre, we see how many people that like this music actually has affected — like rappers and pop stars and shit like that, when they come and show up. We had Phoebe Bridgers, which is awesome. It's one of the things that everybody was like, this is so f*cking cool that she's into this. I like it when things like that happen.
Petracca: One of my favorite things that is sticking out for me when I think back: Post Malone dropped by, this was right when "Congratulations" had just broken through the top 10 on Billboard. He was kind of out celebrating and we didn't know if he was going to come. We had been DM-ing with him on Twitter and then he finally rolled up in his Uber black and we got him inside. He did a DJ set of all of his favorite emo songs and then at the end he played his own song. The place absolutely just lost their mind. I've never seen the crowd bouncing the way it was bouncing that night, that moment.