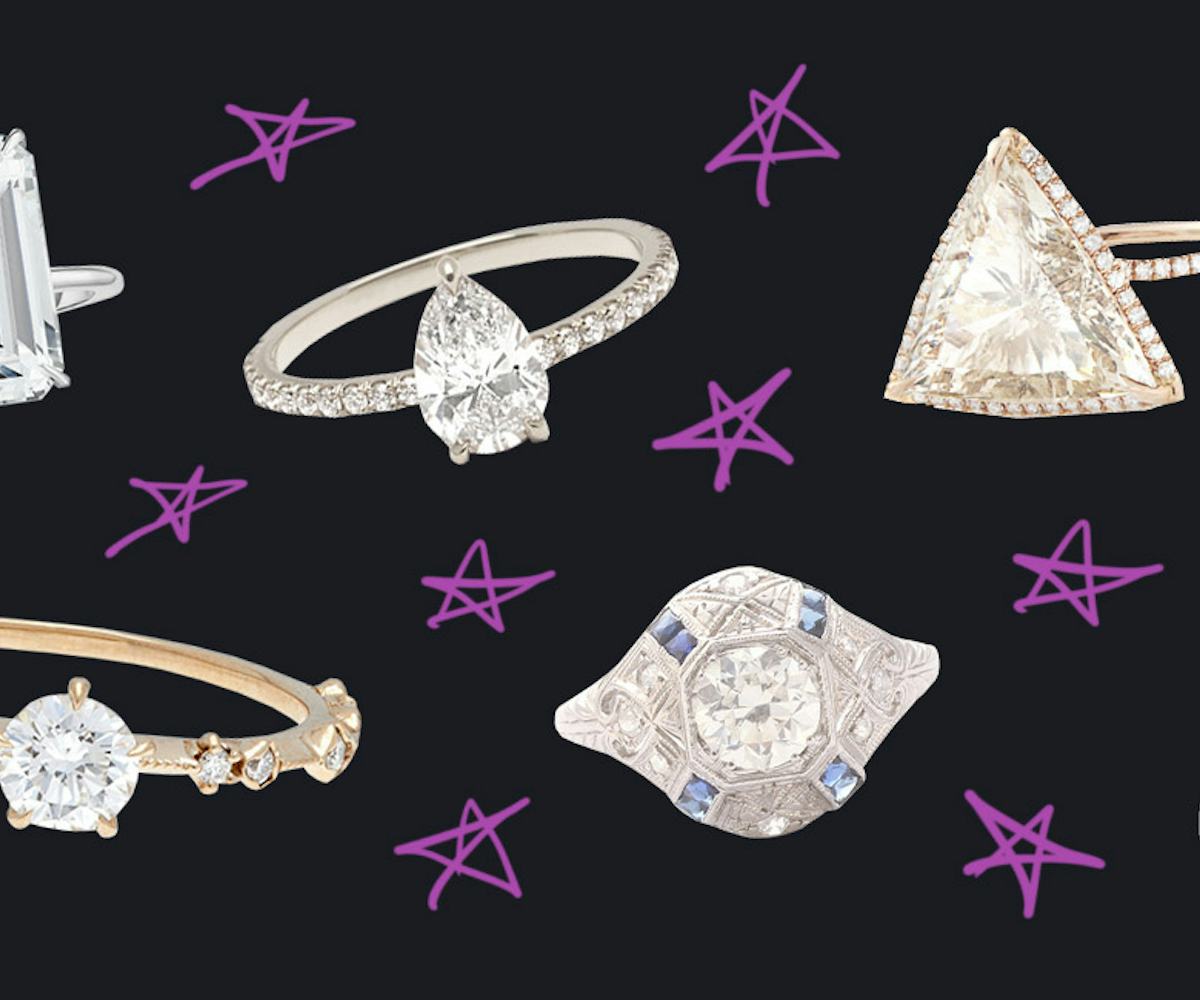 What's Your Dream Engagement Ring Based On Your Zodiac Sign?
Stars, like diamonds, are forever
If you're the type of person who carefully studies the compatibility of zodiac signs when entering a relationship, you know that the stars rarely lead us astray. (Maybe occasionally they do, but we blame it on the Mercury Retrograde.) Having often turned to our astrological charts to understand relationship successes and failures or explain a seemingly serendipitous meeting as being "in the stars," we wouldn't hesitate in enlisting astrology when finding a dream engagement ring.
Find out what the stars predict will be the bauble that you will actually want to wear, based on your zodiac sign, below.
Aries
One of my favorite engagement rings ever is that of entrepreneur and DJ Hannah Bronfman. And while Bronfman's a Scorpio, her octagonal halo by Monique Pean can easily qualify as an Aries ring. A fire sign, an Aries isn't afraid to rebel against traditions and would easily pick a colored diamond or even a non-diamond stone in an unorthodox shape.
Monique Pean, Champagne diamond ring with white diamond pave.
Taurus
A Taurus is the ultimate boss of the zodiac and knows what they want exactly how they want it—and what they want is nothing short of the highest quality and craftsmanship. Their no-BS attitude demands a ring that's stunning in its simplicity, with no added details. And while that may read as a ring in simple shape like an emerald cut, one would be remiss not to consider the importance of carat size or clarity of the diamond when it comes to these lovers of all things beautiful.
Marisa Perry by Douglas Elliott, six carat emerald cut ring in platinum setting.
Gemini
With their many sides, a Gemini needs a ring that's equally versatile, preventing this Mercury sign from ever getting bored. It looks like New York designer Anna Sheffield had these dual personality-possessing air signs in mind when she created "suites," made up of engagement rings paired with top and bottom nesting and stacking bands. With a mix of stone cuts, diamond types (her black and gray diamond selection is beautiful), and setting metals, a Gemini can play with their ring look endlessly should budget allow.
Anna Sheffield, Hazeline Ceremonial Suite No. 01.
Cancer
Those born under the sign of Cancer are exceptionally romantic and traditional. They also have impeccable, very refined taste. Avid watchers of all rom-coms involving weddings, their sensitive hearts would flutter at the thought of a ring in a blue box from an institution as iconic as Tiffany's. A timeless and elegant cut like a solitaire is best suited for these moon-ruled romantics. Alrighty.
Tiffany, True engagement ring.
Leo
Statement-making and attention-seeking, a Leo needs a ring that's just as loud as their personality. The more diamonds, the better, is the motto for these fire beings. (I would want to count the number of Leos who will have their eyes on this all-diamond number come next month.) Can't afford their taste for as much as sparkle as possible? Opt for a different gem (like an emerald or sapphire) but in a bigger size.
De Beers, Aura double halo solitaire ring.
Virgo
This spring, I went with one of my best friends, who is a Virgo, to select her engagement ring. She wanted an oval with a halo (but a very tiny halo!), a band that was thin (but rose gold!!), and a modern setting (but possibly updated with diamonds from earrings from her grandfather!!!). You should take two things from this: (1) Virgos are control freaks (but in the nicest way possible!) who want to pick for themselves the ring they will have to wear every day, and (2) it's all in the details for these Earth signs; an unexpected touch, like a twisted band or a mixed metal setting, will not go unnoticed.
David Yurman, Lanai full pave oval engagement ring.
Libra
A literal scale, Libras are the most balanced of zodiac signs. They want a stylish ring that will also be timeless; a simple one but one that's not boring or too traditional. That may sound complicated but it's not—a ring with three proportionate stones, with an emerald cut diamond that's equally elegant and understated at its center, will be suitable to these juxtaposition-loving signs.
Trumpet and Horn, Windsor three-stone ring.
Scorpio
Lady Gaga blinded the world when she debuted her massive, heart-shaped engagement ring from her now-ex Taylor Kinney. While Gaga is an Aries Sun, she is a true Scorpio Moon, which produces people that are anything but subtle. (Her current pink diamond engagement ring from Christian Carino is just as extravagant.) A big rock, an unexpected cut, an extravagant setting—these are the ways to the hearts of these wild water signs, who are always looking to shock and steal the spotlight.
Cartier, 1985 heart-shaped diamond ring.
Sagittarius
A Sagittarius loves a good story. The restless explorers of the zodiac, they roam the world in search of new adventures, experiences, and people. As such, they would love a vintage ring with a fascinating story (one potentially involving a mystery) attached to it, modeled after one from a prominent (better yet, scandalous for its time) figure from the past, or sourced from a place far away that will remind them of roads yet untraveled.
Erica Weiner, Art Deco diamond bombé ring with French-cut sapphires.
Capricorn
Capricious are efficient communicators of the zodiac who know exactly what they want and have zero tolerance for time idly spent. These Saturn-ruled signs will want to create a custom ring for themselves—yes, because they don't think anyone else knows them as well as they do but also because they are notoriously pragmatic and will see the time someone spent pondering their taste a waste (it's common sense, so what if that hurts their partner's feelings?). So, instead of a ring, they would prefer a jeweler that will create the exact ring that they want. Think: Clear Cut that creates and sells custom rings through Instagram DMs!
Aquarius
Sometimes altruistic to a fault, those born under the Aquarius sign do not tolerate injustice. When it comes to their dream ring, they will foremost be concerned about the ethical practices involving the diamond source, which is why so many opt for non-diamond rings (another reason for this is that they love to be original and different from the rest). A ring that will satisfy their noble nature will come from an independent retailer or jeweler committed to using ethically and responsibly sourced gems or recycled materials. Bonus if the ring has a quirky design.
Catbird, New Moon diamond solitaire ring.
Pisces
Pisces are devoted creatures of the water. Artsy, extremely sensitive, and romantic, they need a ring they can get lost in with their many, many thoughts. A sapphire would remind them of the ocean water that is as deep and turbulent as the many, many feelings they feel all the time, while a tear drop cut will spur a memory of the beautifully melancholic first day of fall when they wallowed while watching the rain pouring outside the window and waving summer goodbye.
Vrai & Oro, pear pave ring.