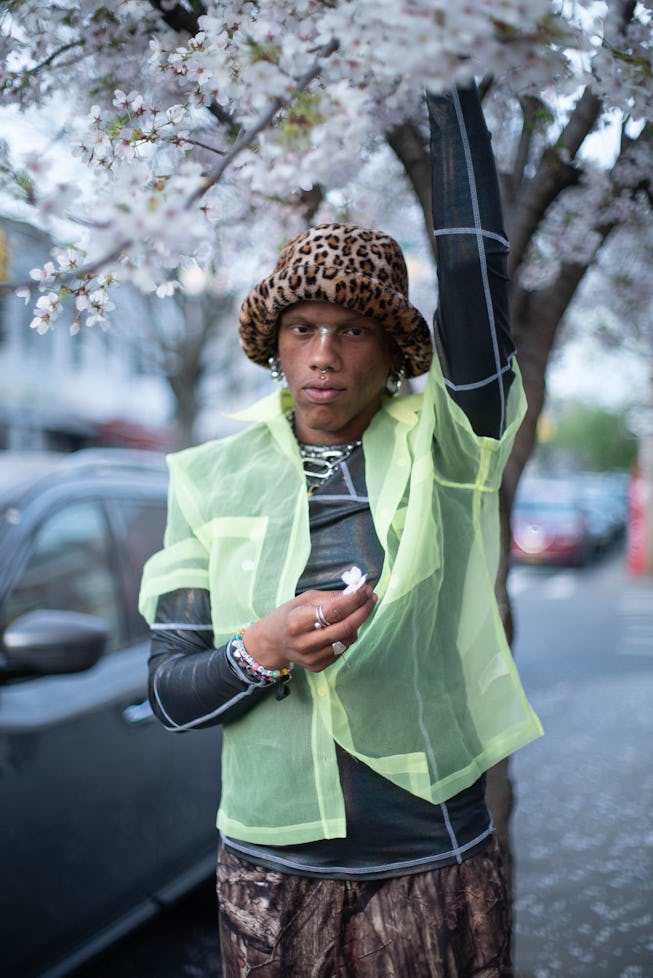 Courtesy of the artist
:3LON's "Yesterday" Is A Thrilling Jungle Escapade
NYLON premieres the Baltimore singer's transcendent new single.
There are some dance songs that make you feel emotional, and others that make you feel transcendent. :3LON's "Yesterday" is squarely the latter.
The New York-via-Baltimore singer, songwriter, and producer (pronounced as "Elon") labels his DIY sound as electronic soundscapes that "examine the state of humanity from a futuristic lens with nods to classic anime and fantasy RPG," per his Bandcamp bio, which offers a clue into the emotional jolt his music is going for. Anime theme songs and fantasy soundtracks are notoriously some of the most devastating music out there, and while :3LON's "Yesterday" — which premieres exclusively on NYLON below — isn't exactly that, it does still feel like blasting through an emotional barrier.
"Yesterday" takes what you'd expect from a classic jungle tune and pounds at it with a hammer, tenderizing its edges into something softer. His striking voice — rich, melodic, almost fantastical in itself — is that mallet, contemplating about wanting to capture a moment from the past forever. "Can we be, how were, yesterday?" he pleads over heart-racing beats and lush, digital instrumentation. Of course, the knowledge that time only moves in one direction, forward, is what dials the ache of the song up to 100.
In a press statement, :3LON describes the song as anguish, "an ode to the moments that I'll never have again," he writes. In the music video, which he co-directed with his friend Antonio Hernandez (Electric Llama), :3LON brings that to life with imagery of him dancing through a forest, interrupted by glitches of data moshing.
"We shot footage in the woods that surrounded my old college. I would drive to school and often imagine myself running through the woods as we drove into campus. When time came to shoot the music video, I already had my mind made up about location. I imagined myself as a space traveler crash landing on a foreign planet. I hand-wove a vest out of rope and parachord and that quickly became the main look for the video. I wanted to convey the sense of longing to get back to a place of familiarity," :3LON says of the video.
The song is the lead single off :3LON's forthcoming EDEN EP, out June 9 (it was preceded by the equally gorgeous single, "Glossolalia"). Hear "Yesterday" below, and read on to learn more about :3LON.
What are you up to right now — describe your surroundings.
I'm in my East New York apartment cooking a frittata with my roommate.
How did you begin making music?
I used to copy what I heard my favorite singers doing and record my voice on the Windows Sound Recorder to practice my harmonies. That's how I shaped my understanding of vocal composition.
I was inspired by the nu-metal I was listening to when I was 13, and I began to write these dark esoteric poems. I remember being like, "I could make this into a song!" I would take my poems to my dad's house and we'd try to flesh it out over R&B production.
How would you describe your sound?
Experimental soul.
What's the last album you played in full and enjoyed, and why did you like it?
I just got into the new Snakehips album. I really appreciate the direction they're headed in sonically. More house-y club anthems!
Besides making music, what do you like to do in your free time?
I practically live in the nightclub. I love getting dressed up in my best alien bae looks and heading to the function with a group of bad bitches. I also really love more intimate settings, like pizza and video games with friends! I'm obsessed with nature and it's one of my biggest inspirations creatively, so I like to stop and appreciate nature whenever I can. I've been practicing DJing lately, it's becoming a new favorite hobby.