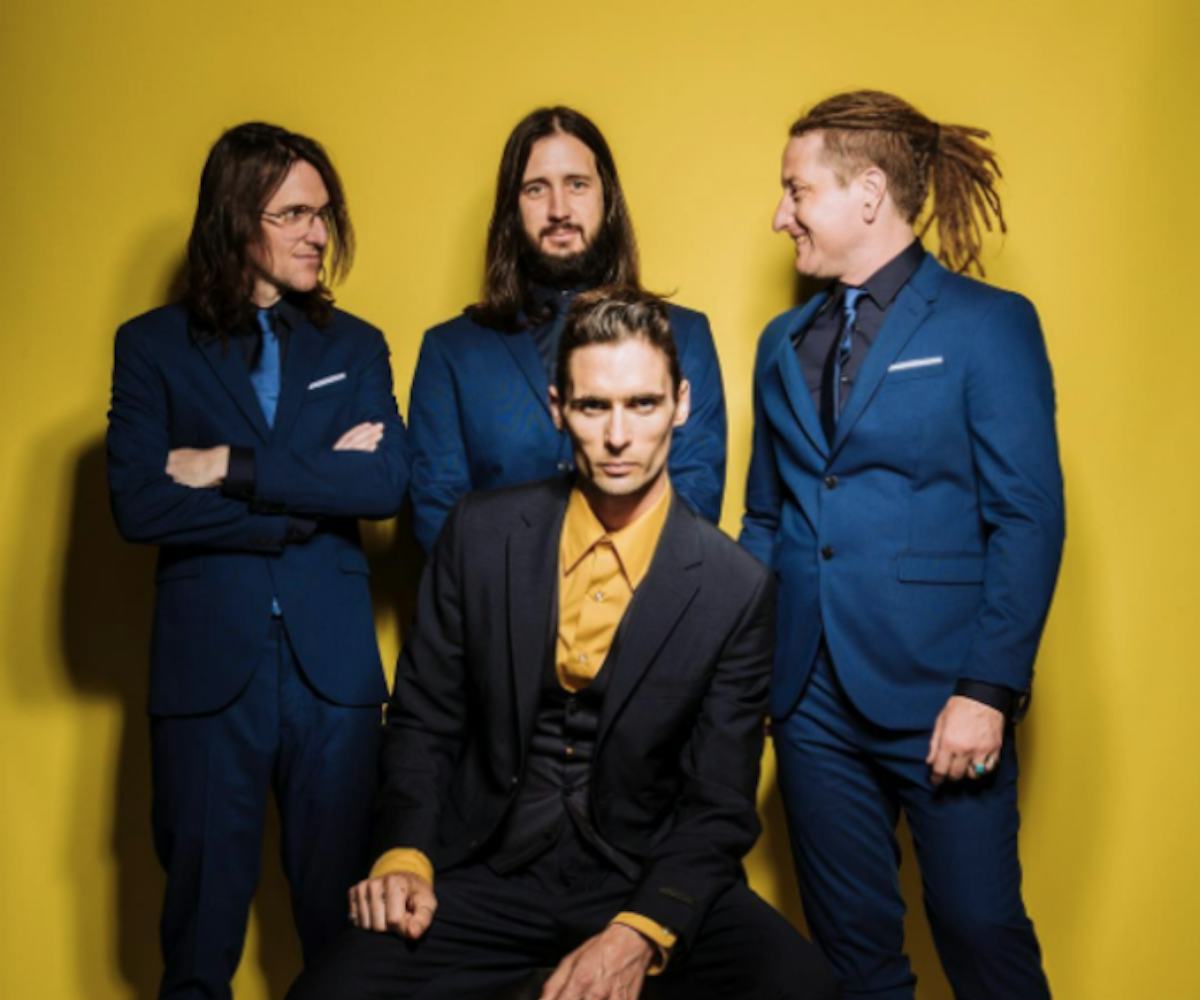 Photo via @therejects Instagram
The All-American Rejects' Tyson Ritter On The Group's Long-Awaited Return
And how he's not going to replace Ed Sheeran in 'Game of Thrones'
Five years since their last record, The All-American Rejects are back with new tunes and a new sound. Frontman Tyson Ritter still finds himself embracing rock 'n' roll, but has expanded his vision to include visuals. Part of this is due to the fact that the four-piece has grown up since they began their careers in 1999, but also because they felt like they needed to have the freedom to make music how and when they felt like doing it. It's something that led them to change up The All-American Rejects camp.
With the emo-tinged rock band's latest singles, "Sweat" and "Close Your Eyes," it's clear that they're veering in a new direction at this juncture in their career. With Ritter sharpening his acting skills, his focus is taking the music a step further with a theatrical element to it. In an 11-minute short film directed by Jamie Thraves, Ritter ties both singles together, tackling issues dealing with one's identity and the dichotomy of public versus private. In the video, he plays a transgender hooker named Betsy and confronts the topic of comfort in public spaces.
Now, Ritter and co. are pairing their new music with a tour alongside Dashboard Confessional. We caught up with Ritter about the band's new direction, being comfortable in his own skin, and covering Dashboard Confessional.
What have you been up to between your last record and now?
Reality. A little bit of the real world injected into a 12-year grueling life on the road. We went nonstop until 2011 as a band. I think we wanted to fall back down to earth for a second. For me, I wanted to explore the visual side of my artistic bones. I've been doing some acting and studying of the craft in Los Angeles. My writing partner Nick [Wheeler] moved down to Nashville. We all disbanded and put our feet on the ground in our own way.
Do you have a preference for acting or making music at this point?
I think with these new tunes we put out, there was this happy, magical marriage because there was no intention for me to inject what I've been doing personally, with acting, into the visual curation of this record, but it was through the eyes and mind of Jamie Thraves, our director of the film. It was right there in front of us the whole time. We just grabbed it, and everything fell into place. I think I enjoyed that there are no rules with acting and music.
How do you guys feel like you've changed since you started?
I jumped in front of a record button at 17 for Doghouse records, put out "Swing Swing," and got ripped into a rocket ship and went into the ether. Growing up in that amazing rock 'n' roll bubble... I've changed a lot over the years. I think it's the first time as an artist I have my hands on the wheel and I get to steer it where I want to. We've finally grown into our own comfortable skin. I don't know how to define that sonically or in the lyrics, but I think it's the first time as The All-American Rejects where I can stand behind what I put out. This is without a doubt the most thoughtful offering we've put out as a band.
Why do you think you weren't able to stand behind your work in certain ways before?
It's not that we couldn't stand behind it, but when you jump on a conveyor belt like we had been on with "Swing, Swing" to "Move Along" to "Gives You Hell," it's easy to perpetuate yourself inside of a time capsule. We were in this bus for 24 months every record we did. You don't really grow up. I think everyone sort of stays young forever when you're in a band. I think the five years off we took to write this record were formative for me. I finally feel like I'm the artist that I never knew I wanted to find myself to be. I think we're offering something that has more depth and more of a visual narrative. I think it expands the grasp of the music that we're putting out. When I paired up with Jamie Thraves, I knew that was someone that was gonna be a soul mate forever. We fluidly started writing this story about these two characters who ironically rang a little bit close to home in this band and identity; it was this story about comfortability. I think it has a lot to do with this band. For me, it's a visual bookmark saying we're changing. Who's terribly comfortable in our skin at all times? Right now, it's a moment where we actually are.
Do you have a plan for when your record is coming out?
I'm kind of tired of people feeling only empathetic when it comes to music. One thing I've always loved about what we've come to offer is a release into the fun part of rock 'n' roll. "Sweat" is a song that's sexy and empowering because it's about getting off on being withholding in a relationship. It's about having power within a relationship. It was metaphorical to me because we kind of cleaned house on The Rejects camp. We wanted a fresh start, and we were tired of having a holding pattern of "are we ready?" or "is the song right?" We were ready to make those people under our thumbs sweat a bit. I think "Sweat" is its own genre in itself; I want to call it "new glam." To me, it's a cartoon version on steroids of what we as All-American Rejects have offered before. It's so fucking fearless and I'm really proud of it. "Close Your Eyes" is a pivot from that. But I wanted people to be jarred by the juxtaposition. "Close Your Eyes" is nothing like "Sweat," but it has this opius, sexual fluidity, between them like you can get lost in the film, and you can get lost in the music. 
Did you conceptualize the short film for "Sweat"?
Jamie Thraves started that conversation. We have this incredible creative director, Billy Gent, that did that "Just Radiohead" video with Jamie. Some of the best music videos we've ever had have been one sentence. Jamie wrote, "I quite see Tyson as a woman." For some reason, that really intrigued me because I wanted to know what the story was, seeing as how I've taken this dive into acting. It started this collaboration where we ended up writing these foot-long emails to each other about everything, from every woman who had ever broken our hearts to our childhood and our deepest secrets. In that, we found this narrative where you have Robert and Betsy in that 11-minute tale of identity. Behind the story are real-life identities we built. We had a beer budget, and I'm really happy with the way the Champagne tastes. 
What were you guys listening to the past few years?
I've always been a weird listener to music. I listen to Harry Belafonte very often. I listen to a lot of calypso. I love the later Beck records. I'm very much a person that puts a vinyl record on and lets it spill into the house. I'm not a headphones guy. I still like doing the old-fashioned pull out the crispy vinyl, put on the Patsy Cline, and make some dinner. The music I've been listening to are the voices in my head that always give me the purest melodies. When I was a kid, I didn't really have CDs because they were expensive. My friends listened to music I didn't want to rip, so I would always write music. When music comes to me, it's a beautiful little time escape where the song writes itself. I listen to some really funky shit that has nothing to do with rock 'n' roll all the time. 
Tell me about what made you and Dashboard Confessional cover each other's songs.
I thought it was cool because I hadn't heard anyone who had done it before for a tour. Chris Carrabba was like, "What if you do one of our tunes, and we do one of yours?" I wanted to completely lobotomize one of their tunes; I decided to play the opposite of his song. What you have is a very scattered odyssey with our "Hands Down" version. 
What acting projects do you have coming up?
I'm on a TV show, it's popular, but I'm not supposed to tell. Don't worry, I'm not going to be replacing Ed Sheeran in Game of Thrones.