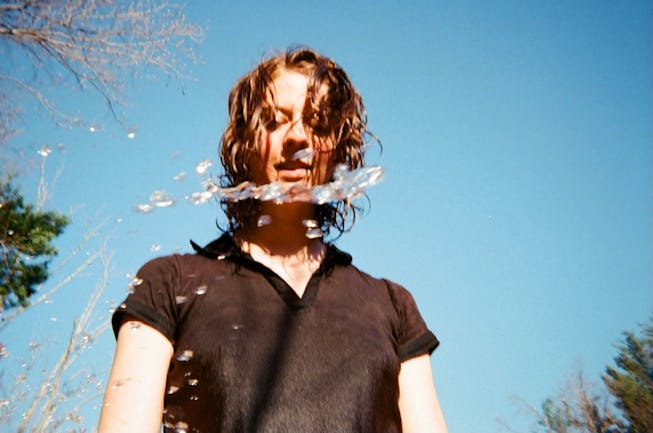 Kevin Copeland
Allegra Krieger's "Lingering" Captures The Bliss Of A Nice Day
The NYC-based singer debuts her new music video on NYLON.
Allegra Krieger's gentle guitar songs hone in on specific, fleeting moments. The NYC-based singer and songwriter's last single, "Nothing In This World Ever Stays Still," observes almost reverentially the pace at which life floats by. Her latest release "Lingering" takes almost the opposite approach, reveling in the days that feel slow, sticky, and neverending: those early honeymoon days, those late July afternoons doing nothing, those nights laying on your bed, hearing the noise of the city bustling below.
It's an undulating, sweet song that perfectly predates the incoming depths of summer. The guitar is shimmering and rhythmic, her voice is center stage singing about beautiful feelings in a not always beautiful world: "With pictures on the white walls, black on the mold ceiling, and then all that lingering around everything."
Of the song, Krieger tells NYLON, "'Lingering' is about new love, entering that fragile plane, shared pleasure, returning to the stasis of a room, of an apartment in a city that is always moving. Objects sitting and hanging. Wanting something, but not wanting to want anything. Crossing the street. A nice day, a nice moment."
She brings that feeling to life in its accompanying music video, which premieres exclusively on NYLON, and opens on her laying on a sunny NYC street before getting up to make a leisurely trek back to her apartment. It's cleverly filmed in reverse, which you realize a few seconds in when her hair seems to be defying the laws of physics. The soft, jolting effect places a faint magical sheen over the video, like Krieger stumbling upon a secret code to summer ease that's only activated in reverse.
Krieger's upcoming album, I Keep My Feet on the Fragile Plane, is out July 21 via Double Double Whammy. Watch the video for "Lingering" below, and read on to learn more about the singer-songwriter.
What are you up to right now — describe your surroundings.
I'm sitting in bed drinking coffee. Jenny Erpenbeck's novel Visitation is on my windowsill, along with some Goldfish and a box of Midol. I recently lugged a small Melodigrand piano up to my apartment (thank you to Kevin & Dane) and Ravel's "Prelude" is open on the music rest. There is a lamp on the piano; the lampshade is a bright orange canvas like cylinder with chains of multicolored beads hanging from the top and bottom. I got it from one of those lighting stores on Bowery. It's one of my favorite things right now, it gives my room a really warm orange glow. I'll probably cut up some fruit and cheese for breakfast in a little bit, and later this afternoon I have work.
In the spirit of your clever music video for "Lingering," what's your favorite way to spend a sunny NYC day?
I just enjoy walking around, up and down Manhattan, across the bridge, wherever, listening to music. Maybe go to a museum or have a nice snack somewhere. If it's hot and I have the day off, I might hang around Coney Island/Brighton Beach.
How did you get into songwriting?
I wrote little songs when I was young, just because I really loved singing. I loved the Shrek Soundtrack, that cover of "Hallelujah" really opened up some musical doors for me. The Dixie Chicks were also pretty big for me. I think I was just a fan of music. I played piano and I danced, and those sorts of artistic expressions always felt really good. I remember the first song I ever wrote "The Shadows Of my Life" which probably dates back to second grade or so? It was a ballad. I've always had a pretty wandering mind, like I could pass hours upon hours just lying in bed daydreaming about something. I was pretty sensitive too, and I think writing songs eventually just became a cathartic and comforting outlet.
Where did your new album's title, I Keep My Feet on the Fragile Plane, come from?
A combination of two songs off the album: a lyric in the song "Low" where I say, "I keep my feet on the ground" and in "Lingering" I refer to "the fragile plane" as a sort of holy place that we can access, every now and again. I think this album has a healthy balance of realism and mysticism, and I wanted the album title to reflect that. The idea of being rooted in unreality, finding meaning in hollow places, observing strengths and weaknesses in human mechanisms.
What's the last album you played in full and really enjoyed, and why did you like it?
I have a few: Kara Jackson's Why Does the Earth Give Us People To Love? I love Kara's voice and poetry, it feels really direct and intimate and there are really striking musical moments. Greg Mendez's new record is a stunner, I just listen to it all the time. Also someone recently introduced me to Los Hermanos Gutiérrez, and I have been loving their album Hoy Como Ayer, very atmospheric, and beautiful melodies.