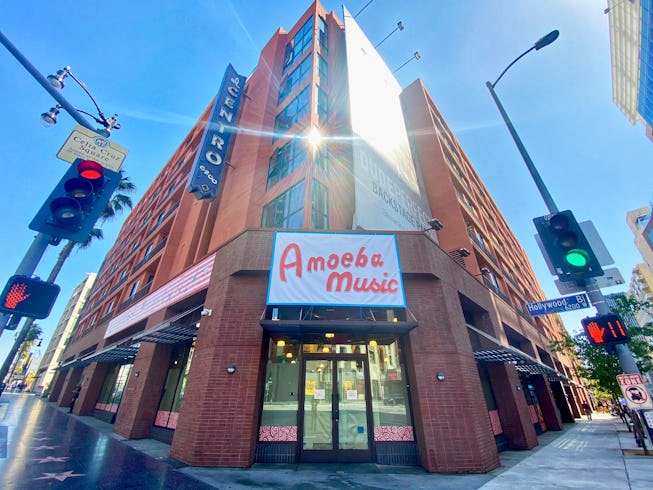 Pamela Chelin
18 Music Fans Reflect On Amoeba Music And Its Legacy
The comforting vibes at Amoeba Music's reopening felt like a step towards pre-pandemic times.
It may have been April 1, but the fanfare surrounding Amoeba Music on opening day at its new location in the heart of Hollywood last week was no joke. All day long, hundreds of music fans lined up down the street and around the block, waiting up to six hours to shop inside the beloved independent record store which was forced to close nearly a year ago.
Co-owner Jim Henderson was rendered momentarily speechless when he surveyed the opening day lineup. "It's very humbling, and it's great. People are awesome, and hopefully, there's a big payback when they come inside," he told NYLON. Describing the last year in retail as "mostly tragic," Henderson added, "To see this great outpouring and the turnout and the energy that's surrounding it, it's strange feeling optimistic, but we do."
Like many other hallowed music institutions around the country, when the pandemic shuttered Amoeba Music's longstanding store on Sunset Blvd in March 2020, Angelenos took to social media to wax nostalgic about the cherished, iconic location. But the store's new surroundings couldn't be more fitting; it now sits right next to the Hollywood Walk of Fame, one block away from the historic Fonda Theatre, around the corner from the landmark Capitol Records Building, and kitty-corner from the famed Hollywood Pantages Theatre (home to musicals including "Rock of Ages," and "Hamilton"), which welcomed its new neighbor on its electronic marquee.
One of the largest independent California music retailers, Amoeba Music's Los Angeles location opened its doors in 2001. A music and film lovers' paradise, the West Coast music mecca is revered for its vast collection of new and used vinyl, CDs, and rare collectibles, DVDs, Blu-Rays, posters, and books. Strolling through the Hollywood store, flipping through records and leafing through books, feels comforting after being stuck at home for a year, and like an optimistic step toward returning to some semblance of our pre-pandemic lives.
We may still be in the streaming era, but Amoeba Music's enduring popularity shows our unwavering desire for physical media to hold in our sanitized hands. Below, NYLON caught up with first-time attendees, and seasoned Amoeba Music goers on its opening day and weekend as they explored the new location, shared their purchases, and reflected on the store's legacy.
Makaio Mims, lives in the Bay Area:"I mostly want to look at the vinyls and use it for decoration around my room. I like being in Hollywood. I like this area. It's different, it's bright, and there's a lot of people."Pamela Chelin
Marshall Epstein, lives in L.A.: "I had to be here on the opening day. It's history making. There's nothing more iconic than being on Hollywood Boulevard right across from the Pantages Theatre. I'm going to try not to overspend like I usually do."Pamela Chelin
Daniel Kohn, lives in LA: "I've never seen a Beastie Boys License to Ill first edition first pressing in this condition for this low of a price which reminds me why, a) Amoeba has been my home away from home since I first began traveling to LA in 2002 before I moved here in 2008, b) Amoeba continues to show why it's the best record store on the planet. You can literally find whatever you want if you look hard enough."
Christopher Chatman, lives in San Bernardino, California: "I didn't think I was going to be in town but I wanted to be here for this day because I've missed them. Even if I have other ways to get records, the supplies they have are sometimes very hard to get. Plus they have records that sometimes are underpriced, cool collectibles, one-of-a-kind things that you're not going to find anyplace else. Because this is, after all, Hollywood where the records were basically created and made."