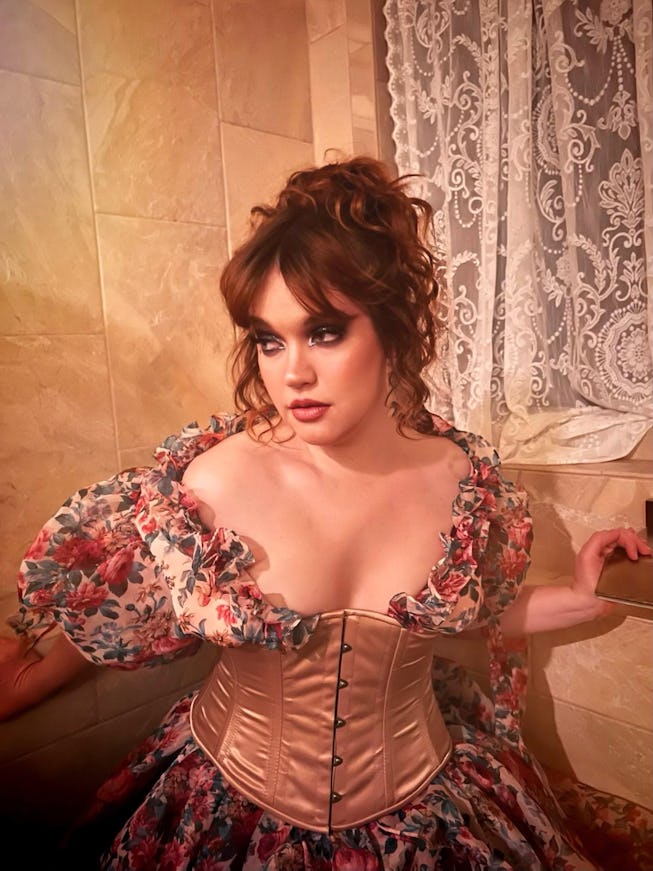 Laura Dudley
Anna Wise Is Reinvigorated On New Album, 'Subtle Body Dawn'
Hear the songwriter's new record on NYLON.
Last year, when Anna Wise released two new songs, "Time" and "The Now," it suggested a shift in style. Her last few albums (2019's As It Were Forever; 2016's The Feminine: Act I, followed by The Feminine: Act II) explored the trials and exaltations of being a woman, love, and relationships through jazzy, vibrational neo-soul and R&B.
"Time" and "The Now" — off of her brand new album Subtle Body Dawn, which you can hear on NYLON, below — however, were delicate different things: glittering plucked guitar, expressive, eccentric beats, and puffs of harmonies. In an email, it was descibed it as "fairy folk," suggesting a more ethereal turn for the artist. Wise herself, though, sees the new songs and project as an extension of her earlier, earlier work as part of the alt-soul group Sonnymoon. "I am returning to my true artistic self and expanding on that in delightful ways," she tells NYLON.
Indeed, Wise has always been a curious song-maker with an unconventional ear and jazz-like sensibilities, which made her such a favorite artist among artists, including Kendrick Lamar (most will recognize her as the voice on "These Walls" from To Pimp A Butterfly). Subtle Body Dawn was created with her longtime collaborator and husband Jon Bap, now going by Maurice II, and there's immense sonic variation, even within its seven songs. "Greens" is a lively tune with guitar and rapping percussion and a crafty melody; "Subtle Body" is a lovely, shifting mosaic with rich violin strings, fuzzy audio recordings, and hand claps. "Mother Of Mothers," the record's mighty closer, opens on an operatic choir before changing to a plinking childlike piano lullaby as Wise sings about becoming a mother: "I'm never gonna be the same I was before."
‌Much of the album was inspired by this new journey, and it's drawn out a reinvigorated and more assured side of Wise. Listen to Subtle Body Dawn below, and read on for our short conversation with the musician.
What are you up to right now — describe your surroundings.
I am surrounded by the canyon. It gets darker here earlier than the coast. I am surrounded by love. My daughter and I make a pile of books and read them. We chase creeks and rivers. Green is my favorite color after a lifetime of yellow holding the top spot. I am surrounded by joy and miracles. Yesterday I drove across a bridge during sunset with my album playing loud. The ocean looked so shiny and the sky was a blue and pink gradient. It was so beautiful I cried.
The sound of the songs on Subtle Body Dawn are vastly different from what you've released in the past. What spurred this shift?
Haha! Thank you. Have you heard the music I made before I went solo? Listen to "Trust Fall" and "The Only Face" by my former duo Sonnymoon. I am returning to my true artistic self and expanding on that in delightful ways. I will continue to shift and experiment.
Which is your favorite track and what's the story behind it/ why is it your favorite?
Every song on Subtle Body Dawn is my favorite song.
What do these new songs and this new chapter mean to you?
My albums are sacred diary entries made public. The songs of Subtle Body Dawn represent my current home frequency. They show me how much I've grown and changed in the past few years. They also show me how much more I have to learn and embody in this lifetime.
What's the last album you played in full and really enjoyed, and why did you like it?
All the L'Rain albums forever and ever. L'Rain is an artist I return to every 30-90 days. She is endlessly inspiring, her music is effortlessly cool and gloriously complicated. I hear and feel new things every time I listen. Ohhh, if you really want to timeline jump, watch her live performance on KEXP.