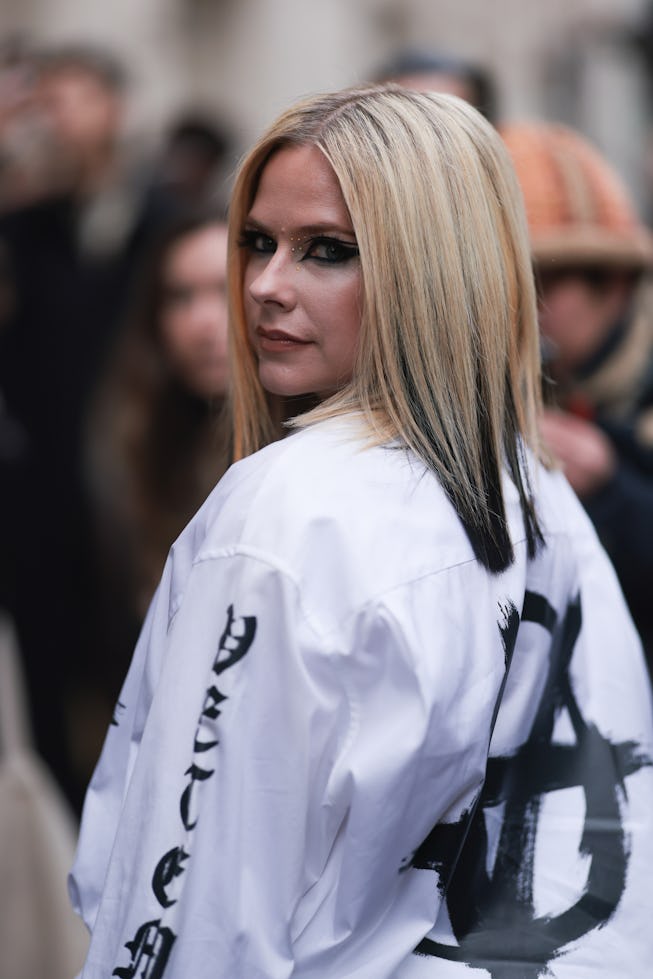 Jeremy Moeller/Getty Images Entertainment/Getty Images
An Avril Lavigne Documentary Is Apparently In The Works
The still under-wraps project will reportedly explore the pop-punk icon's career and love life.
We're living in the era of the artist documentary. In the past year alone, there's been an onslaught of news about upcoming documentaries in the works with artists new and old alike — from Lizzo and BTS to the Spice Girls — as well as the arrival of projects focused on the life and legacy of Selena Gomez, J-Hope, J. Lo, Janet Jackson, and more. Now, there's apparently another tell-all doc in the works with none other than the pop-punk queen herself, Avril Lavigne.
Details about the project are very scarce at the moment. Initial reports from The Sun only cite vague insider "sources" who claim the film is currently in production. Per the sources, the documentary will take an in-depth look at Lavigne's life and decades-long career, "from how she got her break in music" to the renaissance she's currently experiencing. It'll apparently also dive into her personal life and explore the many public relationships she's had, presumably addressing her most recent split with Mod Sun and new fling with Tyga (though the jury's still out if that one will last).
"Avril has been hard at work on this in-depth documentary for a while now and the makers have hundreds of hours of footage," sources told The Sun. "She talks at length about her life in the film, from how she got her break in music. Some of her showbiz pals will also be in the film talking about her. Avril was a teenager when she released her hit debut album so her career has been really interesting. There's a lot to talk about."
The documentary will reportedly premiere on Disney+, and she's working with James Cordon's production company, Fulwell 73, on the project. The film hasn't officially been announced by Disney+ or Lavigne's team, so it doesn't have a release date as of yet.
Lavigne recently made headlines at Paris Fashion Week where she debuted the aforementioned relationship with Tyga; the pair shared a very public kiss outside of the Mugler X Hunter Schafer party, and the couple was also seen arriving together at Leonardo DiCaprio's party at Kùkù restaurant.
Before that, Lavigne was engaged to Mod Sun, though the two called it quits at the end of February. And if the tabloids are to be believed, Lavigne called it off without telling Mod Sun first. "They were together and engaged as of three days ago when he left for tour so if anything has changed that's news to him," said a source to Page Six. There's a lot to talk about, indeed! If we're lucky, we'll get all the details in the documentary.