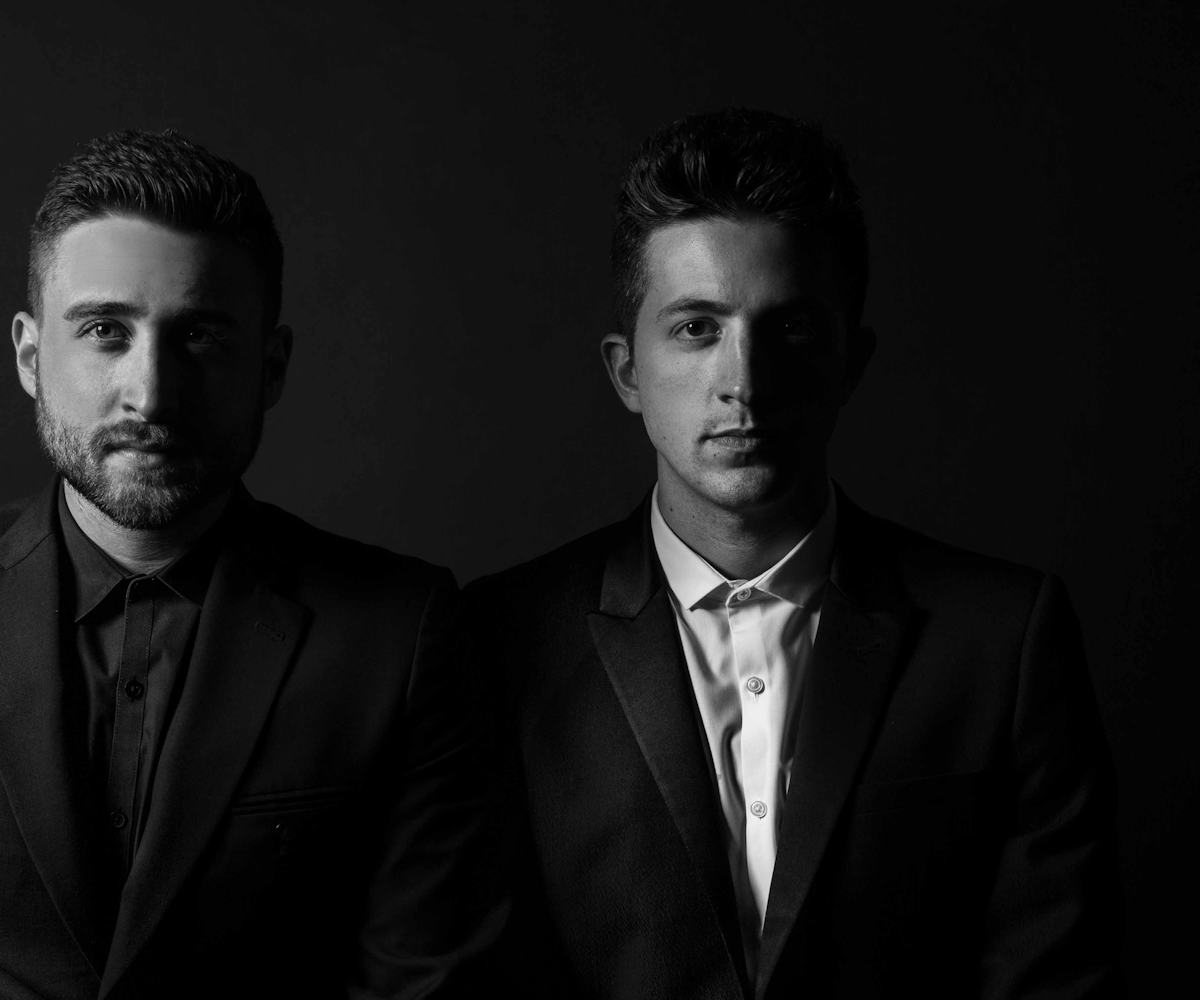 Photo by Jacqueline Verdugo
Phantoms Is Keeping The Night Alive
meet this cool LA-based duo
Phantoms is an LA-based duo with the type of sound that you're going to rely on come wintertime. The minds behind the music, Kyle Kaplan and Vinnie Pergola, recently released an EP called Broken Halo that will have you reminiscing about hot summer nights. After spending months behind their computers creating the music, the guys are ready to get it out into the world. And with these warm and inviting pop beats, we don't think that's going to be an issue.
The duo is touring through most of this month, and the end of the year brings us closer to the completion of Phantoms' first full-length album. We caught up with Kaplan and Pergola to talk about this idea of night in their music, the future of the band, and why it would be the greatest thing ever to be signed by Daft Punk.  
How would you describe Phantoms' sound?
We generally make music that should invoke the feelings of the night. Anytime we can keep a pop song a little darker and keep those night vibes, we're stoked. That also bleeds into the visual aesthetic which is dressing up in suits and using neon for the artwork. 
How did you both get started in music?
We both started out in the acting world. It seems like there's a lot of transition between those worlds, but we've always been attracted to it and it runs in our families. Vinnie's dad played in funk bands his whole life. Vinnie started drumming at a young age with a big influence from that world. Kyle's uncle toured with Michael Jackson playing keys, but he really took to the bass. We met through friends about 10 years ago, hit it off, and eventually tried to make a classic rock/funk band as that is what we were really into at the time. Needless to say, the band was terrible, and it wasn't until we discovered electronic music that everything really clicked. 
What is the Broken Halo EP about?
The
Broken Halo
EP should feel like an intro to Phantoms and our vibe. Our songs are usually written from the perspective of someone else. "Broken Halo," the single off the EP, is about a guy who feels empty inside and is looking for someone to fill that void, while "All In" is about someone realizing that they've started falling for someone after they told themselves they would never let that happen again. The music really reflects the types of people we've met on our nights out over the last few years of our lives. 
Where do you both hope to be professionally in the next five years or so?
In five years, we hope to have the crowd at whatever show we're playing know the words to every song. We're starting to see it now, but that would be incredible. We also hope to write for some other artists we like. Both of us have been kind of obsessed with pop music lately and it's a world I can see us falling into down the road. 
Who are some of your musical inspirations? Whose career would you most like to emulate?
Our music inpsirations are so vast. One minute we're listening to Daniel Avery and the next we're blasting Taylor Swift. We try to blend the world of dark electronic music with pop and have fun with the whole structure. A career we'd like to emulate would be Tame Impala. They worked their asses off for so many years to get where they are now and I really feel like that is the key to longevity. A hit song is great, but a solid fan base with tons of songs that people connect with is a million times better in our opionion.
What artists would you like to work with in the future?
We've been talking about this a lot. Vinnie would love to work with Janet Jackson and Kyle wants to get R. Kelly on a track asap. We also want to work with Sia. She has one of the best voices out there right now and is such an amazing songwriter. If we ever got the chance we'd work with her in a second.
If you could be co-signed by any artist living or dead, who would you want it to be and why?
If we got co-signed by Daft Punk that would be pretty crazy for us. You can pretty much trace the mainstream success of electronic music and the current style of pop music right back to them. Those guys are true visionaries. Even if they knew we existed that would be pretty damn cool. 
What do you both do in your down time when you're not playing at shows?
Usually we're camped out at the studio or getting a drink at our favorite spot in LA, La Poubelle. Actually, they recently named a drink after us - Le Fantôme. That's one of the bigger achievements we have had in the history of Phantoms. 
If there was a phrase that you think best sums up your approach to life what might it be?
Laugh it off. We try and keep a sense of humor with everything, even if we take our music seriously. Almost everything else in life can't be taken that seriously. If you can't laugh it makes the ups an downs of any career, especially music, way harder.
What's the next Phantoms project?
We have a full length album coming out next year that we're really excited about. The next single is a song called Call My Name which features our good friend and amazing actor Skylar Astin. There will also be a pretty amazing remix coming out with that single. We can't wait for all the music to get out there. So much of it has been sitting on our computers for way too long. Once it's out, we will be touring it until we can't tour anymore.