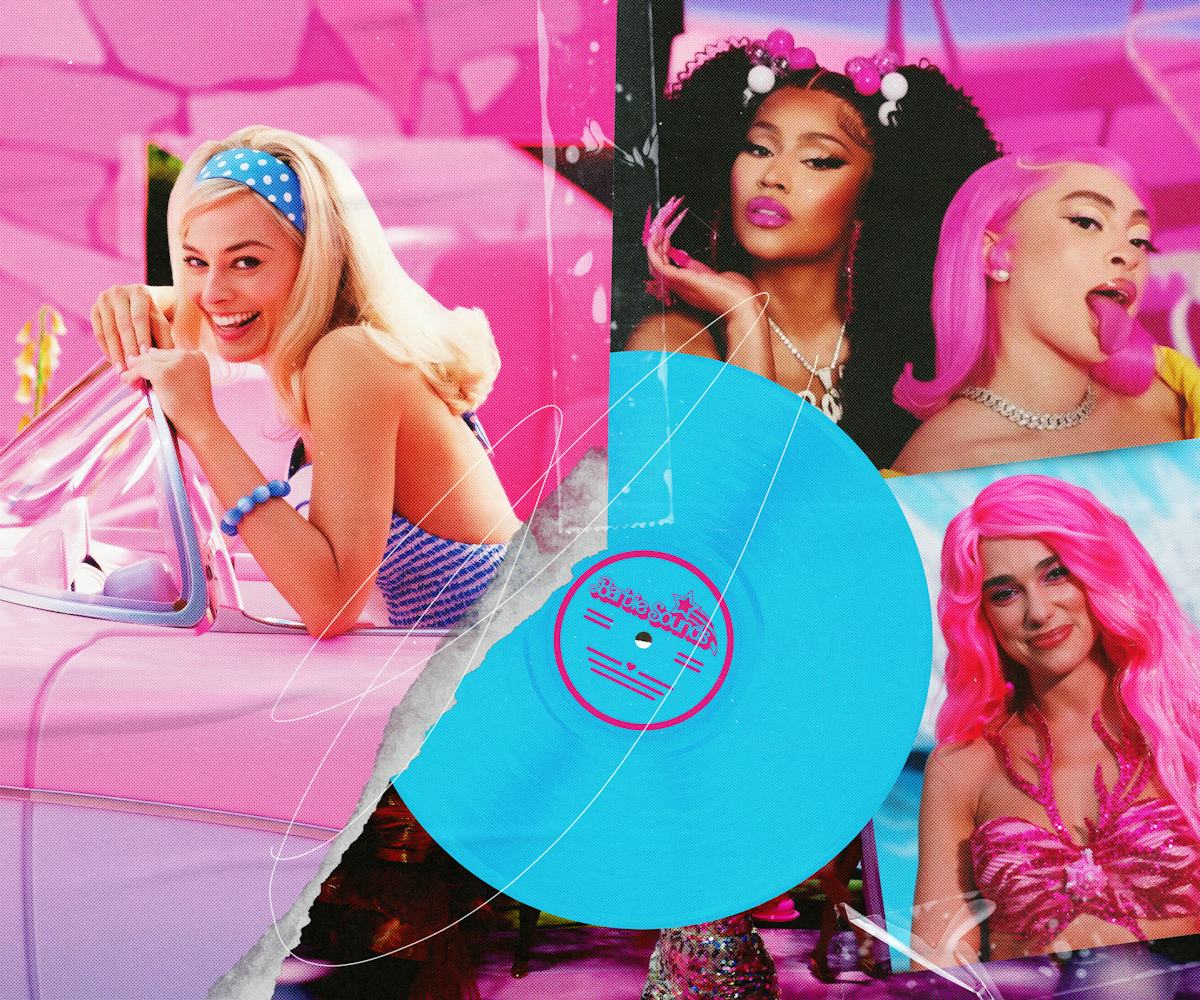 Lindsay Hattrick/Nylon; Courtesy of Warner Bros. Pictures; Nicki Minaj/Youtube; Barbie The Album
A Million Shades Of Barbie, A Million Shades Of Pop
Like the iconic doll, Barbie The Album is sonically, wildly diverse. But it also goes deeper than that.
In the video for "Dance the Night," the lead single from the soundtrack for Greta Gerwig's Barbie, Dua Lipa dances around a smashed disco ball. The scene recalls the gaudy, mobile sets of Gene Kelly-era musicals: a mega-sized pink puffy mule heel, a trio of pink corvettes, a synchronized line of twirling umbrellas. At one point, Lipa leads a posse of dancers dressed as disco balls around the smashed disco ball itself.
It's a fever dream production that firmly plants its pink sequined boots onto the confetti-filled dance floor. Darting orchestral strings and a bold, jewel-toned bass line make "Dance the Night" a rapturous disco-fied hit. It's the perfect introduction to Gerwig's bright, bold, and pink Barbie Land — not to be confused with the real world — where there are no elements, no flat feet, and every day is as perfect as yesterday and tomorrow. "Dance the Night" is as pink and seemingly pristine as the world Gerwig has brought to life.
Disco's relentless euphoria is a smart sonic parallel for the innocent joy that Barbie, on the surface, represents. The soundtrack's executive producer Mark Ronson, who's worked with everyone from Amy Winehouse to Lady Gaga to Bruno Mars, was inspired by the genre's downfall and the aftermath for certain artists like the Bee Gees following 1979's Disco Demolition Night in Chicago. "You just see the Bee Gees so crestfallen and thinking, 'Wait, why does everyone hate us so much?' Which is such a strong parallel to Barbie," shared Ronson in an interview. "In the film, she just wants to make everybody happy and can't understand why she's so problematic or why people hate her."
Barbie The Album embodies Barbie's origins, while also bringing her into the now and even subverting her controversies. Although Barbie is largely regarded as a nostalgic item for the three now-grown generations who played with her, she's not a fad and has never been for her decades-long reign. In 2021, 164 dolls were being sold every minute. Initially, Barbie was devised to be a beautiful doll (not a baby doll as was popular in 1959) that "always represented that a woman has choices," as creator Ruth Handler put it. "Even in her early years, Barbie did not have to settle for only being Ken's girlfriend or an inveterate shopper. She had the clothes, for example, to launch a career as a nurse, a stewardess, a nightclub singer."
Even made with the best intentions, nothing is perfectly, consistently good. Over the years, Barbie set an impossible beauty standard, which has been course-corrected with different skin tones, body shapes, and physical disabilities.
Similarly, the sound of Barbie is as diverse as the brand has become. From drill to reggaeton, from dembow to psych-rock, from bawling-your-eyes-out '80s ballads to feet-in-the-sand '90s funk-pop, Ronson recruited today's charting hitmakers to capture pop music's broad spectrum of windows-down coolness to sugar-high guilty pleasures. Charli XCX turns up the brattiness from 0 to 100 MPH on "Speed Drive." Her streak of making pop hits perfect for feeling cloud nine while on your way to work or stuck in traffic continues. Ava Max's galloping cybergame anthem "Choose Your Fighter" is like Mario hitting the coin block but instead of coins it's pure dopamine. It's a bit cheesy ("Life is a runway and you're the designer") but so is a blonde doll reminding you you can be anything.
The pendulum swing of emotions on Barbie The Album is the most surprising. Aside from inspirational and bratty neurotransmitter-bursting rushes, Ronson and co. were equally successful at soundtracking Barbie's self-aware jabs and moments of newfound existential dread. Sam Smith's Ken anthem "Man I Am" shows how gripping pop music can be with a satirical sheen.
On the song, Smith, after a haphazard no-homo lyric, seductively lists the checkmarks of the quintessential quote-unquote man: "Strip clubs and dollar bills/ Wall Street and dirty deals/ Pop stars, exotic pills," before throwing in "cars with dirty wheels." The electrolyte synths and neo-funk rhythm give the song a Daft Punkian coolness alongside Smith's dramatic, soaring vocals. "That's just the Man, I am/ Baby, treat me like I'm free tonight," they sing ironically over dark synth-pop that recalls Kevin Bacon's angry dance in Footloose. In reality, the performance just proves masculinity is its own cage of cringe.
Even the album's most buoyant tracks give way to the heavy crosses these dolls have to bear. Dominic Fike's "Hey Blondie" is an immediate highlight that teeters between wanting to pull back Barbie's magenta curtain and succumbing to the romantic fantasy of her. "I know you get so lonely but you're not lonely/ Well, watch it, cause you're so perfect." As Barbie The Album strolls along, it becomes unsettlingly clear that these songs about plastic dolls might not actually be about dolls at all.
As Barbie The Album strolls along, it becomes unsettlingly clear that these songs about plastic dolls might not actually be about dolls at all.
It's sort of funny that Barbie is not real. The complications surrounding Barbie aren't necessarily about the doll itself, but the world — our world — she exists in. Barbie (and Ken), who were both named after Handler's children and conceived so they could imagine a brighter, more tangible future, not only take on the dreams children project onto them, but the harsh realities adulthood brings: objectification, consumerism, identity politics. I mean, it's an object embodying both creativity and adversity. It's not that far off from any art, including pop music. They're both shapeshifting products that humans affect and affect us back. Gerwig hit the nail on the head when she explained her own outlook on the doll: "It also seems to be so human to me, just this idea of like we make a doll and then we get angry at the doll. Well, that's such a funny thing that humans do, and what does that mean and what is that interaction? And how we invest in inanimate objects and then let them transform us and then we transform them back." Are we not only getting mad at the flaws we projected on Barbie? Barbie The Album doesn't ignore this scrutiny but attempts to reconcile with it.
The album's showstopper is its most earnest moment. The antithesis to Charli's "Speed Drive," Billie Eillish pumps the brakes on the unfiltered hedonistic fun with "What Was I Made For?" Over an airy piano, it's hard to tell if Eillish is singing about the existence as a plastic toy or pop singer that half the world knows. "Takin' a drive, I was an ideal/ Looked so alive," she breathily sings as if the words were her own form of oxygen. "Turns out I'm not real/ Just something you paid for." It radiates with sentimentality and a fragility that makes the skin crawl.
In an interview with Zane Lowe, Eillish revealed that she initially tried to write the song with only the doll in mind and ended up putting her entire heart on her sleeve. "This is exactly how I feel and I didn't even mean to be saying it," she said, adding that none of that could've been said without initially having Barbie in mind. Similarly, Gerwig admitted that one of the movie's most poignant lines from Barbie ("I don't wanna be an idea anymore") is in regards to her transition from on camera to behind the camera.
The current dizzying Barbie-mania if anything should demonstrate that the doll's impact is much more than child's play. Life in plastic can be fantastic, but it's also still life. Barbie, like her soundtrack, proves that there's no thing we're made for — the possibilities and beats are endless.
'Barbie' and 'Barbie The Album' are out now.