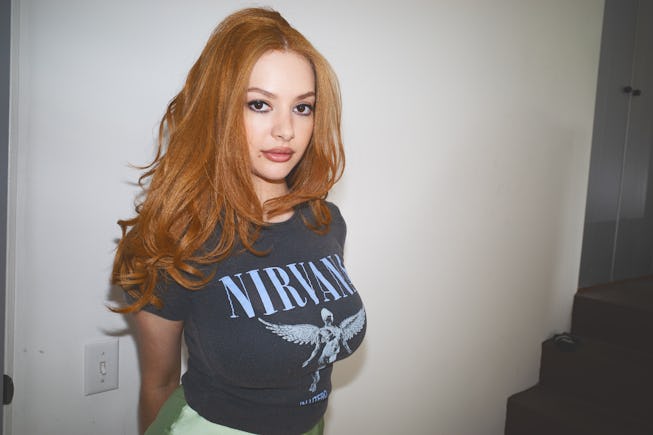 Morgan Maher
Bava's Morgan Maher-Directed Video "I Wish" Is A Sentimental Broken Heart Ballad
Bava premieres the video for her new breakup anthem on NYLON.
In the music video for her new single "I Wish," Bava, the Haitian-American singer whose bold debut single "Itsy Bitsy" is catapulting her to much-deserved acclaim, is covered in heart-shaped cutouts of photographs. They are fragments of herself that she lights on fire, extinguishing the flames in glasses of strawberry milk and cherries, letting them fall between her fingers as she plays the piano. It's an anthemic breakup song, one where the harder feelings are smoothed in languid, tight synths.
The video for "I Wish," was directed by Morgan Maher, a photographer whose recent photo book Girls In Bed is a collection of photos shot in slumber party frequency, all secrets and glitter and laughter. It's the second time Maher and Bava have collaborated: last month, Maher directed Bava's "Back To Me (Me Ma Moop)," an electropop serotonin boost.
Beds are a Maher signature and though we don't see Bava explicitly in a bed, we see her lying with her head in her hands on a pink, floral Formica table surrounded by the cutouts, a portrait of the utter undoing of a crush. Maher has always been good at capturing women in the intimate moments of their lives and Bava's "I Wish" is no different. It's a song about processing your feelings in tactile ways: telling secrets between your sheets, cutting up photos, burning them, singing through heartbreak.
"I was so drained by a past relationship. I felt like my entire identity was wrapped up in theirs; that when people thought of me, they thought of us. I wanted to express that frustration somehow and headed to the piano to try. 'I Wish' poured out," Bava tells NYLON. "This is my first ballad (although it evolves stylistically into a wild expansive synth experience by the end). I hope it gives someone out there the courage to move on. There's light at the end of the tunnel!"
It's true, along with the pain of heartbreak often comes the urge to distract, to destroy, and ultimate for Bava, to create.
You can watch Bava's "I Wish" below: