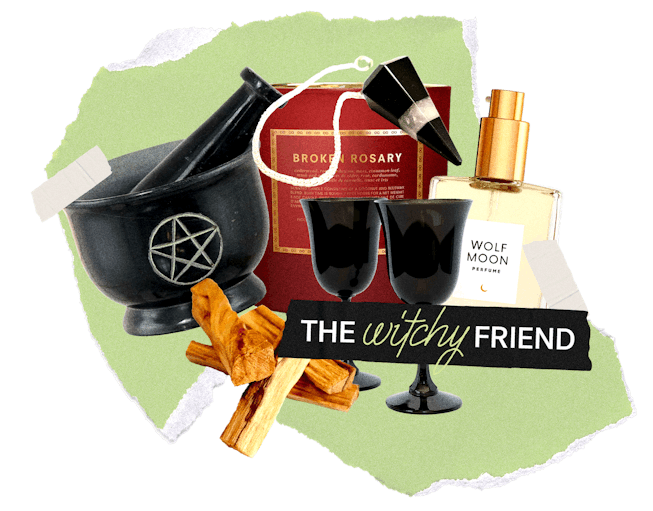 Lais Borge/Nylon
21 Spiritual Gift Ideas For An Aspiring Witch
From astrological guides and ritual tools to altar decor and enchantress-inspired accessories.
We may receive a portion of sales if you purchase a product through a link in this article.
The holiday season falls during the darkest time of the year, with the winter solstice (aka the shortest day and longest night on the calendar) hitting on December 21 in the northern hemisphere. For witches, or any astrology-following person, this is a powerful time of year that marks the start of the winter season.
Spiritually, winter solstice is a time for rest, spiritual cleansing, reflection, but also for conception of new energy. And it makes total sense. If fall represents death in the seasonal cycle, and spring is rebirth, then the time between is a period of conception and preparation. This makes it the perfect occasion for taking the time to release, recharge, and explore your inner magick. And what better gift to give than an opportunity (and the fun tools) for your sisters, both blood and chosen, to do the same?
We rounded up the best gifts for anyone looking to infuse a bit of magick into their everyday lives— whether they're already in your coven or a new aspiring witch. From astrological guides and ritual tools to altar décor and enchantress-inspired accessories, there's something on this list for every sorceress you know. Here are 20, ahem, charming present ideas for the holiday season.
We may receive a portion of sales if you purchase a product through a link in this article.
Astrological Wall Calendar
Gift your sister witch a super personalized look into their year ahead through astrology with this gorgeous—and informative—calendar. Put in their birth details like you would with any online birth chart, and get a 365-day rundown of the planets and their interactions with their placements.
Astrological Candle
Each one of these candles represents one of the elements (and their three corresponding zodiac signs) with inspired scents—something witches and astrology fanatics alike will love. Plus, they just smell really nice and are the perfect addition to any ritual.
Lavender Sage
Clearing a space with creates the energy of happiness and healing, and can get rid of any lingering energies that may skew the frequencies of witchy activities. It's a great small budget present or a cute way to make any gift wrapping more enchanting.
Pendulum
Gift a little psychic power with a crystal pendulum. This handcrafted witchy necessity has the perfect length silver chain attached to it for quick dowsing to get clear "yes" or "no" answers.
Energy Clearing Body Wash
Sometimes negative energy can attach itself to personal energy—which is especially risky for your empath witch friend. Quita Maldicion is an herbal curse and negative energy remover, that can make any shower extra cleansing.
Mortar & Pestle
A mortar and pestle is perfect for the domestic witch who knows all about her herbs. It's multi-use whether she wants to use it for muddling ingredients for drinks or creating magical potions.
Lunar Body Oil
This moon-inspired oil does double duty connecting the wearer with spirituality and making skin feel super smooth and silky.
Intuition Enhancing Bath Set
This luxurious ritual bath collection is supposed to deepen intuition, replenish energy and bring out the divine feminine within with notes of rose, lavender, and black pepper. It will make anyone you gift it to feel magical in their home space.
Copper Bracelet
Copper is believed to enhance the wearer's connection to the spirit world and support vitality and overall good well being. Plus it looks great in a stack of bangles.
Meditation Pyramid
This pyramid makes an exciting addition to any altar. Comprised of semi-precious gemstones and metals, the orgonite pyramid is charged to facilitate a shift in stagnant energy to induce healing.
Tarot Box
Keep cards and other divination materials safe and protected with this handmade wooden tarot box. There's also an option to have a message printed on the underside of the lid, if you want to add a personalized affirmation.
Rope Incense
Rope incense is an ancient Nepalese traditional incense made up of a blend of 25 herbs and powerful spices like as saffron, nagi, and sandalwood. Burning it will help attract blessings to you in the new year
Spirit Boosting Bath Salts
All spells don't have to be laborious. Encourage the magic of relaxation with these handmade bath salts infused with organic oils and natural herbs to help draw in their highest intention.
Selenite Charging Plate
Since you can't just plug crystals or energy tools into an outlet, a selenite charging plate is the next best thing. Give your witch friend a charging plate to ensure all of their essentials are operating on maximum vibe capacity at all times.
Third Eye Vase
The bougiest witch you know will love this blue and gold vase as the centerpiece to their home decor.
Obsidian Moon Ring
Show your love for the moon with this bewitching ring from Beau Life Switzerland. Not only does it look good, the black obsidian will kick any shady energies right to the curb.
Moody Candle
The cedar, rose, and spice scented candle is sultry twist on a Christmas candle for your sister witch who's a little less conventional about holiday cheer.
Black Stemware
Whether they are for ritual purposes or regular table setting, these black flutes are a mysterious and chic addition to any witch's residence.
Astrology Planner
The next best thing to having a personal astrologer? A one-year astrology and ritual planner created by one. With seasonal guides, monthly full and new moon rituals, writing prompts, and solar activity dates, there's not a Mercury retrograde you won't be able to handle.
Curated Zodiac Crystals
Crystal are always a safe bet for the metaphysically inclined. And since there are certain types of crystals that just get the energies of different zodiac signs, it's extra thoughtful to gift ones specific to your friend's sign.
Manifestation Guide
Can you think of a better gift to give than a guide to manifesting self-love and your best life? This book is a game changer.