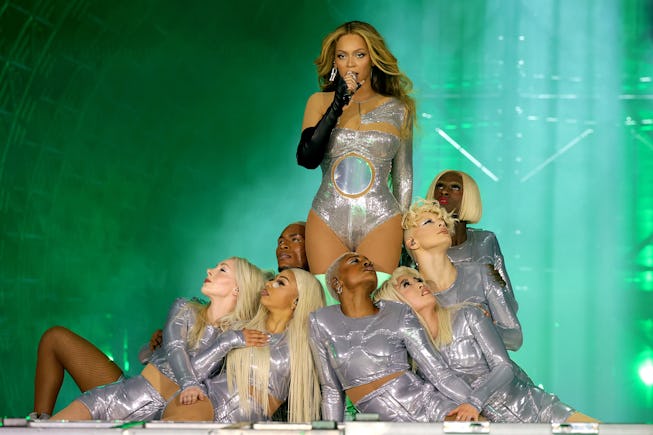 Kevin Mazur/Getty Images Entertainment/Getty Images
Everything You Missed At Beyoncé's 'Renaissance' Tour Kickoff
Cars, robots, and flying horses galore.
After months of anticipation, Beyoncé's Renaissance Tour finally kicked off with a bang on Wednesday night at the Friends Arena in Stockholm, Sweden.
To say the live show was highly anticipated is a massive understatement. Of course, any tour from Beyoncé at this stage of her career is a headline-worthy event, but the fever pitch surrounding Renaissance felt especially next-level — perhaps due to the unexpected dearth of content around the album's release. Since Renaissance arrived in July 2022, Beyoncé still hasn't released a single music video or visual from the dance-tastic universe — although that finally all changed on Wednesday.
As early as 24 hours before the concert, photos, videos, and info reported by fans about the show began flooding the internet, giving everyone a first glimpse at what awaits inside of Club Renaissance: VIP fans that spell "Fan Me Off" when turned on; a thick and gleaming new photo book; a massive stage with a halo. Then, the show began, and Club Renaissance turned out to be a spacey, futuristic extravaganza, complete with robotic arms, a life-sized space mobile, UV light-altering dresses, a closet of rotating, custom Mugler fits, and ever-changing, intricate set design. Over the course of nearly three hours, she performed 36 songs split into seven distinct acts, including all the songs from Renaissance, a selection of her biggest hits, and covers, nearly all of them remixed into new forms.
Fans in attendance were able to capture pretty much every moment of the show, so read on for a comprehensive recap of everything you missed.
She opened the show with "Dangerously In Love"
Everyone expects a bombastic opening sequence from Beyoncé, but the singer opted to go the complete opposite route as she stepped onto the stage to belt out "Dangerously In Love" — a song she hasn't performed live in 10 years — against a serene, cloud-filled backdrop with nearly zero fanfare, a point many fans were surprised by online. There was neither organized choreography nor a crew of background dancers; just Bey dressed in a glittering, metallic Alexander McQueen bodysuit and her rich, solid vocals proving to everyone that she's still got the chops after all this time. This kicked off her opening act which featured mostly older songs and deep cuts, "Flaws and All," "1+1," "I Care," and a cover of Rose Royce's "I'm Going Down."‌
The show carried a spacey, futuristic vibe
Perhaps the biggest unknown was how Beyoncé was going to interpret the aesthetics for Club Renaissance. Would she go in a Studio 54 direction? Would she go '80s extravaganza? Turns out, Bey chose to look forward with a spacey, futuristic take on the dance music of her new album, complete with silver, plate-like stage getups and a slew of tech-y additions to the stage set.
The "Cozy" performance featured two robotic arms
One example of the tech forwardness of the show was the pair of robotic arms that arrived on stage to join Beyoncé for her performance of "Cozy." They didn't do much, just move a silver picture frame around as she interacted with it, but it was enough to get across the vibe she was going for with the show — and that she certainly, definitely has the budget.
Les Twins return
Les Twins, the brothers and dancers Laurent and Larry Nicolas Bourgeois, are a staple to any Beyoncé tour, and they make an appearance in this one. At the end of show's second act, they come out for a dance interlude set to "7/11."
Later, the twins joined Bey on stage for her performance of "Thique," flanking both sides of the singer — dressed in a custom Loewe bodysuit — in monochrome red.
She wore a UV light-changing gown
One of the showiest moments involved a white gown that completely transformed once it was exposed to UV light shined by, of course, two robotic arms. Bey used this moment just to purely transition from one song to the next — then whipped off the dress immediately once it was done.
She addressed the missing Renaissance visuals
But don't get your hopes up. In a twist of events, the superstar released a response of sorts to her fans begging for her to release the Renaissance music videos. Long story short, don't expect them to arrive any time soon, per the text she played on screen during her intro to "Formation."
"Aw you mad? Well, there's no remedy for that b*tches. I know you hear me. You've asked for the visuals, you've called for the queen. But a queen moves at her own pace, b*tch, decides when she wants to give you a f*cking taste. So get your fork and your spoon if you got one."
"Black Parade" performance featured a life-sized, moving spacemobile
‌Bey went all out to bring every song on her setlist to life, and that included rolling out a life-sized, operating shiny space rover that wheeled the singer into the audience for her debut live performance of 2020's "Black Parade." Again, her budget is talking very loudly — and yes, the top of the car did turn.
Beyoncé did Lil Uzi Vert's "Just Wanna Rock" dance
Despite Bey's seemingly reclusive online presence, she's proven that she pays attention to the trends of the moment. That revealed itself during the show as she busted out the dance from Lil Uzi Vert's "Just Wanna Rock," which she remixed into her performance of "Diva." Notably, Jersey Club is the foundation of that song, and its inclusion only furthered Bey's celebration of the many shades of dance music throughout the show.
She performed her Megan Thee Stallion "Savage" remix
Beyoncé performed many remixes throughout the night, including her and Megan Thee Stallion's chart-topping "Savage." Sadly, Megan didn't make a surprise appearance, but it was still a standout moment to hear Bey rap her verse live for the first time ever.
Catch Beyoncé on her 'Renaissance' tour now.
Bey dressed as a bee anchorwoman for "America Has A Problem"
Bey's costumes for the Renaissance show are plentiful and varied, but she saved the best one for her performance of "America Has A Problem": a bee-like yellow-and-black Mugler bodysuit, complete with an antennae headpiece to match. She delivered the song while standing behind a news desk for the faux station KNTY 4 News, and while we're not sure how the two themes overlap here, it's one of the most playful sets of the show.
She closed the show on (a flying) Renaissance horse
A subdued show opening meant Beyoncé could go all out for the show's finale — and she certainly did. She performed her final song, "Summer Renaissance," atop the same glittering horse from the Renaissance cover, effectively recreating the album art (and NYLON got the inside scoop on how the horse was made). And as if that wasn't enough, the horse was also suspended to cables and eventually took off over the crowd — an exit truly fit for a queen.