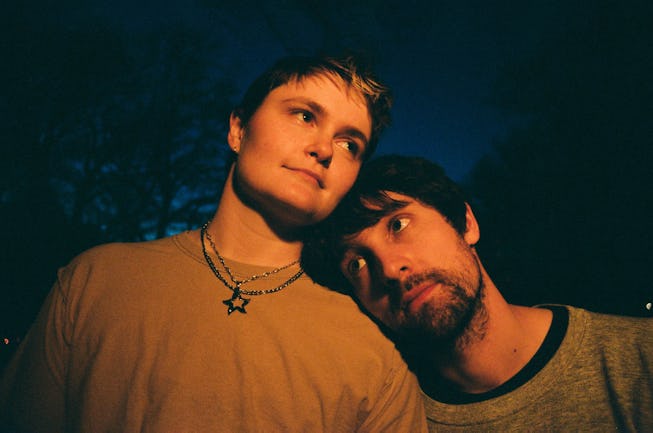 POND Creative
Bloomsday's "Phase (Alt Version)" Is A Folk-Rock Ode To Change
The Brooklyn band premieres its breezy, stripped-down new single on NYLON.
For Iris James Garrison, the singer and songwriter of Brooklyn-based band Bloomsday, songs are time capsules. That's never been more true than for Bloomsday's latest release "Phase (Alt Version)" which reskins the band's 2019 song after unprecedented change, both personally, sonically, and globally.
"Phase" was written and recorded in 2019 and was the only song off Bloomsday's — which also includes lead guitarist Alex Harwood — debut album Place to Land, released last year on Bayonet Records. It was a record they started working on before the pandemic, and finished the day of Garrison's top surgery — bookending a period of massive transformation internally and externally.
"I think of songs as time capsules, and 'Phase' in particular is a song about going through difficult transitions in life," Garrison says. "I wanted to revisit the capsule and see the sorts of new experiences, collaborators and sounds we would include in it this time around."
In the last year, Harwood and Garrison have explored more folk-rooted sides to their music — and the song, both in content and in production, is a tribute to the form and function of change. They shook up the arrangement, stripping it down to mostly acoustic chords, and also changed the percussion. The result is something like looking at a memory with a renewed softness; maybe it doesn't hold the same immediacy of rock and roll. It takes its time, and Garrison's vocals linger longer.
Bloomsday worked with Maddie Schuler (of Courtney Marie Andrews and Dead Tongues) and Collin Miller (of MJ Lenderman) to bring about a lovely twang, after Garrison met them in Asheville, North Carolina when Bloomsday was on tour.
"This version of the song reflects a current state of the band," Garrison says, "and introduces new elements that will be found in our future releases."