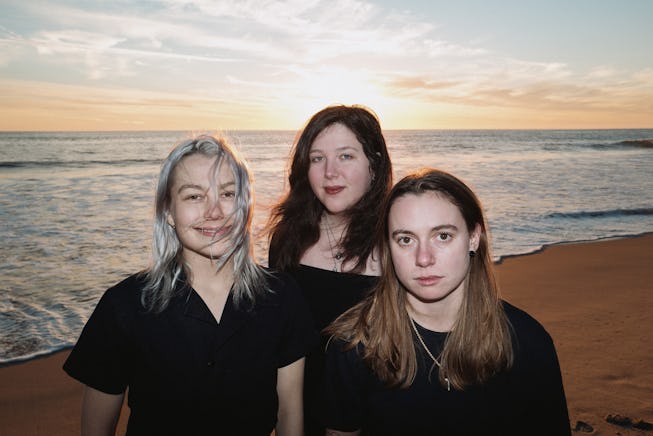 Harrison Whitford
On "$20," Boygenius Masters The Dynamic Of The Supergroup
The band's first music since 2018 are dazzling reminders of the group's un-replicable alchemy.
The genius of the supergroup is that you can have it all. Graham Nash, Dave Crosby, and Stephen Stills knew this in 1969 when they joined forces for the first time on their self-titled debut as Crosby, Stills & Nash, harnessing their own individual strengths to form a new, shifting organism. Together, Crosby's sharp commentary, Still's expansive instrumental knowledge, and Nash's pop melodies made the group a marvel, offering glimpse at what the best of the best could be when they could put aside, yet still highlight, their differences, and come together.
Nearly five decades later, Phoebe Bridgers, Lucy Dacus, and Julien Baker recreated that iconic Crosby, Nash & Stills album cover in formation as their own supergroup, boygenius. Used as the art of their 2018 self-titled EP, it was a referential nod and perhaps cheeky bid for the group's own eventual enduring legacy even though the future of boygenius was always, from the start, uncertain and tenuous. But if there's anything that the group's long-awaited new music and forthcoming album shows, it's that their legacy is at this point undeniable, and they've only gotten better at harnessing the magic of being in a supergroup.
"$20," "Emily I'm Sorry," and "True Blue" are boygenius' first new releases since 2018, and they' are dazzling reminders of the group's un-replicable alchemy. Unlike many of the tracks on their EP where their tones as individual musicians meld more seamlessly together, these three songs are starkly distinct, almost bearing the names of the main musicians that wrote them. The spiky and energetic "$20" is very clearly Julien's song; the mellow and distraught "Emily I'm Sorry," Phoebe's; and the clean and clear "True Blue," Lucy's. But through blended harmonies and echoing vocals, the three musicians gently knead each of them to sound distinctly boygenius, like passing along an almost fully-formed piece of clay for the others to add the finishing touches.
It's perhaps the most obvious on Baker's "$20," a scuzzy, scrappy rock track about the $20 constantly being lent to — or asked for by — the flighty person on the run. Throughout the course of the song, Bridgers and Dacus are right there in the background helping Baker finish the ends of her sentences, but it all breaks loose during the track's last minute. As Baker continues on with the song's outro, Dacus loops back in her with her usual sweet tone, while Bridgers goes absolutely apeshit screaming (a la on "This Is The End"): "May I please have twenty dollars?/ Can you give me twenty dollars?/ I know you have twenty dollars/ I know you have twenty dollars." Out of the three singles, "$20" is the track where all three artists sound most like they're running parallel to each other yet occupying their own lanes. As a result, you get a song that lands like the best of all worlds, a chaotic formation in which all three of them get to shine. It is, perhaps, the platonic ideal of a supergroup output.
This effect is more muted but still present, on "Emily I'm Sorry" and "True Blue," songs where the two other members support the main soloist like friendly, stabilizing pillars. But what doesn't ever disappear is this intangible sense of unity, care, and carefulness these three have for one another and the words they're singing that may not be their own. And while it can be tempting for fans to crowd behind one certain song and band member like brandishing their favorite superhero figurine out of the bunch, you'd be reminded how these songs wouldn't be the same without the other two's crucial fingerprints. Unlike with Crosby, Stills & Nash (who do not speak to one another anymore), you can imagine boygenius' sonic harmony, so golden and seemingly easy externally, extends behind-the-scenes in the studio, too.
This all being said, the distinctness of these first three songs are likely anomalies on the greater boygenius album yet to come. According to a press release, the first four songs from the record, due out March 31, of which these three first songs are apart, were written individually while the rest of its songs were written as "conversations." Which probably explains why "$20," "Emily I'm Sorry," and "True Blue" gleam with such strong distinct personalities. What will the other tracks, which were presumably created in a more democratic manner, sound like? It's also worth keeping in mind that in the process of bringing these songs to life during the one month they took to record it at Shangri-La studios in Malibu, more hands besides theirs have touched them, too. On these three singles alone, Jay Som's Melina Duterte, illuminati hotties, and many more are credited as additional producers and engineers.
boygenius aren't the first supergroup to master that magical dynamic chemistry, and they won't be the last. But, for now, they're still the ones doing it the best, offering up a reminder of what the apex of collaboration, friendship, and investment between three already talented individuals can look like.