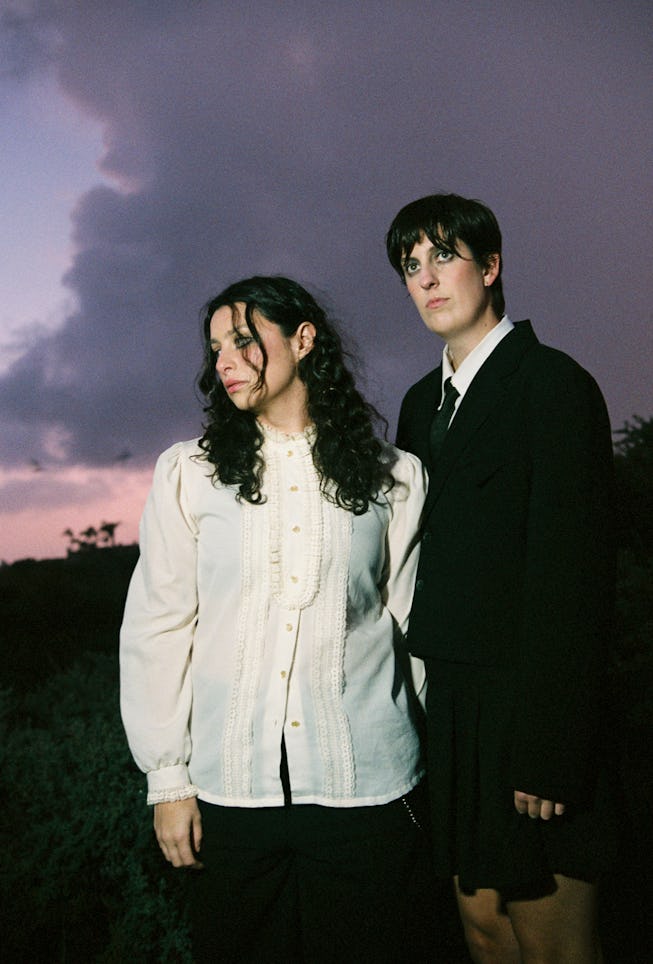 Jade Sadler
Boyish Finds Its Dark Side On Exquisite Song, "Girls Are Mean"
Hear it exclusively on NYLON.
"I don't feel alive, I feel pretty and plastic and worthless," sings Boyish's India Shore on "Girls Are Mean." The lyric arrives halfway through the hazed-out song, following a slew of other self-deprecating thoughts about feeling inadequate in the face of impossible societal standards, but for some reason, it sticks out. In so few words, it sums up the compounding emotions that living in this hyper-visible era stirs up, but delivers it in such a twisted, coquettish way that you're left wondering if it might be something you want.
Twisted and coquettish may be two new words to describe the music Los Angeles-via-Brooklyn duo Boyish, comprising Shore and guitarist Claire Altendahl, makes. Since its formation in 2016, the band's lovely indie pop has hinged on simplistic, straightforward songwriting, distilling past memories and emotions to their bare bones. On "Girls Are Mean," premiering exclusively on NYLON, the band now drapes a film of mystery and obliqueness to its songwriting; it's moody and intense. There are lines like, "Girls are mean, but at least you look so heroin-chic." When coupled with the band's already mastered dense fog of synth-pop, it sounds exquisite.
"'Girls Are Mean' might be our favorite song that we've ever made," says Boyish of the song in a press release. "It really helped us create the world we want our EP to exist in. 'Girls Are Mean' was started as a long list of random thoughts we compiled while we were on tour. We were in the Southwest and spent a good amount of time on Route 66 and drove through a lot of ghost towns and desert. When we got back from tour, this was the first song that we wrote."
You can hear those inspirations on the new song — the ghostliness in the smeared out layers of Shore's vocals — which appears to mark a new stylistic chapter for the band. The group's new EP is expected to arrive in the spring. For now, hear "Girls Are Mean," below, and read on for our catch-up with the band.
What are you up to right now — describe your surroundings.
We're currently at home in Los Angeles, it's pretty early in the morning so we're having some coffee and sitting in Claire's home studio. We both like to start work early in the day before we get too distracted by other things. The studio is super DIY, in a room with a nice view of the backyard and it's filled with a Tár poster (which has been one of the biggest inspirations for this new EP) and a bunch of little animal figurines.
What's the story behind "Girls Are Mean?"
"Girls Are Mean" is the first song we finished for the EP we're working on. We started it during our tour with Spill Tab, and finished it when we got back. It's supposed to feel like the beginning of a breakdown. I wanted to capture the feeling of reaching for something, always wanting something.
Describe your sound in 3 words.
The sound for "Girls Are Mean" and the new EP is heavy, raw, and alive.
What's the last album you listened to in full and enjoyed, and why?
I listened through all of Preacher's Daughter by Ethel Cain. I love the world she's created. It sucks you in. It makes me feel like I'm watching a movie that I love, and always find myself in a rabbit hole trying to find out more about each character in the story.
Besides making music, what do you like to do in your spare time?
Altendahl: I love to read, I live close to a bookstore in L.A. that sells only romance novels called The Ripped Bodice, and I love tearing through one of those books. Specifically, my go to is a queer sci-fi romance, or somewhere in the fantasy realm. I've been obsessed with this company Bywater Books that publishes lesbian and feminist fiction and a lot of my favorite authors right now are working with them. Besides that, I love doing Zumba with my roommates.
Shore: I really love going to the movie theater. I'll see anything. [I'm] looking forward to seeing 80 For Brady and Magic Mike's Last Dance this month. I also really love to draw. I'm not very good but I really enjoy it!