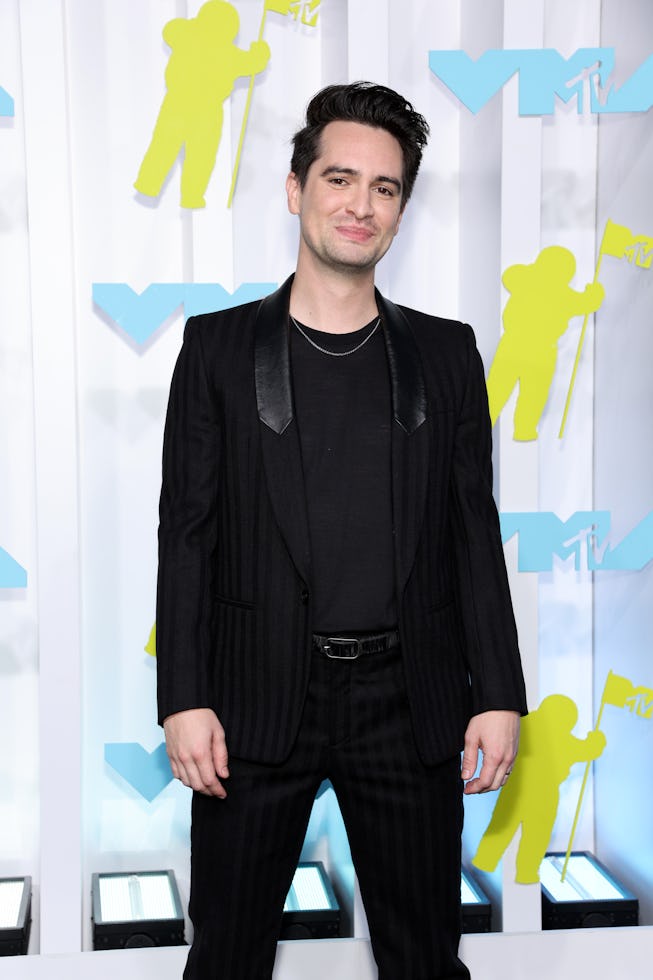 Arturo Holmes/FilmMagic/Getty Images
Brendon Urie Officially Disbands Panic! At The Disco
It's the end of an era — and a sad day for Panic! At The Disco fans. After two decades, Brendan Urie has officially disbanded and retired Panic! At The Disco.
The musician (and sole member remaining in the iconic pop and punk group) announced its disbanding, and seemingly his own retirement from music, on Tuesday, releasing an official statement on his social media that stated he'd be turning his focus to his family and forthcoming first child.
"Well, it's been a hell of a journey…," Urie wrote. "Growing up in Vegas I could've never imagined where this life would take me. So many places all over the world, and all the friends we've made along the way. But sometimes a journey must end for a new one to begin. We've been trying to keep it to ourselves, though some of you may have heard... Sarah and I are expecting a baby very soon! The prospect of being a father and getting to watch my wife become a mother is both humbling and exciting. I look forward to this next adventure. That said, I am going to bring this chapter of my life to an end and put my focus and energy on my family, and with that Panic! At The Disco will be no more."
Urie has a few more shows to play as Panic! At The Disco before he hangs up his top hat for good. He embarks on the European and U.K. legs of the "Viva Las Vengeance" tour come Feb. 20, which is now presumably doubling as a farewell tour.
It's ultimately unclear whether Urie is bowing out of music completely — though his statement sounds like he'll be taking an extended hiatus — or if he plans to eventually return under his own moniker, and is now just taking the time to formally retire the Panic! At The Disco name for good.
Panic! At The Disco was formed in 2004 bt childhood friends Ryan Ross (guitar) and Spencer Smith (drums), who eventually brought Brent Wilson (bass) and Urie (vocals) on board. While originally formed as a cover band, the group later achieved breakout success with their debut release, A Fever You Can't Sweat Out, in 2005, propelled by its massive single, "I Write Sins Not Tragedies."
From 2006 onward, the band underwent a series of lineup changes. Wilson left the group following the release of their debut album, while Ross and replacement drummer Jon Walker split ways in 2009 following the release of their second album, Pretty. Odd., citing creative differences with remaining members Smith and Urie. Smith and Urie released third album Vices & Virtues together in 2011, but Smith departed in 2013, leaving Panic! At The Disco as a solo project. On his own, Urie released 2016's Death Of A Bachelor, 2018's Pray For The Wicked, and 2022's Viva Las Vengeance while turning PATD's sound toward a more polished pop direction.
That being said, PATD's lasting legacy will be the undeniable and immeasurable touch it left on pop-punk and the generation of sideswept-bang teens it helped shape. As we mourn its end, revisit some of the band's best moments and biggest hits, below.