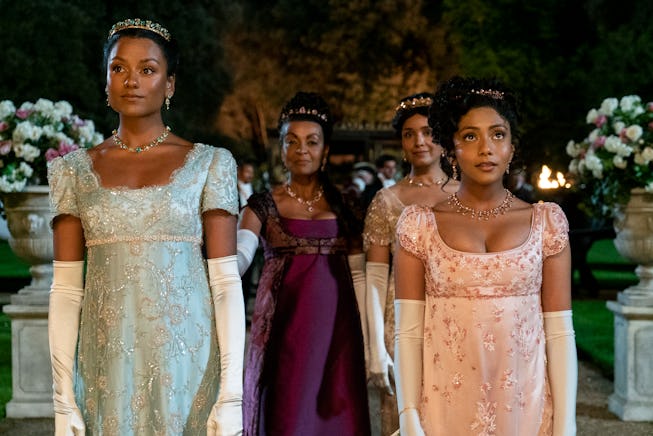 LIAM DANIEL/NETFLIX
The First 'Bridgerton' Season 2 Trailer Is All About Love
"What happens when duty is in conflict with the heart's true desire?" Lady Whistledown asks.
Netflix hit Bridgerton is returning for another steamy season, with a whole new cast of characters falling in and out of love while wearing Regency-era ballgowns. Shonda Rhimes's Jane Austen-meets-Gossip Girl period piece was a hit among viewers during its first season, catapulting leads Phoebe Dynevor and Regé-Jean Page to new heights in their careers and bringing new fans to the eight-novel book series the show is based on.
When the second season returns, keeping in line with the books, the focus will be on other characters in the Bridgerton family — specifically, the family's rakish eldest brother, Lord Anthony Bridgerton (Jonathan Bailey). New first-look photos from the upcoming season feature the show's usual glamour, romance and even a corgi. Here's what we know about Bridgerton Season 2 so far:
The first full trailer for Bridgerton Season 2 is all about love.
"What happens when duty is in conflict with the heart's true desire?" Lady Whistledown (Julie Andrews) wonders in a voice-over in the first official new Bridgerton trailer. "Why, then there is the potential for a considerable scandal, indeed."
The three-minute look at Season 2 sees a whole new group of hopeful debutantes being introduced to the Queen. "It has been said that the competition is an opportunity for us to rise before our greatest of challenges," Lady Whistledown explains of the cutthroat marriage market — which includes Viscount Anthony Bridgerton, the main focus of Season 2.
It is out of "the greatest love of my family that I am to choose a bride with my head, and not with my heart," he declares in the trailer. Trouble arises, though, when he finds his match not in his intended bride, but in her big sister.
Watch the trailer below:
Bridgerton's Season 2 will focus on Anthony Bridgerton and his new love interest.
The first season of Bridgerton ended with newlyweds Daphne (Dynevor) and Duke Simon (Page) eventually getting together and having lots of sex, all under the watchful eye of Lady Whistledown (Julie Andrews). As mentioned, Season 2 will follow the exploits of Anthony (Jonathan Bailey). Where the first season pretty closely followed the series' first book, The Duke & I, it's likely Season 2 will pull from the series' second book, The Viscount Who Loved Me.
"I think we've done some work in season one to set up other characters," showrunner Chris Van Dusen said in an interview. "We really dig into Anthony's love story. We're really exploring Benedict as well, and Collin, and Eloise's relationship. I think it's a deep well of story for us to explore."
"We're very much passing on the baton to the lovely [Jonathan Bailey], who plays Anthony, and that will be the main story line of Season 2 and the story arc of Season 2," Dynevor told US Magazine. "The show centers around the Bridgertons, and there are eight books. And I think maybe the fans of the books were more aware of that happening than the fans of the show."
Here's the official description for season 2: "Driven by his duty to uphold the family name, Anthony's search for a debutante who meets his impossible standards seems ill-fated until Kate (Simone Ashley) and her younger sister Edwina (Charithra Chandran) Sharma arrive from India. When Anthony begins to court Edwina, Kate discovers the true nature of his intentions — a true love match is not high on his priority list — and decides to do everything in her power to stop the union. But in doing so, Kate and Anthony's verbal sparring matches only bring them closer together, complicating matters on both sides. Across Grosvenor Square, the Featheringtons must welcome the newest heir to their estate while Penelope (Nicola Coughlan) continues to navigate the ton whilst keeping her deepest secret from the people closest to her."
Anthony's love interest will be played by Sex Education's Simone Ashley.
Simone Ashley (Sex Education) will play Kate Sharma — the older sister of Anthony's fiancé, who at first disapproves of the notoriously rakish bachelor before ultimately falling for him herself. "Kate is a smart, headstrong young woman who suffers no fools — Anthony Bridgerton very much included," the Netflix announcement for Ashley's casting read.
Bridgerton Season 2 will return to Netflix in March 2022.
Specifically, the show will arrive on Netflix on March 25, 2022.