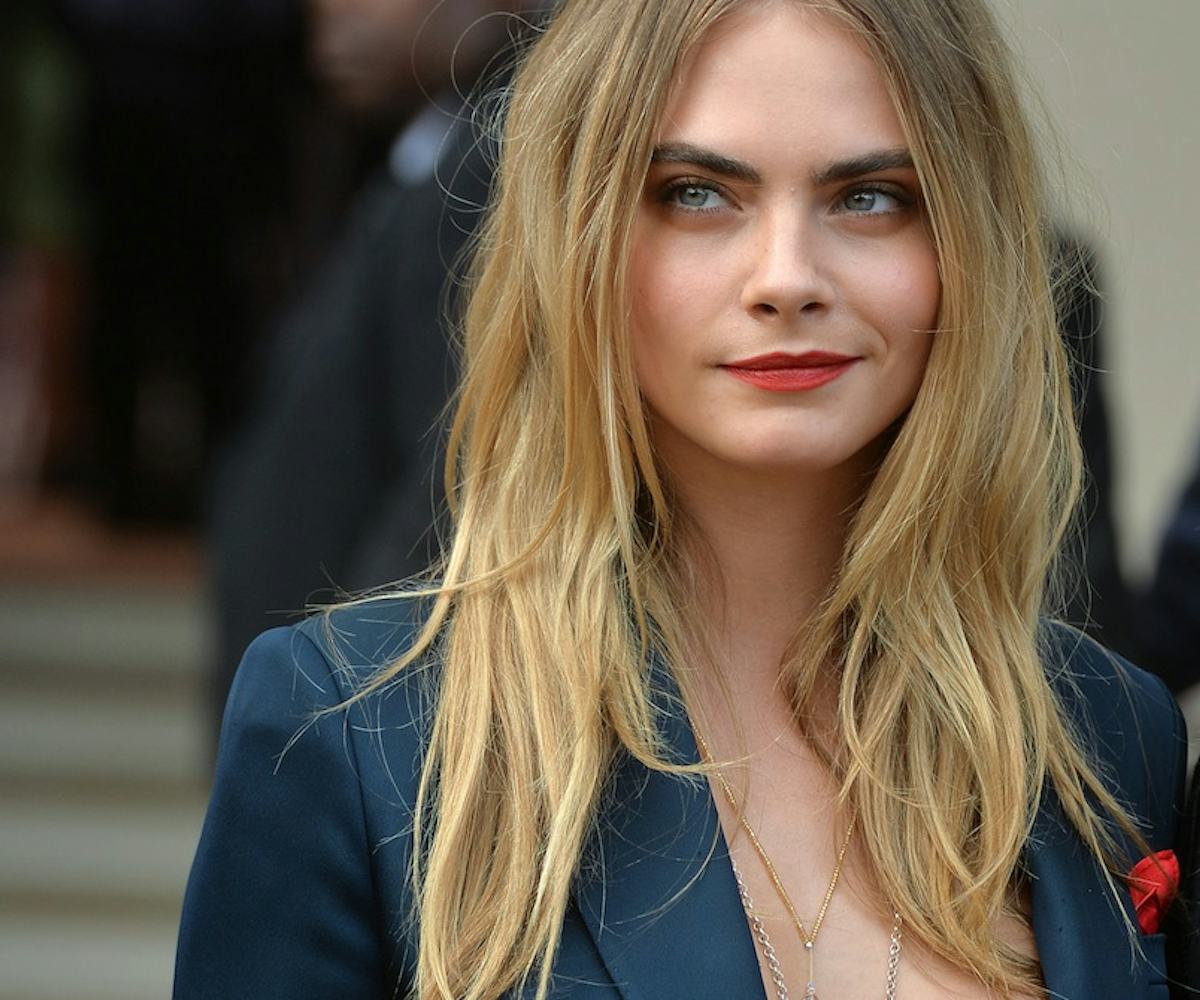 everything you need to know about cara delevingne's new movie role
she's starring in john green's 'paper towns.'
Cara Delevingne, YA heroine? Ready or not, it's happening! Yesterday news spread (like wildfire, duh) that the model and budding actress had landed a starring role in the forthcoming movie Paper Towns. Based on the John Green novel of the same name, this is a huge deal for Delevingne (if you've read the hit book, you know this already...). So we spent all afternoon digging around the internet, and here's everything you need to know about the supermodel's new gig:
1. John Green's Paper Towns was published in 2008, the third release from the YA novelist. 
2. This is Green's second book-turned-film. Maybe you've heard of his other, a little flick called The Fault In Our Stars?
3. Delevingne will play Margo Roth Spiegelman, the mysterious female lead. 
4. She'll co-star alongside Nat Wolff, who had prior roles in Palo Alto and also The Fault In Our Stars. He'll play the protagonist, Quentin. 
5. The movie will be written by Scott Neustadter and Michael H. Weber, who worked together to pen both TFIOS and The Spectacular Now.
6. As for the plot itself, the storyline follows Margo and Quentin in the years following a risky nighttime adventure as kids. Later on, in high school, Margo suddenly disappears-- and Quentin takes it upon himself to figure out where she is, and why she left. 
7. According to Green, Delevingne nailed the audition. He tweeted, "Cara Delevigne's audition blew everyone away (including me!) and she understands Margo profoundly. I am so excited!"
8. Despite the fact that the book is certifiably Young Adult Fiction, that's not stopping adults from obsessing. It's been a big hit for all ages, and its complexity, themes of suicide, and sexual undertones even got it banned from some school reading lists. 
9. The film is being produced by Fox, who clearly hearts Delevingne. The company is also behind her other film role, as a mermaid in Pan. 
10. You can watch it all go down July 31, 2015 when Paper Towns hits theaters.
11. Excited? Annoyed? Have strong feelings about the casting choice? Green's the guy to tell. As he puts it on Twitter, "I'm also REALLY excited that I'll be an executive producer on the Paper Towns movie. Now, if you don't like something, you can blame me. :)" Somehow, we don't think that'll happen...