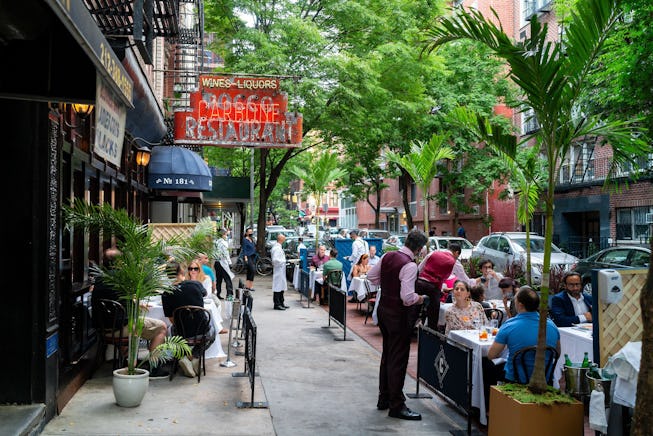 Gotham/Getty Images Entertainment/Getty Images
NYC's Carbone Is Heading To Your Local Grocery Store
Coming to a grocery store near you.
Unless you're an A-List celebrity, good luck trying to book a table at famed New York City Italian restaurant Carbone; Ariana Grande and Pete Davidson making out over pasta, Rihanna walking out while nonchalantly holding a glass of wine, Lorde celebrating her 26th birthday with Taylor Swift — it all goes down at Carbone. The Lower Manhattan institution created by renowned chef Mario Carbone and known for immediately running out of reservations at the top of each month is taking a step back from their signature exclusivity. The Herculean task of tasting a Carbone entrée is now more accessible than ever, thanks to the restaurant's new line of pasta sauces, Carbone Fine Food, coming to a grocery store near you.
Much like its restaurant fare, Carbone Fine Food is the best of the best — their sauce-crafting process is small-batch with fresh ingredients, each taking approximately one hour to make. Dehydrated ingredients mixed with water? Over Carbone's dead body! Get ready for Marinara, Arrabbiata, and Tomato Basil to elevate the hell out of your home-cooked pasta.
To begin, Carbone Fine Food products will be available direct-to-consumer on Amazon and CarboneFineFood.com, as well as Stop & Shop locations in New York, New Jersey, Connecticut, Massachusetts, and Rhode Island, with plans to expand across the Eastern Seaboard in the coming months.
The finely-crafted pasta sauces are only the beginning to making Carbone Fine Food a household name. Prego, Rao's, and, Cucina Antica are terrified!