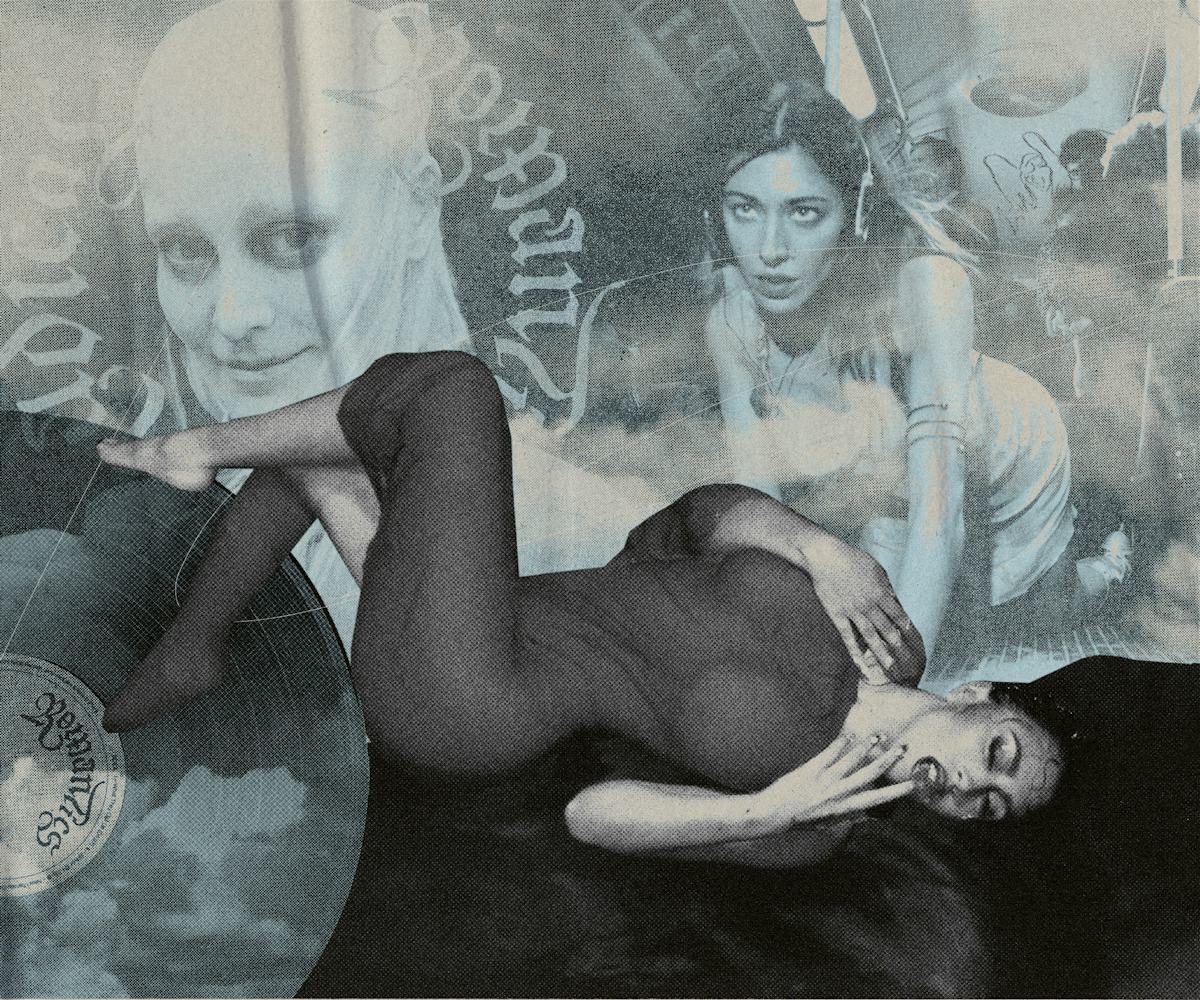 Lindsay Hattrick/Nylon
How Caroline Polachek, Fever Ray, & Kali Uchis Are Harnessing The Power Of Desire — And Sex
On their new albums, desire is more than just a good fuck.
In Fever Ray's music video for "What They Call Us," the tribalistic album opener off the forthcoming Radical Romantics, out March 10, the Scandinavian project takes part in your not-so-typical office party. A sign on the wall reads "It's Your Last Day," and a creepy hairy monster with glowing red eyes stands next to it. Huddled coworkers, unphased by the monster that maybe only frontperson Karin Dreijer can see, sip casually out of plastic cups. But things soon turn bacchanal. Drenched in red light, they begin undressing as they dance. It's as if their inner desires were uncaged, something drawing out the primal urges that were lurking behind drab, fluorescent-lit doorways. A door opens up to a jungle as they travel the hallways via torch light. Drums pound, drawing us nearer, as Dreijer sings, "The person who came here was broken/ Can you fix it? Can you care?" A ceremony begins: Dreijer saying goodbye to a broken heart as coworkers revel around them to be born anew.
This is the prologue to Fever Ray's desire-steered pilgrimage. Radical Romantics devotes itself to exploring that yearning emotion, a multiverse. In "What They Call Us," desire begs to expand and break free like butterflies fluttering in someone's stomach and festers in the minute and hangs in the air like an expansive gas. It lives in both reality and fantasy. Even when we're not tending to it, desire waits for us to turn away from our blue screens, walk away from the dismal office desks; it's a state of mind that's constantly transforming and pushing us through life.
Dreijer's work as Fever Ray and their collaboration with visual artist Martin Falk have long explored the societal and normative limitations enforced around sex and relationships. "It's very political, it's super important to understand the power structures," the Swedish artist said in 2018, discussing sex and Michel Foucalt's theories in regards to their last album Plunge. "There's these ideas about how you're supposed to have sex and how you're supposed to enjoy your body and I think it's super important to destroy all the ideas about sex as well."
Dreijer continues that deconstructive process on Radical Romantics, exploring pleasure-seeking hunger and more primal thirsts. On "Kandy," lust (even when it's confused for love) is an intoxicating, sugary pursuit. "She laid me down and whispered/ All girls want kandy," they sing alongside quivering synths. It's a tender display of queer seduction that follows Dreijer admitting to inklings of fear and vulnerability ("What if I die with this song inside/ I've been alone forever"). "Shiver" celebrates orgasmic highs with wiry synths and organic percussion. On "Looking for a Ghost," Dreijer reminds us that love in any form is worth exploring, destroying boundaries and hetero-norms: "We don't come with a manual/ Eating out like a cannibal."
For Fever Ray, desire — and sex — can heal the body and mend the mind. Through visceral lyrics and intense rhythm, the experimental artist unlocks how longing, for intimacy or touch or connection, is a ritual. It's a recipe that changes: "Whatever works/ Lips/ Fists/ A mouthful of words," they sing on "New Utensils." Sex is a direction. Like desire, it is a way forward. "I'm calling sex, north/ It's a way to pass," they sing. And even then, it goes further than a map of survival: "Sex forward like a way to thrive."
Caroline Polachek's latest album, Desire, I Want To Turn Into You, also conjures sex and, like Dreijer, demonstrates how desire can counteract shame. Album opener "Welcome to My Island" begins with the sound of the singer orgasming. Described as the "anthem for a walk of shame," the song is an ode to pursuing desire and not caring that "polite society is moving down the road, kind of giving you side-eye," Polachek said. It's the beginning of the album's emotional "spiraling," a central theme to the record: an indulgence of ego that lends itself to mania and even a transformation to a new self. "Look at how I forgot who I was before I was the way with you," she exults on "Blood and Butter." Polachek's inner changes riddle the album with scenes of melting, evaporating ("Smoke"), decomposition ("Hopedrunk Everasking"), and grieving ("Sunset").
Polachek described the emotion that inspires her art as something that "doesn't fit in the world," and throughout the album, she makes her own world to house her supernatural feelings. The accompanying videos for the album's singles slowly build her own mythology around desire. She roams a labyrinth of cardboard boxes, the "storage facility" of her mind, trying to escape a minotaur for "Bunny Is a Rider." She wanders a giant hall of artifacts, dances in a dark cave, frolics with a hoved beast (possibly that same minotaur), and vomits up lava as a human volcano — a different sort of eruption — for "Welcome to My Island."
"Depending on the level of desperation, the desire for something can be a fervent chase or a languid search, whether it's for love, sex, food, spiritual growth, or a new fashion drop."
Both Fever Ray and Polachek use the mystery in their music's surreality to their advantage. In Polachek's hands, desire is freeing with no rules or limitations. It really can make you feel like an active volcano. "I feel like culture in general is suffering from a need for everything to be literal," Polachek has said. "It's almost like we've forgotten that's never why we were interested in art in the first place. I'm a deep believer in what lies behind the story, so not only did I get back into that relationship with abstraction, but I pushed it further than I ever had before [on her new album]."
The abstraction of desire also plays a role on Kali Uchis' forthcoming album Red Moon in Venus. Her record focuses on desire that takes root through the symbolism of the moon and venus. In astrology, the positions of the moon and Venus are used to explain our trials in love, sex, and relationships — and again, here, desire is represented by something outside of this world that transforms us, sending us spiraling. But Uchis comes at it through a graceful sophistication. Lead single "I Wish You Roses" is more about maturing into a better person post-breakup than wishing an ex-lover good fortune. "The point is to celebrate releasing people from your life without being resentful or bitter," Uchis said.
Uchis roots her soundtrack to desire in twinkling funk guitar and swaying, seductive rhythms. Whereas Polachek and Dreijer emphasize the euphoric longing through careening musical interpretation, Uchis highlights the tense, lustful allure with unhurried ease. Instead of riding the chase's lightspeed thrill, we're here in this blissful moment for as long as possible.
Throughout the album, Uchis takes us on a journey from heartbreak to finding a greater meaning through love and lust. "I want to be around you every day/ This feeling in my body is not the same," Omar Apollo sings alongside Kali Uchis on "Worth the Wait," a highlight that shows longing for something doesn't only sustain us, but it also changes us. Towards the album's end, she relishes in her self-worth on the glinting pop gem "Deserve Me" featuring Summer Walker, and lusts after a pleasure that will take her high into the "Moonlight." On "Fantasy" featuring Don Toliver, she indulges in someone's desire for her: "I just want the fantasy/ Love it when you worship me." No need for extreme transformation or rebirth, Uchis' desire solidifies her sense of self, releasing people when they no longer serve her.
Depending on the level of desperation the desire for something can be a fervent chase or a languid search, whether it's for love, sex, food, spiritual growth, or a new fashion drop. It's a motivation, a reason to live, and, as Polachek and Dreijer have shown, it can be a good fuck — but it's also much more than that. It will send us spiraling into transformation. "The upward spiral is maybe the closest thing we can experience to heaven — a kind of heaven on Earth, which we feel in moments of total selflessness and falling in love. They're really the moments where you feel yourself turning into something else," Polachek said. Desire and its burning pursuit toward a sexual revolution or a renewed, carefree sense of self can break the chains of societal or self-imposed shame. In psychology, life is a "continuous stream of desiring." Creatures of free will, where would they be without desire?
Caroline Polachek's 'Desire, I Want To Turn Into You' is out now. Fever Ray's 'Radical Romantics' is out 3/10. Kali Uchis' 'Red Moon In Venus' is out 3/3.