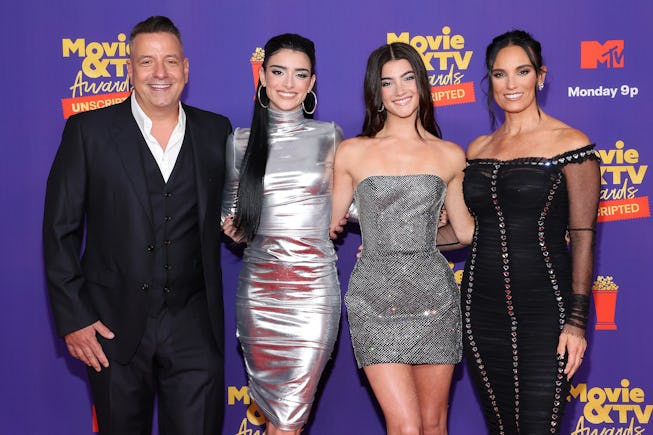 Photo by Amy Sussman/Getty Images
'The D'Amelio Show' Is About A Family Navigating The Limelight
The Hulu series will follow Charli, Dixie, and their parents as they settle into their new Hollywood reality.
The D'Amelio family was thrust into the spotlight following the viral success of their teenage daughters' TikTok accounts, with Charli (17) and Dixie (20) blowing up seemingly overnight as two of the most followed people on the platform.
A new Hulu docuseries will document the sisters' experience of becoming overnight social media sensations, as well as their family's subsequent move to Hollywood and entry into the entertainment industry, with photoshoots, music opportunities and many more doors suddenly opening to the D'Amelios.
The series, which will include eight episodes, promises an inside look at navigating fame. In a statement released in December, Belisa Balaban, VP of documentaries at Hulu, said, "Two years ago, Charli and Dixie D'Amelio were virtually unknown outside of their town, and now have over 100 million fans who tune in daily for their every move. Every teen on social media dreams of becoming famous, but what happens when the reality hits?"
Here's everything we know about The D'Amelio Show so far:
The D'Amelio Show has a premiere date.
The D'Amelio Show will premiere Friday, September 3, 2021 on Hulu.
The D'Amelio Show has two trailers that show the family navigating the limelight.
Watch them both below:
The series will focus on the family's relationships with each other as they adjust to their new Hollywood lifestyle.
In the first D'Amelio Show trailer, Charli claims that Dixie is very protective of her, while Dixie notes that her little sister has been "going through a lot."
Along with their budding careers, the series will feature their families' attempts to stay grounded. "Being normal kids, that doesn't change with a following," says the girls' mother, Heidi.
Watch the trailer below: