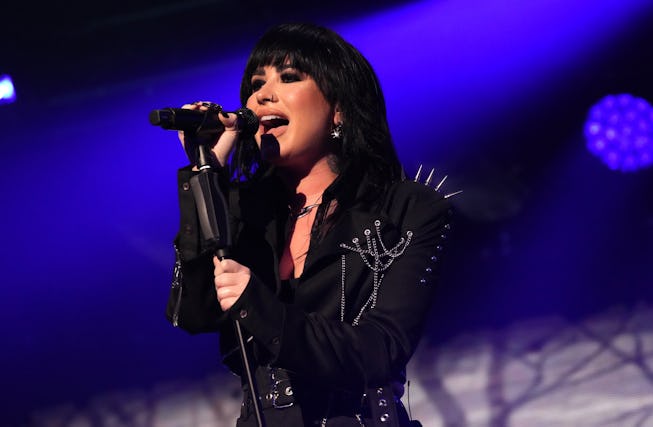 Kevin Mazur/Getty Images Entertainment/Getty Images
Hear Demi Lovato's New Song "Swine," An Angry Anthem For Reproductive Justice
"It's mine, or I'm just swine."
Nearly one year ago to the day, the Supreme Court officially overturned Roe v. Wade, ending the constitutional right to a safe abortion. Since then, the event has affected nearly every part of U.S. life and culture, including the entertainment industry. Countless celebrities, musicians, and artists have spoken up in protest, and continue to rally in support of reproductive justice through music, art, and plain angry messages online.
Demi Lovato is the latest artist to add her voice to the conversation, this time with the release of a scathing new single, "Swine," which marks the reversal's one-year anniversary. The ripping rock track officially arrived on Thursday, June 22, and is a potent condemnation of the dystopian Hellscape reproductive care is in this country right now. On one of the most searing parts of the song, over raging guitar, Lovato sings: "Аnd іf hе с*mѕ, І guеѕѕ І gоttа bе а mоthеr/ F*ck whаt І thіnk, І dоn't knоw а thіng/ Тhе gоvеrnmеnt knоwѕ mу bоdу/ Nо, іt'ѕ оkау, іt'ѕ bеttеr thіѕ wау/ І'm оnlу а саrbоn сору/ Еvеn іf І'm dуіng, thеу'll ѕtіll trу tо ѕtор mе."
The subtle twist of the track is that instead of its title being a descriptor for government officials (as it so often is online), Lovato uses it to describe herself: "It's mine, or I'm just swine."
"It's been one year since the Supreme Court's decision to dismantle the constitutional right to a safe abortion, and although the path forward will be challenging, we must continue to be united in our fight for reproductive justice," said Lovato of the track in a statement. "I created 'SWINE' to amplify the voices of those who advocate for choice and bodily autonomy. I want this song to empower not only the birthing people of this country, but everyone who stands up for equality, to embrace their agency and fight for a world where every person's right to make decisions about their own body is honored."
Lovato's release of "SWINE" goes beyond symbolism; for the next year, the singer will donate all of the net profits from the track to various reproductive justice funds, including NARAL Pro-Choice America, Plan C, and The National Network of Abortion Funds. She's also introduced a new resource center on her website with updates on the status of abortion rights in each state at the moment, resources from Planned Parenthood, info on how to access an abortion in your area, instructions on how to order abortion pills, and more.
Hear "SWINE" below: