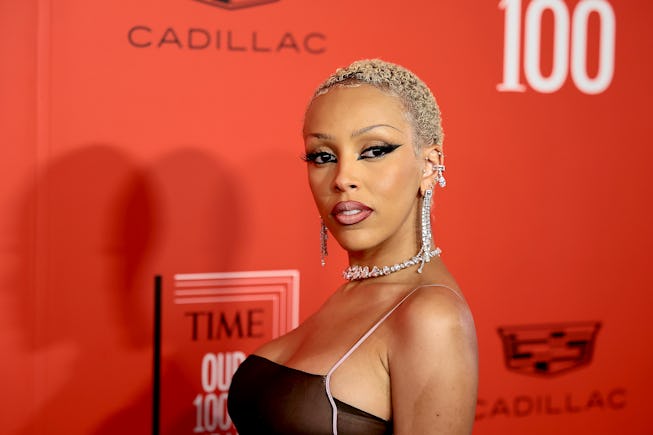 Dimitrios Kambouris/Getty Images Entertainment/Getty Images
Doja Cat's Beef With Her Fans Goes Further Than The "Kittenz" Incident
How did we get here, and when did the tide start turning?
Doja Cat has always been messy online. In fact, it's arguably what made a huge chunk of her millions-deep fanbase fall in love with her in the first place. Ever since her breakthrough moment in 2018 when she went viral for her off-the-cuff meme song "moo," her irreverent candidness, keen internet fluency, and slight trollish tendencies have made her stand out as one of the most relatable, accessible celebrities around — and even helped her weather several unsavory controversies.
But recently, that quality has put the singer in hot water more often than in the good graces of the public. Over the past 48 hours or so, the singer has reportedly lost nearly 300,000 followers across her social media platforms due to an online spat with her fans, during which she called out their parasocial behavior and told them to "get a job." Normally, this wouldn't be too out of the norm for the Doja-fan dynamic, but this particular event has led to a ballooning of increased media attention, as well as more and more people online saying that they're no longer supporting the pop star.
So, how did we get here, and when did the tide start turning? Below, we break it all down.
What's happening with Doja Cat and her fans?
As all things do nowadays, it began on social media — specifically, on Threads.
As TMZ first reported, this past weekend Doja Cat fired off a post on Threads calling out fans who had labeled themselves "kittenz" online. "My fans don't name themselves shit. [I]f you call yourself a 'kitten' or fucking 'kittenz,' that means you need to get off your phone and get a job and help your parents with the house," she wrote in the now-deleted Thread.
As fans responded to the tweet, Doja Cat directly replied to a couple of them, telling one fan with the username "thekittenzweb" to delete their account, and belittling another for having her government name as their username, calling them "creepy as f*ck."
Another fan asked Doja Cat to tell her fans she loves them, but Doja responded, "I don't though cuz i don't even know yall." A different fan then pointed out they've supported Doja Cat "through thick and thin" and that she'd "be NOTHING without us." Doja fired back: "nobody forced you idk why you're talking to me like you're my mother b*tch you sound like a crazy person."
Understandably, this has left a bitter taste in some of her fans' mouths. As her messages — which are now all deleted, along with her Threads account — have spread online to other platforms, more and more of her fans are calling her behavior ungrateful and "weird," while others question how she still has fans, and remark that she's "ruining her own career."
But hasn't she always been this way?
Yes, this is far from the first time Doja has tried to give her fans a cold hard dose of reality, so it's likely the tide could've started turning much earlier.
While Doja has always maintained frank rapport with her fans, things really started to come to a head within the last two years.
In March 2022, Doja Cat got in particularly hot water with her fans after a scheduled performance in Paraguay was cancelled due to torrential thunderstorms and flooding. After fans criticized the singer for not greeting the fans that had still camped out in front of her hotel and waited in the rain for her, she went to Twitter to say she was "sorry" before immediately retracting her apology when a fan responded to her tweet with a photo of her labeled as "Public Enemy #1."
Later, Doja tweeted that she wanted to "disappear and I don't need you to believe in me anymore," and that "this is a f*cking nightmare." She changed her Twitter name to "i quit" and later updated it to "i quit still."
Another incident occurred just months later in August 2022, after Doja debuted her newly shaved head. After some fans online took it as an opportunity to press about her mental health, Doja Cat went on a Live to address their concerns, saying: "I'm rich, I'm fine. Just the whole 'Are you okay, queen?' shit makes me want to rip my … I guess the hair that I have left out and that would be my pubics." (This specific event eventually ended up inspiring the singer's latest single "Attention," on which she raps, "talk your shit about me, I can easily disprove it, it's stupid.")
Then, in May of this year, she indirectly snubbed the legions of her fans who found her through through her pop music, tweeting that Planet Her and Hot Pink were "cash-grabs" and her fans "fell for it." "Now I can go disappear somewhere and touch grass with my loved ones on an island while yall weep for mediocre pop."
Alongside this most recent event, fans have been scrutinizing her alleged relationship with former Vine star Jeffrey Cyrus after the two were photographed kissing on a yacht. Neither Doja nor Cyrus have confirmed or commented on their relationship.
So what should I make of all of this?
One thing is clear: Doja Cat is definitely never going to adhere to the many expectations of her fans. While her tactics are a bit combative, it's ultimately not that unreasonable for her to express and enforce her boundaries, as well as state when some fan behavior — like using her full government name as a social media handle — makes her deeply uncomfortable.
In nearly every regard, online stan/fan culture has only gotten more toxic in recent years — no doubt a factor in the increasing wave of incidents involving singers getting pelted by objects at concerts. Online, one can never actually tell who's a true fan, and who's a troll (a point Doja also makes on "Attention"). Only the album/ticket sales will be able to help confirm whether Doja's fans have jumped ship.
Another thing to realize is that Doja is releasing a new album soon, and wreaking some havoc online is a tried and true marketing tactic for many artists (just talk to Kanye). She's already trolled fans and journalists alike with her ever-changing album title, and she only recently admitted that the record would be a straight rap album, that will clearly allow her to talk more about deeper topics like celebrity and fandom, as on "Attention." What better way than to drum up more of that fodder herself?