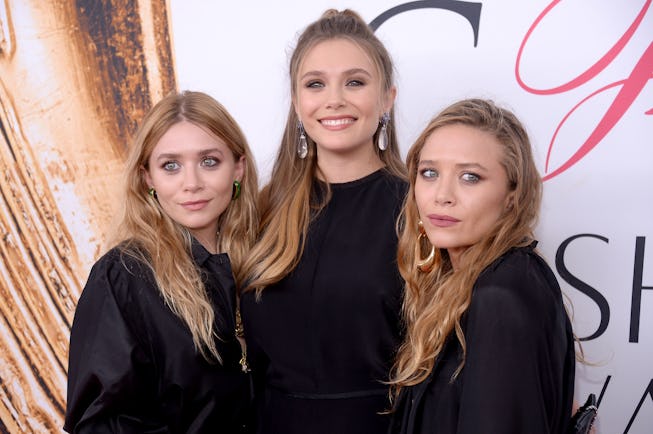 Photo by Clint Spaulding/Patrick McMullan via Getty Images
Elizabeth Olsen Said She Planned To Change Her Famous Last Name
"I thought 'I don't want to be associated with [Mary-Kate and Ashley]', for some reason."
When Marvel's WandaVision first hit Disney+ back in January, many fans were surprised to find out that the actress playing the titular Wanda is Mary-Kate and Ashley Olsen's younger sister, Elizabeth. Though she's been acting consistently for at least a decade (remember 2011's disturbing Martha Marcy May Marlene?), the runaway success of WandaVision has propelled the youngest Olsen to new levels of international fame.
The actress revealed in a new Glamour UK profile that as a child, she considered following in her sisters' footsteps into Hollywood, but was aware even at a young age that nepotism would have an impact on her career. "I was 10 and I was curious about auditioning," she told the magazine. "I realized very quickly it wasn't for me because I was missing my sports teams, my dance class and all the extracurricular activities at school. But during that time, I thought 'I don't want to be associated with [Mary-Kate and Ashley]', for some reason. I guess I understood what nepotism was like inherently as a 10-year-old. I don't know if I knew the word, but there is some sort of association of not earning something that I think bothered me at a very young age. It had to do with my own insecurities, but I was 10. So I don't know how much I processed, but I did think, 'I'm going to be Elizabeth Chase [her middle name] when I become an actress.'"
She didn't, in fact, change her name to Chase, and in the end, Marvel fans have connected with Elizabeth's multi-layered portrayal of Wanda — not her famous sisters. Olsen does, however, credit them with teaching her major lessons about the biz.
"The word 'No' specifically was something that I remember my sisters isolating and it becoming really empowering," she said. "And for women, it's a really empowering word. People say 'Just say no to drugs', but truly, you can just say no whenever the hell you want! It's really a powerful thing."
"I always felt like I could say 'No' in any work situation — if someone was making me feel uncomfortable — and I just feel like that's what we need," she continued. "We don't have to follow suit if it doesn't feel right. We need to be listening to our gut. There was a time where women were competing with one another and now we're at a time where women are holding each other up."
The actress also spoke about her mental health, and how she's dealt with anxiety over the years, from panic attacks in her early 20s to getting inside Wanda's OCD-mind.
"I'm someone who wears my heart on my sleeve, but I desperately understand Wanda just wanting to keep things together and this obsessive control thing," Olsen told Glamour. "It was a lot of exploration. I am a very emotional person, so it felt fine, but the best part was finding the humor in the absurdity and darkness."
"I had major panic attacks for a long time," she added. "It was totally debilitating. I was living in New York on my own and I was 22. I didn't realize it was something that you could not control. And the issue is the control part. Then I just learnt a bunch of brain tricks from friends who actually went to a neuropsychiatrist — and instead of medicating, I decided to do it that way."
Read the whole interview here.