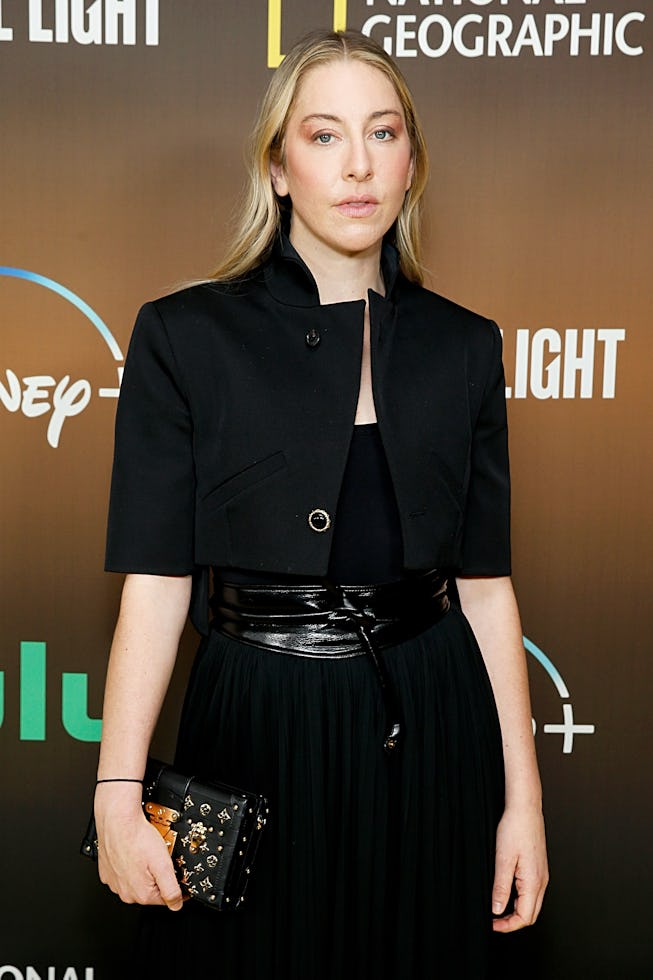 Dominik Bindl/Getty Images Entertainment/Getty Images
Este Haim On 'A Small Light' & Pivoting To Soundtracking TV
The musician assembled a star-studded tracklist for her first major music producer role.
Este Haim has been wearing many different hats lately. After fans spied the singer and musician on The White Lotus set in Sicily where she became an impromptu music consultant for the show, the eldest Haim sister has now stepped into the official big-title role of executive music producer for National Geographic's historical drama A Small Light, the limited series that tells the story of Miep Gies, the Dutch woman who helped hide Anne Frank, her family, and others in an annex during the Holocaust.
For this new endeavor, Haim was able to put her curatorial ear to work, recruiting a dream dinner party-type list of voices like Angel Olsen, Moses Sumney, Sharon Van Etten, and her sister, Danielle Haim — with the help of an all-star arsenal of co-producers comprising Zach Daws, Ethan Gruska, and Rostam Batmanglij — to cover a selection of pre-World War II tunes. And while this wasn't the first time Haim has been involved behind-the-scenes of a production (she also helped score Netflix's Maid and the indie film Cha Cha Real Smooth), it was a first for her to be at the helm.
"I love being in the driver's seat," Haim tells NYLON of the role. "I've learned in Haim, all three of us will switch off taking the driver's seat, and it's amazing because I have this amazing soundboard with my sisters. But it was really fun to be the pilot of this entire endeavor."
NYLON recently caught up with Haim to chat all about her piloting duties for A Small Light and her seemingly new pivot into film and television — all while she preps for a summer of resumed Haim duties, playing a smattering of music festivals and opening for Taylor Swift on the Eras Tour (and the possibility of a new tour of her own).
A Small Light is a historical show, so I imagine there must have been some strategy behind what you wanted to do for the soundtrack. How did you land on going with covers of pre-World War II songs?
Because there are so many historical dramas, I think a lot of the time they can feel really stale. [The showrunners] wanted to bring A Small Light to a modern place, which I think was really, really smart. When I got on the phone with the producers and the writers of the show, they wanted to add another element with adding a modern spin on the music.
They kind of gave me carte blanche on picking the covers, and that was a really fun couple of weeks of research and going through old records that my bubby had given me, just to refresh my memory. It's my great grandma; I would listen to all those songs with her when I would visit her in Palm Springs, and she would play The Andrew Sisters, The Ink Spots, and Edith Piaf records. I had a foundational knowledge of that music. But then to go back and really dig into the deeper cuts and artists that I had never really listened to was really fun. And then it was just a big puzzle, finding the right person that matches the song that would match the right episode. It was a conversation, sending playlists back and forth, sending songs back and forth, sending vocal ideas back and forth.
Was there one selection that you felt came together really perfectly?
I knew the pilot episode was going to obviously set the tone for the rest of the show, so I think that one was kind of the problem child for me, finding the right song for that episode. I was going through copious songs and really trying to figure out how I wanted the episode to end, and I came across this song "Till We Meet Again," and it has been covered many, many, many, many times, but it was originally written in 1912 or 1913. And it was written for World War I, not World War II, about soldiers going off to war. When I brought it to Rostam and Danielle, we all immediately were really drawn. I mean, not just the chord changes, which are so classic and beautiful, but the melody and just listening to all the different versions was really inspiring. We did that in a day, and then it was done.
And, incidentally, love that it's your sister who kicks it off.
I know. I'm really happy. I think Danielle's voice really lends itself to these beautifully soft melodies ... [and] brings a toughness to it at the same time, which is why I wanted her to sing it. So it's melancholy, but still weirdly hopeful.
As your first role as executive music producer, was there anything about the experience that you found surprising or unexpected?
I think all the producers that were helping me — Zach, Ethan, and Rostam — they were all like, "Well, you're just a great cheerleader." I think when I'm in the studio with Haim, because I've spent so much time with my sisters, we all know that we're just big fans of each other so we're never really, "That was amazing. That was great." But because I was working with people that I had already been fans of, and people who I just wanted to hang out with, when they would be in the booth or doing a take, I was always the first to be so stoked and running into the booth, "That was amazing. Do 10 more of those." I guess I was not surprised, but I think I realized how dorky and nerdy and effusive I can be in the studio.
I feel like most of the responsibility when you're in that kind of role is getting people excited and setting the tone for the production.
Yeah, because I can imagine when I'm on the other side as an artist and I'm doing something for a soundtrack or whatever, and I'm working with someone that I've never worked with before, it can be a little intimidating. People get nervous, people get shy, but I get it. But my energy and my excitement wasn't coming from that at all. It was genuine. Like, "Oh my God, I can't even believe that I'm recording this and I get to put my name on it!"
Have you always been interested in doing music for television?
I think my curiosity was definitely piqued after seeing Ludwig Göransson score Community. I had the luxury and honor of working with him on Haim's first EP back in 2011, 2012. We'd be working on Haim stuff, and then he would get an email from the Community production asking him to do something really quick on an episode. And he would pause, and I would see him score in real time. It was really, really cool to see him do that. I think after seeing that, I was like, "Wow, what a cool job." But I've always been a fan of score, and the John Williams and the Henry Mancinis and the Morricones of the world. I love listening to score and soundtracks. Also, I love film, always have. So this is a nice little marriage between the two worlds that I get to straddle.
Do you have any dream projects?
I think every child of the '80s and the '90s, maybe just every human, would love to score a Disney movie. That would be so much fun. I think that's the dream. And, honestly, if Johnny Greenwood ever wanted to take a break from composing for Paul Thomas Anderson, I would love to do that. And Paul knows that. Paul is very much aware. But he has Johnny Greenwood. So, why would he ever?
You never know.
Yes. I mean, he's like another tentpole [figure]. But if Disney is reading, yes, I would score a short, a film, a Pixar movie. I would love to do that. That would be a full-blown dream.
Is there anything else you wanted to talk about before I let you go?
No, I'm just really excited for tour. I hope everyone comes to Governors Ball. Oh! And it's the 10-year anniversary of [Haim's] first record in September.
That's amazing. Will you be on tour for the 10-year anniversary?
I don't know. You'll have to stay tuned.