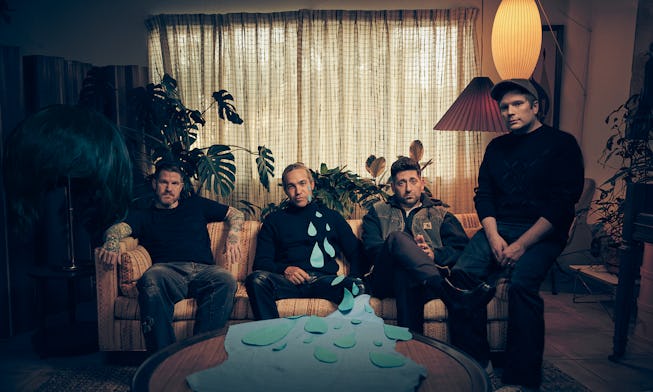 Pamela Littky
Fall Out Boy's New Album, 'So Much (For) Stardust' Will Be A Return-To-Form
Fingers crossed for more wordy titles.
Fall Out Boy has officially unveiled their new album So Much (For) Stardust, due for release on March 24, 2023. The project will mark the band's eighth studio album and their first since the release of their 2017 Grammy-nominated project, M A N I A.
"Technology has made it really easy to make records much more quickly these days," frontman Patrick Stump said of the project in a press release. "There's nothing wrong with that, and that spontaneity can be exciting. But we wanted to get back to the way we used to work. We wanted to make a record that was really lovingly crafted and deliberate and patiently guided – like someone cooked you a delicate meal. I'm not a very proud guy, but I'm pretty proud of this record."
"Our band has been an ongoing art project for twenty years and we know there have been many inception points along that journey," Wentz added in a press release of the forthcoming record. "We wanted to create an album that merged those points together – something new, but carved from our foundation."
The prodigious and prolific rock band has spent months teasing the upcoming record and new music, putting out cryptic, full-page ads in the Chicago Tribune, releasing claymation videos which previewed unreleased songs, and shipping "pink seashell beach" themed postcards to fans — all while loosely promising that new music would be on the way.
On Jan. 11, the band finally announced that their first song of 2023, and lead single from the record, "Love From The Other Side," would drop on Jan. 18 — and the rollicking track has now arrived alongside a cheeky winter-themed music video directed by David Braun and Open The Portal that sees Pete Wentz dressed up as an aging grandpa telling the story of Fall Out Boy to his granddaughter.
The band reunited with From Under the Cork Tree, Infinity On High, and Folie à Deaux producer Neal Avron for the upcoming LP, and will also be releasing So Much (For) Stardust on their old label home of Fueled By Ramen/Elektra, through which they released their 2003 debut, Take This To Your Grave. (That record celebrates its 20th anniversary this year on May 6.) It appears Stardust will mark a return-to-form for the band in more ways than one — and, hopefully, will include the return of their signature wordy song titles.
"Neal not only taught us how to make records, but has a unique capacity to really take time and focus on a record," Stump said about reuniting with Avron in a statement. "We thought it was a no-brainer to work with him again, on a record where that was very important to us, and he was gracious enough to agree to work with us."
Next up: the band is set to debut "Love From The Other Side" live for the first time on the Jan. 18 show of Jimmy Kimmel Live! For now, join us as we count down the days to March 24.