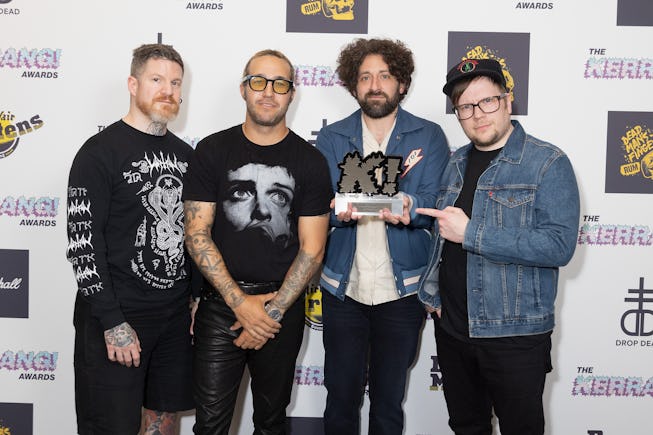 Suzan Moore - PA Images/PA Images/Getty Images
Fall Out Boy Is Teasing New Music In 2023
Hear a clip of the band's new song, "Love From The Other Side."
Fall Out Boy is kicking off the year with a bang: by revealing new music is on the way.
On Jan. 11, the prodical (and by now, prolific) pop-punk band unveiled the title for its next single, "Love From The Other Side," the group's first original release since 2017's M A N I A. Judging by a snippet uploaded to social media, the track is typical FOB pop-punk with a wave of crashing guitar and heartsick lyrics like, "Every love has got a little dagger in the hand." The full song is out on streaming Jan. 18, hopefully with an album to follow later in the year.
The band has been teasing new music for the past several months, most recently sending a letter to fans on New Years Day with the note: "We spent the last year jamming out in a tiny room can't wait to share them with you." If that wasn't specific enough, the band put it clearer in a post-script after that: "Spoiler alert: we've got more than a gold watch coming for you next year."
On Dec. 25, they seemingly previewed an unreleased song in a trippy and wordless YouTube video titled "A Claymation Fall Out Boy Celebration" (which also requests that fans "RSVP on the other side"). And before that, the band was sending postcards to fans printed with the title "Pink Seashell Beach" and lines like, "I saw you in a bright clear field. Hurricane heat in my head. The kind of pain you feel to get good in the end. Inscribed like stone and faded by the rain: 'Give up what you love give up what you love before it does you in…'" which definitely read like lyrics. (Eagle-eyed fans on Reddit have pointed out that Pete Wentz actually references a pink seashell beach during a 2020 interview with NME, which seems to further suggest it's a central theme to the album.)
Back in November, the band also took out a huge, one-page ad in the Chicago Tribune newspaper which included the words "FOB 8" and the phrase, "If you build it, they will come." (Notably, their upcoming album would be their eighth entry in their discography.) All together, these clues seem to form a highly complex, thematically rich, and conceptual album which certainly has us intrigued.
Fall Out Boy released their last album, M A N I A, in 2017 which arrived with singles "Young and Menace," and "Champion." They later followed that up with the Hella Mega Tour, though most of the dates were eventually scrapped due to Covid.
This article was originally published on