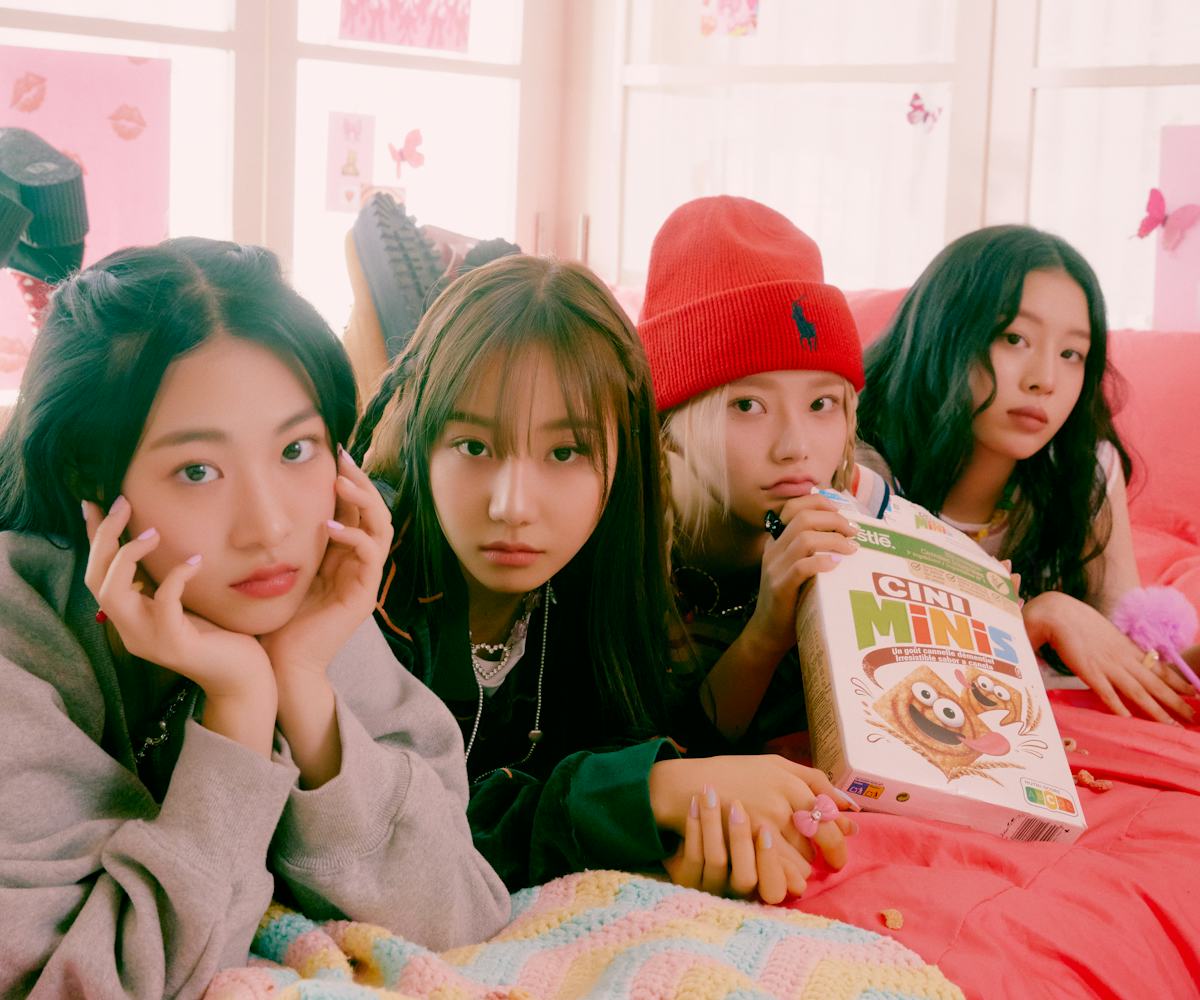 Attrakt
After "Cupid" Fame, Fifty Fifty Want To Give Fans Their 100 Percent
The K-pop quartet chat their newfound fame and sights for the future.
It was almost midnight in New York, but bright and early in Seoul, when I hopped on a Zoom with Fifty Fifty — the four-member Korean girl group responsible for the viral earworm "Cupid." Along with its twin English version, the three-minute song became an instant smash hit upon its release in late February. Even TikTok has given it its stamp of approval, with the #FiftyFifty hashtag garnering over 1.2 billion views on the platform alone. But this monumental moment is only just the beginning of a hopefully lifelong career for the Korean pop band.
"Obviously we'd never expected this much attention to our music and it still feels surreal, but we're very happy to witness this moment," says Aran about the group's newfound attention, smiling in a pink tee and high ponytail. As their label Attrakt's only idol group — operating in a market where the top four entertainment companies SM, YG, JYP, and HYBE almost hold a monopoly over the industry — the success was a shock. But the band's appeal was obvious Wednesday morning. Dressed in pops of colors, the four members were cool and collected despite being five months into their careers, their bubbly and infectious personalities on display even in an early morning interview. "It feels like our hard work and effort are paying off because so many people are paying attention and sending a lot of support and love," Aran continues. "We really truly appreciate that from everyone."
Fifty Fifty — starring members Aran, Keena, Saena, and Sio — first came onto the music radar in November 2022, debuting under Attrakt as the company's first-ever group with the mini album The Fifty and its main track "Lovin' Me." As a continuation of that lovesick story, their second single, "Cupid," touches on the not-so-ideal aspects of having a crush and, consequently, falling in love. "I gave a second chance to Cupid/ I believed you, I'm so stupid/ Let me show you, my secret love, is it real?/ Cupid is so dumb," they sing over a wispy and dreamy blend of synths and guitar instrumentals.
The girls explain that the song encompasses the early stages of a one-sided romance. On it, their daydreams follow the inevitable disappointment of a wish not coming true, which many listeners — myself included — can relate to. Through uplifting vocals and music video visuals neatly wrapped in a pastel-colored package, Fifty Fifty ends the track with the realization that self-love is the better way to go.
The group members' idol journeys began in middle school, which isn't so long ago considering their ages range from 18 to 20. Aran recalls that K-pop ruled her world during her early school years when legendary groups who are active to this day headlined all pop cultural events. "I specifically recall watching the end-of-the-year award shows in middle and high school because it was so grand, everything from the productions to the actual performances," she says in Korean via a translator. "I remember being so excited and impressed while watching and I thought 'Wow, it must feel so freeing to express yourself and perform on stages like that.' That's when I realized that I wanted to become a K-pop idol."
Keena had a similar journey, looking up to the likes of Apink and Red Velvet. During her training days, she religiously watched their performances while preparing for her agency's monthly showcase – a test held for prospective members to show off their work and improvement before their debut. "I'd practice by copying to master [whatever choreography they did at the time]," she says. "I still look up to them now and they have a dear place in my heart."
Fifty Fifty likely now have their own admirers looking up to them. As "Cupid" took off on TikTok and eventually cracked the top 50 on the Billboard Hot 100, it became the fastest debut in history for a K-pop girl group on the chart. It also fulfilled a major dream. "Actually, when I was a trainee my dream was to have one of my songs on the Billboard chart, and I can't believe it's already real," Aran says.
The group, whose name literally means "50 versus 50" and translates to means "above" and "reality," is now ready to give fans — called Hunnies — their 100 percent. (Get it? Fifty plus fifty equals…) In the long run, the goal for Fifty Fifty is simple: just make good music. "In 10 years, of course, we want to have our solo concerts and win number one on live shows and all," says Sio. "But for now, we just want to continue making good music."
Below, in between laughing about past memories and bonding over their love of Korean food (kimbap and soon dubu, especially), Fifty Fifty talks about their favorite #CupidChallenge TikToks, what "Cupid" means to them, managing an idol schedule, and more.
This interview has been edited and condensed for clarity.
You debuted in November and you're already hitting millions of streams! What did you all do to celebrate "Cupid?"
Aran: We didn't have a big celebration just yet. When we saw our song got into multiple charts, we embraced, encouraged each other, and cheered that we're doing well and to keep it going. We celebrated in our own little way and now, we're planning to spread our music and our energy to a bigger audience.
Does the song reflect any true experiences with crushes in the past? You guys are young but have you ever been in "love" — be honest!
Saena: In "Cupid," we talk about how it's so dumb. For me, I remember times when I was more dependent on other people and when I was having lower self-esteem. I grew to realize that I'm responsible for my own life and that I can't be dependent on other people for my choices and for myself, so this song was another realization of that fact. Through performing the song over and over, I gained more energy and more confidence since I keep saying, "Yeah, Cupid is so dumb. I need to be responsible for myself."
It has also been trending all over the internet, especially TikTok. Do you watch the videos and if so, what are some favorites?
Keena: Oh we definitely look up our challenge videos often. I remember seeing these seven elementary school kids doing our dance with their little hands and it was so cute. They were just giggling and having so much fun so that was the most memorable scene in my head.
How has the group's dynamic changed from training to now?
Keena: When we were training together, we had to ask each other a lot of questions about each other's preferences. But now, especially after our debut, we don't need words. We just need to look into each other's eyes and we immediately can tell how we all feel and what we're thinking, and overall, we have a better understanding of our likes and dislikes. For example, I'm actually a picky eater and during our trainee days, I would have to ask the other members things like, 'Do you mind if I don't get this? Do you mind if I get this instead?' Now, the members know my preferences to the point that I don't even have to tell them. It's the little things that really touch us and that really builds our dynamic up even more.
Sio: Food keeps us going, honestly. The most essential part of having good energy is what you eat that day when you're shooting something together. Whenever we go on to the set for our hair and makeup, we would gather our opinions of what we're craving that day — these days we love kimbap of any kind, but especially bulgogi and kimchi, paired with dakgangjeong (sweet marinated chicken). We love choosing what to eat so much that we'll select the menus before even we start the shoot.
I can imagine promotions have been busy, between performing on live shows every week among other responsibilities. How do you all manage the stress of a packed schedule?
Aran: We're actually very thankful and excited because it's just the beginning for us and we want to show more. We're busy, but that doesn't really make us tired necessarily. It just makes us more excited and more motivated. But there are times we would feel a little bit down some days and we will just go to each other and get a pat on the back and say "Hey, you can do this." We try to keep it as positive as possible. That's how we move forward every day these days.
How has "Cupid" been a turning point for you all?
Sio: "Cupid" is a turning point for me because I've grown a lot personally, not only as an artist. My vocal ability has improved because I learned so much by working together with our producers here. It's helped me to grow even more as a person and now on the second album, we have better teamwork, which I'm very proud of myself and the members as well. These days, I'm just happy to be loved, and having so much support from our fans makes me happy.