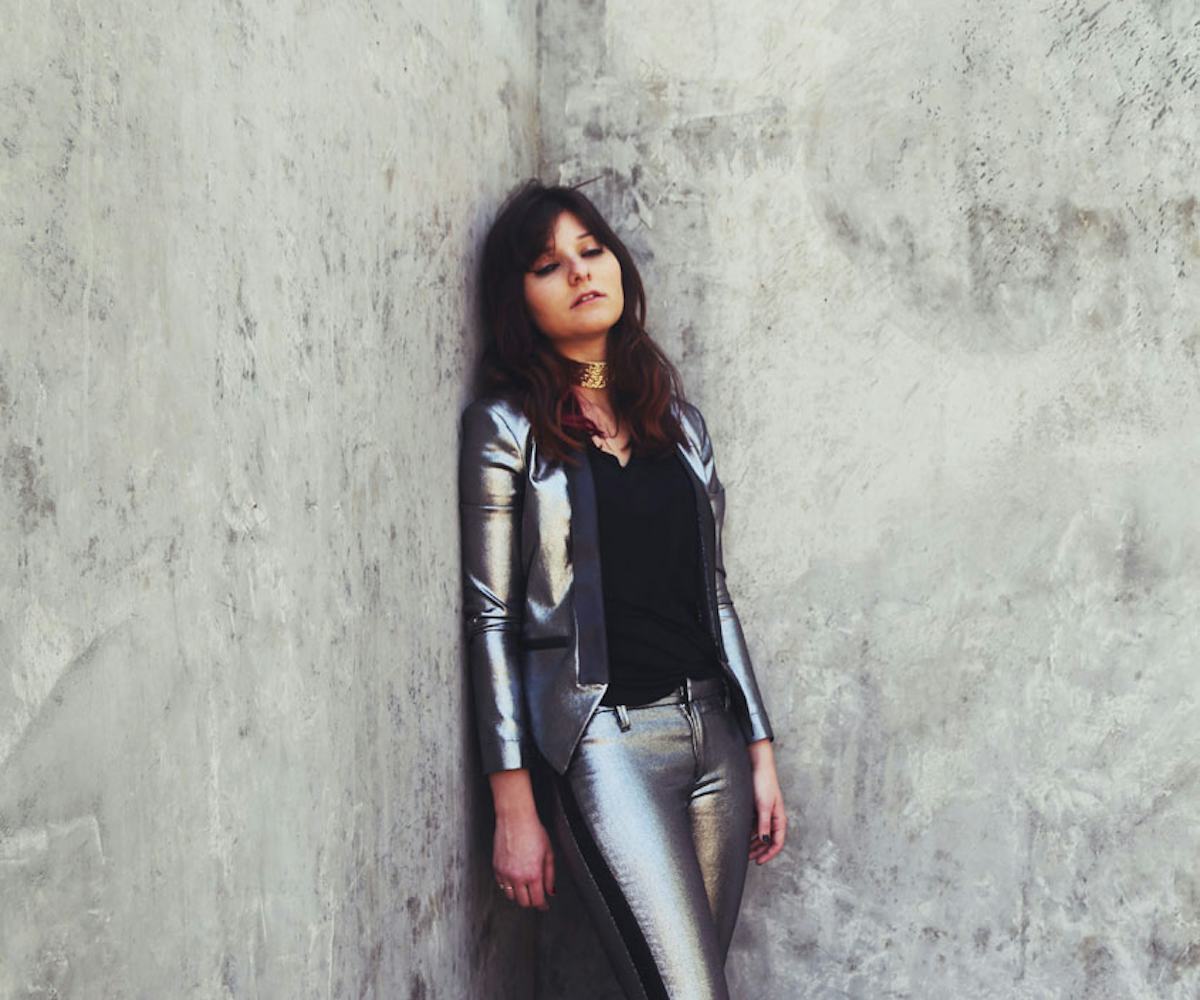 Photo courtesy of Frankie Clarke
this second-gen rockstar was destined for it-girl status
frankie clarke grew up on a tour bus, but that was just the beginning
Frankie Clarke answers my Skype call from her college dorm room, and the wall behind her is lined with band posters and a The Runaways vinyl. In many ways the vinyl is fitting as with her choppy bangs, all-black wardrobe, and a penchant for heavy eyeliner, Frankie looks very much like a modern-day Joan Jett. Mostly, she is just like every other college kid—she's tired, has far too much work, and she has a choir concert to run to in an hour. But Frankie certainly isn't your average 20 year old. She spent her childhood on tour with Guns N' Roses (her dad is guitarist Gilby Clarke). She now runs a successful style blog called Frankie's Planet, and has serious musical talent of her own. There is no doubt that she is certainly an it-girl to watch.
Tell us a little about growing up.
"I grew up in Sherman Oaks in Los Angeles, California. My Dad was the guitarist of Guns N' Roses and now plays in Kings of Chaos with Steven Tyler, as well as doing solo stuff. My mom is the designer of Frankie B. Jeans. I have always grown up around fashion and music. My parents joke that I took my first steps on a moving tour bus, but it's actually probably not a joke."
How did your own music career get started?
"I think I was one years old when I went to my first concert. It was an Iggy Pop show and apparently I managed to sleep through the entire thing. I guess my interest in music really started at age four when I asked my Dad for a pink sparkly guitar. He encouraged me to learn piano before guitar because it's a good way to be introduced to playing music. I played piano for five years, but by the age of 10 I felt kind of done with it. I really just wanted to play the guitar, so finally my parents allowed me to start my guitar lessons. I ended up joining an all-girl rock band when I was 11 called Sweet Gone Sour—that was the start of my songwriting. We were even featured in Teen Vogue (laughs). In high school I went from being in an all-girl band to being the only girl in the band, so that was an interesting transition. We all went our separate ways for college, so for the last few years I have just working on doing my own solo thing. 
How do you balance school and music?
Sometimes it's hard to find time for my music when I have school going on, but I am a creative writing focused English major which has really helped with my lyric writing. This summer I am hoping to have time to focus purely on my music. My Dad, Stephen Perkins (Jane's Addiction), and Chuck Wright (Quiet Riot) play every Wednesday at this bowling alley in Hollywood called Lucky Strikes. It's their jam night, so they'll have a bunch of different musicians join them, and I'll often come up and play a song or two with them. It's good practice for me and gets me out there." 
Who are some of your favorite musicians right now?
"I will admit that for someone who says they're so interested in music, I am absolutely terrible at getting into new bands. I'm mostly influenced by a lot of older bands. I love seventies glam rock, so I like T-Rex, The Runaways, Joan Jett, Suzi Quatro, and David Bowie—I was actually David Bowie for Halloween this year. As for artists now, well, everyone who knows me knows that I am obsessed with Julian Casablancas, so I'm a huge fan of The Strokes. I'm also really loving Paramore right now as I feel like they are just doing something different. I also love The Arctic Monkeys, The Black Keys, and really anyone with a rock background."
Where did you get the inspiration to start your blog, Frankie's Planet?
"My parents have always been into music and fashion, so they're the two things that have always come naturally to me. The name "Frankie's Planet" was inspired by a song my Dad wrote for me when I was little. I've found that the blog is place for me to record my outfits and also explain how music inspires my fashion choices. It's a place where my two favorite things can come together."
With your all-black wardrobe and love for rock and roll, it would be easy to mistake you for a New Yorker. What is it that you love about living in LA? 
"I love both New York and LA, but LA has my heart.  I can't stand being cold so that's really my only set back from saying I love them both equally. There are also so many great restaurants and shops in LA. My go-to stores are Wasteland, Topshop at The Grove, and Nasty Gal; and Blu Jam, M Cafe, The Six, and SoHo House are my favorite places to eat. On the weekends my boyfriend and I like go and see bands play in Hollywood, whether it's a band I'm a huge fan of, a friend's band, or a band we have yet to discover."
What are your plans for after college? 
"I still have a year until I graduate, but when I'm done with school I really want to focus on my music and keeping up my blog. It's hard to find inspiration when I'm bogged down with school work, but music and blogging are great outlets for me and I can't wait to put all my energy and focus on that."