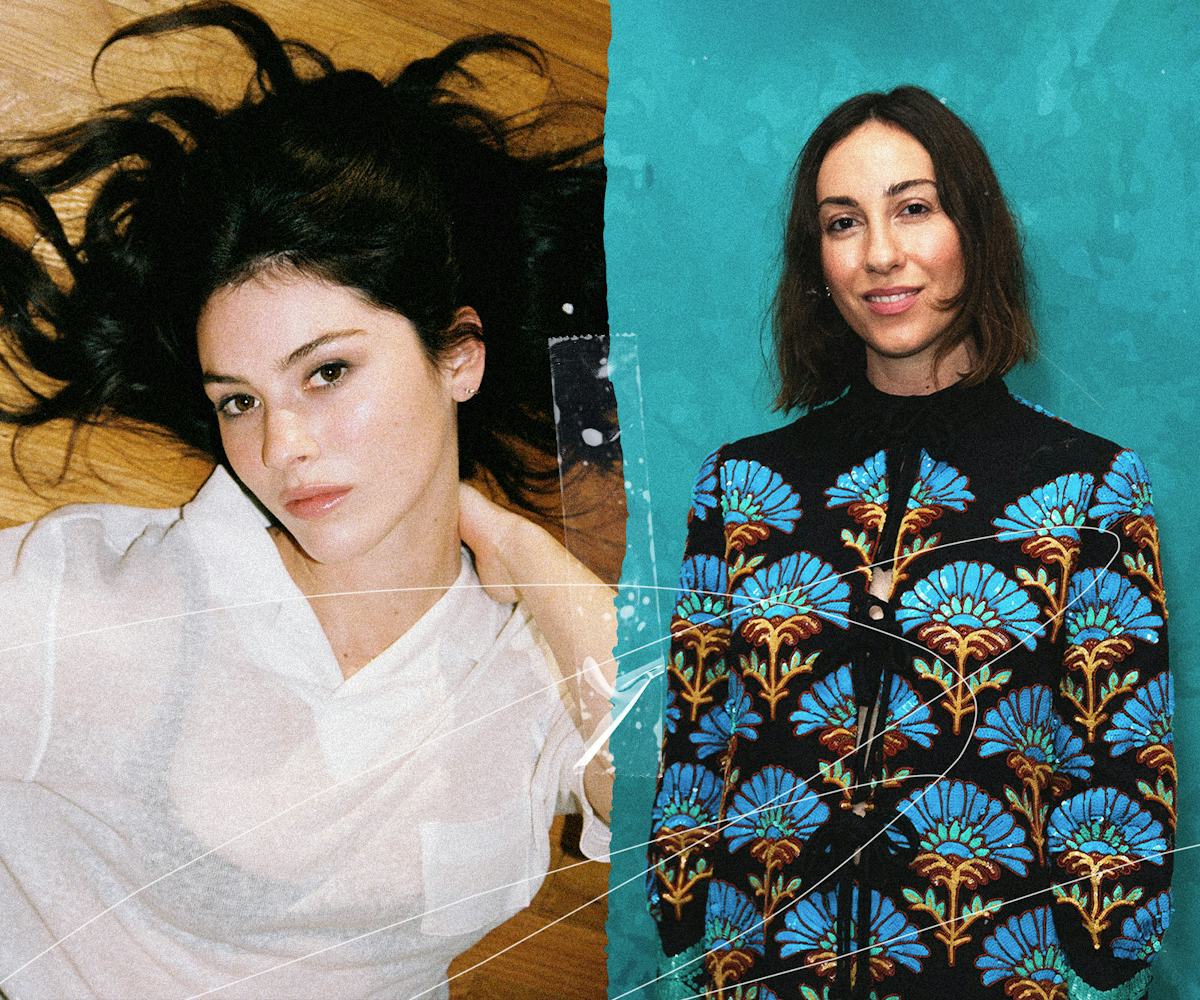 Lindsay Hattrick/Nylon; Valentina Von Klencke; Getty Images
Gracie Abrams & Gia Coppola On The Joy Of Free-Flowing Collaboration
"To work with Gia is a real bucket list moment."
Gracie Abrams has long been a fan of Gia Coppola's work. As the mind behind beloved indies like Palo Alto and Mainstream, it's no surprise Coppola's chronicles of beauty and the heartache of the female experience filmography align with the rising young artist's storytelling of a young woman coming into herself. When the two finally teamed up last year to shoot Abram's haunting music video for "Where do we go now?," released on Jan. 12, it was, as Abrams tells NYLON, "a dream collaboration." Under Coppola's eye, the music video is equal parts film and diary as it switches between shadow work in black and white to Abrams' silhouette projected on a bare wall.
Their high-profile collaboration precedes what's sure to be a massive year for the L.A.-based singer-songwriter, who'll soon be releasing her debut album, Good Riddance (out Feb. 24), embarking on a solo headlining tour, and opening for Taylor Swift in select cities. One early morning in January, NYLON hopped on Zoom with Coppola and Abrams to talk about their collaboration. As Coppola, based in L.A., waited for Abrams — who was calling in from Paris — she talked about her research into the colorful world of K-pop before segueing into what each generation admires in their musical idols. On cue, Gracie entered the call with abundant energy, despite the late hour for her.
Gia Coppola: See, she already has a cool [Zoom avatar].
Gracie Abrams: Hey! Sorry, my last thing ran over. Hi Gia!
Coppola: Hi. Are you in Europe?
Abrams: Yeah, I am.
NYLON: Hey, Gracie. We were just singing your praises.
Abrams: Nooo, don't say that.
NYLON: I was just asking Gia how you two became acquainted with each other and what attracted you two to each other's work.
Coppola: I wasn't familiar [with Gracie], but her label sent me the song and she had a very thorough mood board. I was intrigued. I thought she had really interesting tastes and the song was beautiful. I'm not in the know with music, but I asked my cousin and she was going on about what an amazing lyricist Gracie is. I was like, "Well, I gotta do it then." I was lucky enough to get chosen with the treatment that we provided. In today's music, she has something so soulful. She's really respected, especially by the next generation, as a songwriter.
Abrams: I've been a fan of Gia's work for many years. Stylistically, when thinking about visuals for this album, it was truly a dream collaboration. When Gia responded to the label, I was like, "No way. There's no way." Her treatment for the music video was what I had in my head. It was beautiful and simple with the focus on the confessional aspects of the song. To work with Gia is a real bucket list moment. This is me rambling because she's here.
NYLON: What was on your mood board?
Abrams: [For "Where do we go now?"] I worked with Jen Brill, who's an amazing creative. She and I had been back and forth for months and months sending visual references. The common thread was a lot of shadow play, which was also the theme of the album in terms of pulling back these layers to sides of my personality that are not always pretty or sweet.
Similarly to the cover art of the album, you have to look for a second to make out what the feeling is there. Gia's interpretation [in her treatment] was quite similar — exploring the shadow element to the song itself. It was the visual representation that I'm super proud of and love with my whole heart.
Coppola: I was following what instinctually drew me to the song. I'm drawn to simplistic and meditative ideas. There's this PJ Harvey music video that I was like, "People don't just make music videos like this anymore." I feel like music videos today have so much going on and it would just be nice if it can just live for a second and let the charisma of the artist guide it.
There was also a Depeche Mode [influence]. I love using light as a tool to manipulate and dictate space. We shot it in my uncle's office and used all these up-and-coming PAs and interns who have such vision and interest and excitement for the film medium to all put our heads together and just be in a collaborative space. To just be with creative people and run wild in that way was really refreshing and such a blessing.
Over the holidays, we had a text thread and we would share photographs and film stills that we loved. Gracie would show me things that I didn't even think to look at. I think that's the best way to work. I communicate through imagery; it's just another form of language for me and a much better language for me than words. But Gracie is a lyricist, so she's very articulate.
"In today's music, [Abrams] has something so soulful. She's really respected, especially by the next generation, as a songwriter."
Abrams: I'd say I struggle with that [visual] side. And so meeting you, I was like, "Thank God, thank God."
Coppola: It was very free and flowing.
Abrams: The lucky thing with this song and why I feel as connected to it as I do, not just because I wrote it, is because it came out very fast and incredibly natural. Especially with the feelings I decided to convey, even though I maybe had never expressed them to the person I'm writing about. There was a lot of guilt around that. I remember finishing the first verse — "When I kissed you back, I lied, I had to fake the longest time" — and how it hurt so bad to even admit to myself.
Then I remember saying to Aaron [Dessner], "I can't put this song out. I can't." He said, "This is the whole point. This is your version of processing." That's been true for me since I started writing when I was small. Getting close up to those feelings is not necessarily what you always want to do, but it can be very helpful in order to really reflect and move on. The video was an extension of letting go as much as writing it was. And having the opportunity to work with Gia, and every single person who was on set, was unbelievable. I had never felt that way before. The joy of that experience was so formative and it set a standard for what kind of set I want to be on moving forward.
NYLON: That's a beautiful testament to the way that you run your set, Gia.
Abrams: It's true.
Coppola: [The set] was small and purposely so. There were not a lot of us, but we accomplished so many different setups in one day. It was really fun and it never had a stressful energy. Gracie admired our gaffer's photography — he's so talented — so I would ask him, "What would be a fun lighting setup for this one? Show me something. Throw something at me." And he did, and it kept evolving like that.
Abrams: I've never felt it in such an honest way before, especially on the visual front. It's not where my head goes first with the music. Working with Jen has been really eye-opening, [too], because I'm like, "Okay, this is the teamwork thing that people talk about." I had the opportunity to explore the visual side of a song that can hurt so bad, sometimes, and it came out exactly the way I wanted it to. It doesn't get better [than that].
I feel almost like everything up until now has been luck or trial and error. I feel comfortable in my skin for the first time. I'm going into this album cycle with just curiosity, not anxiety. Working with Gia gave me comfort and confidence to find people that you love to work with. I'm relieved to feel that way going into this larger release and I'm so stoked that this was the first piece that we put out. I love it with my whole heart, obviously.
Gracie Abrams' 'Good Riddance' is out Feb. 24 via Interscope.