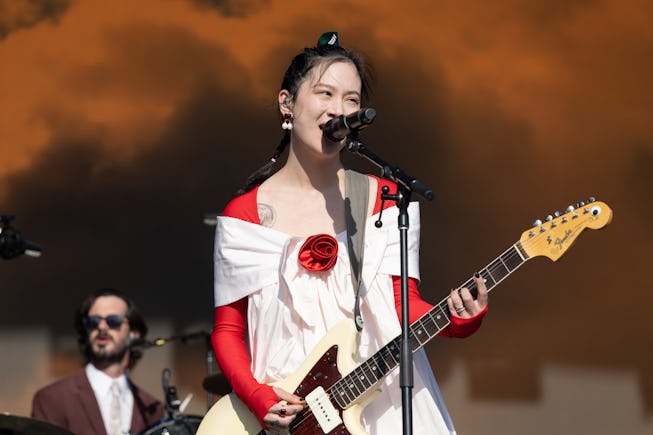 Jim Bennett/Getty Images Entertainment/Getty Images
Japanese Breakfast's Michelle Zauner Shares Casting Call For 'Crying In H Mart' Film
Who's going to play Ms. Japanese Breakfast?
The film adaptation of Japanese Breakfast frontwoman Michelle Zauner's moving memoir, Crying In H Mart, is fully underway. This past March, it was announced that The White Lotus star Will Sharpe will be directing the book's silver screen adaptation. Now, the search is underway to find the star who will play Ms. Japanese Breakfast, aka a young Zauner, in the film.
On Monday, May 22, Zauner shared a casting call in search of a "18-25 year old Korean American to play the role of Michelle." Besides those two requirements, there doesn't seem to be much else they're demanding of applicants, but we're assuming the ability to sing and exude on-stage charisma is probably a must. Those who fit the bill and are interested can apply by sending a creative video introduction "that includes where you're located" to: hmartopencallcasting@gmail.com
The Crying In H Mart film was acquired by Orion Pictures, which is also working on the screenplay. In addition to Sharpe, Jason Kim, known for his work on Barry and Girls, and Stacey Sher have signed on as producers, while Zauner and her band, Japanese Breakfast, will provide the movie's soundtrack. (Prepare your tear ducts now!)
Zauner published Crying In H Mart in 2021 and it's since become a global sensation. The musician's first-ever book, which began as an essay published in the New Yorker, touches on identity, grief, and food, and is told through the lens of the last few years the singer spends with her mother after she's diagnosed with cancer. The book has since topped the New York Times bestsellers list, and has been translated into 14 different languages.
In an interview with NYLON, Zauner described writing the book as the hardest thing she's ever done. "It seems like writing should be this effortless thing, but anyone who's written something knows that it can be quite a struggle and you can be so clear in your head of how you want to communicate an idea and somehow never quite hit it. You're really staring down the barrel of your inability," she said.
Now, with the film on the way, Zauner will be helping tackle a whole different beast — though we're confident she'll make that sing, too — and, perhaps, with your help.