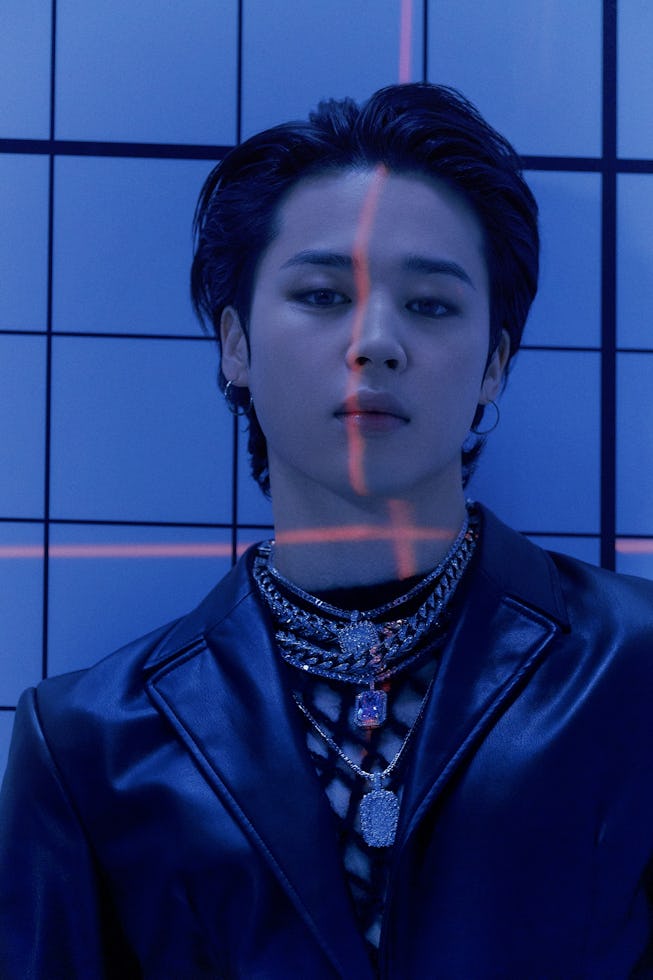 Jimin Flaunts Piercings In New Concept Photos For FACE
FACE arrives on March 24.
BTS hiatus is apparently the gift that keeps on giving: Jimin, singer and dancer of the iconic K-pop group, is the latest member to release his own solo album, following previous solo releases by RM and j-hope. The forthcoming project, titled FACE, arrives on March 24.
Announced on Feb. 21 by his label, Bighit Music, the album will delve into "Jimin's story of fronting his true self and making a new leap forward as an artist." He'll present his "own musicality with distinct timbre and impeccable dance performance," states a press release. Alongside the announcement, Bighit released a short teaser video that provided a glimpse into the aesthetic style of the new era. Rippling water and a pink background form the logo for the album, as languid R&B beats play in the background — perhaps a hint to the music to come.
On March 9, the first set of official concept images from Jimin's new era arrived. The intimate, passport-style photos show Jimin with spiked metalware jutting out from his neck, ears, and eyebrows, perhaps suggesting the prickly and personal themes FACE will address (while also giving off Ex Machina vibes). Per a press release, the photos "portray Jimin's resolution to move forward after facing himself entirely. The different layouts represent various sides of Jimin and the piercing styling accentuates his robust side."
A second set of concept photos, titled 'Software ver.,' will be released on March 11.
FACE will contain six songs with "Set Me Free Pt. 2" as the pre-release track and "Like Crazy" as the main track, per the announced tracklist. There will also be an English verison of "Like Crazy." A slew of producers and musicians are credited to have participated on the record including BTS bandmate RM, GHSTLOOP, Pdogg, EVAN, Chris James, BLVSH, and Supreme Boi. Jimin himself holds songwriting credits and producing credits on nearly all of the songs.
"Set Me Free Pt. 2" will be released on March 17, and fans believe that it might be Jimin's thematic continuation of SUGA's "Interlude: Set Me Free" from the rapper's D-2 mixtape under his second stage alias, Agust D. In a press release, the track is described as Jimin singing "about his resolution to free himself from various emotions hidden deep inside him." Main track, "Like Crazy," will be "a synth pop song with intense synth sound and drum sound, upon which Jimin's poignant timbre draws a beautiful distinction."
The album's cover art, revealed on Feb. 23, continues the teaser video's rippling water theme with its silver background and concentric circles surrounding the album's title. In an additional behind-the-scenes video documenting the album-making process, Jimin can be seen posted at the studio, listening to the songs behind the producer station, playing guitar, and writing and recording on his own.
FACE will be Jimin's first-ever solo project; in the past, he has released songs "Promise," "Lie," "Serendipity," and other original tracks for K-dramas on his own. At the top of 2023, he also collaborated with Big Bang's Taeyang for the saucy pop song, "VIBE."
Despite the fact that the members of BTS are expected to enter their mandatory military duties this year, the seven global icons seem to be busier than ever. Just last week, it was announced that Suga would become the first member to embark on his own solo tour, which will see him play stadium shows throughout Asia and North America. J-hope's solo documentary with Disney+, J-hope IN THE BOX, also dropped on Friday, Feb. 17, with a second documentary about BTS as a whole set to follow later in the year. Although the band won't be back together as a full unit until 2025, it's clear they still have a lot up their sleeves to keep fans busy in the meantime.
Stay tuned as more information about Jimin's FACE drops in the coming weeks.
This article was originally published on