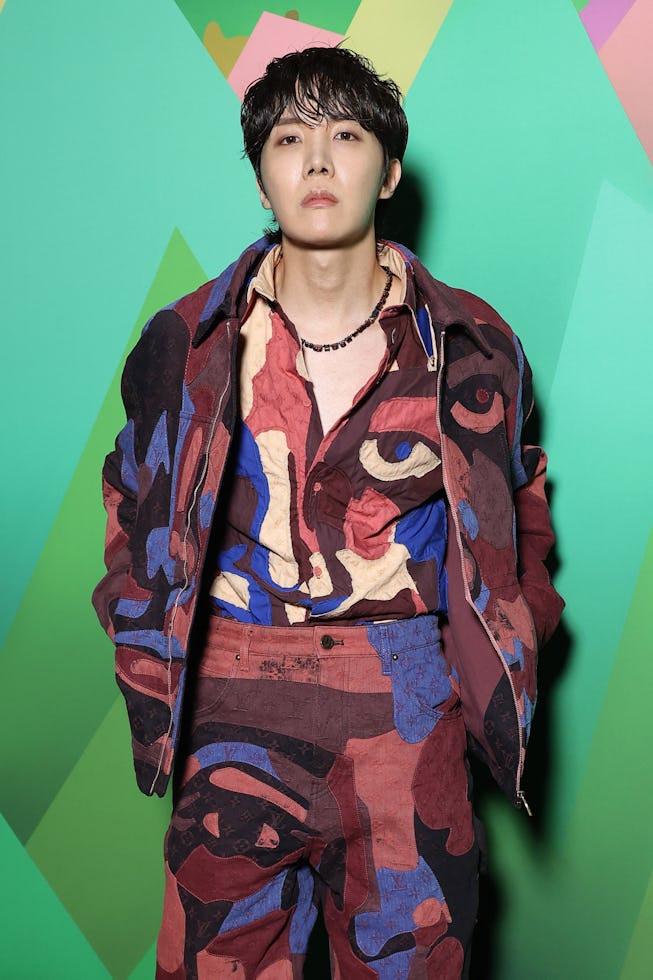 Marc Piasecki/WireImage/Getty Images
5 Insights Into J-Hope From His Revealing New Documentary
Disney+'s J-Hope In The Box sheds new light on his discipline, drive, and relationship with his fellow BTS members.
j-hope is in New York on Aug. 2, 2022, just a month and a half after the release of his debut solo album, Jack in the Box. He's wearing a baggy white tee and a black bucket hat in the middle of Madison Square Park, days after his unforgettable performance as the first Korean act to headline Lollapalooza festival. "This is my first debut performance as a soloist and I asked myself if it's really okay to headline such a big festival with over 70,000 people," he admits about the performance to the lingering camera. "But I decided to aim high because I was confident in the music I was putting out."
This is but one of the many intimate moments captured in his new documentary, j-hope IN THE BOX, out now on Disney+. The 85-minute film is one of two BTS-focused documentaries hitting the streaming service this year (with BTS Monuments: Beyond The Star set to follow), and chronicles the singer's journey amidst his most recent and arguably biggest moves of his career, on the record. There are behind-the-scenes moments dating back 221 days that highlight his preparation for Jack In The Box, of a celebrity-studded listening party, and of "D-Day," a.k.a. his debut on the big, Lollapalooza stage. But in between the flurry of activity, the video also reveals much of j-hope's work ethic, which fans still might not have witnessed even during his decade-long role in BTS.
j-hope In The Box candidly captures the in-depth process behind his solo activities, adversities and all. Like the Jack In The Box album itself, the then-28-year-old isn't afraid to openly highlight the troubles in his life, between recording at the studio everyday and sleeping on the couch to even missing quality time with his father in order to wrap up the album.
"Not to say [my first mixtape] Hope World wasn't me, but it was time to show a mature side outside of the box," he says at one point about the importance of the project. "This album will serve as a stepping stone for the next chapter. This is my chance to grow as an artist. There's no reason to push myself this hard — I could be lazy — but I don't want that."
Read on for the five most illuminating things we learned about the rapper, which shed new light on his discipline, drive, and relationship with his fellow BTS brothers.
J-hope wanted to show maturity on Jack In The Box
In the first five minutes of the documentary, the singer makes it clear that JITB is unlike his previous works. While listening to his Lollapalooza setlist at the HYBE studio, he's seen arguing that he wants listeners to see a different side to him. "I want people to see a more mature side of me, and that I can also do this [kind of music]," the singer says. "The set list at the festival needs to show who I am at the same time while considering what the audience wants."
j-hope also mentions that he wants people to know what he's capable of from all aspects, so much so that Hybe's founder Bang Si-Hyuk said he'll be on the sidelines this time to let the musician explore. "People only know BTS, but they don't know how J-hope of BTS makes music: the steps he takes to create his album, performances, and promotion. So I wanted all of this to go on record," j-hope says.
RM was the first person from BTS to hear the album
Despite the ongoing hiatus with BTS, j-hope still relies on his fellow members for advice, especially for JITB. While in the car one day, he reveals to the camera that the first person to hear his new work was RM. "He told me that this album sounded very new and interesting," he says. "He also said it's completely different while still integrating old [BTS-esque] hooks into the melody. Overall, it was a positive review."
The musician also updates fans with the status of the members' relationship, stating that despite the break, the dynamic between members feels very much the same.
"Everyone is doing their own thing but I don't feel much of a difference except that I've moved to a new place. I still feel like a member of the team." He continues, "I've dedicated all of my 20s to the group but nothing lasts forever. I feel I need to experience something new to appreciate what I have now. I'm sure this will bring us together as a team."
J-hope's parents purchased a 'Hope World' stone
Despite spending long hours at the studio, j-hope takes much-needed time to visit his family's home in Gwanju. While making his way through the house and into the backyard, he shows off a large scholar stone his parents purchased which reads "Hope World," a reference to the first solo mixtape he released in 2018. "This is my mother and father's most ambitious work," he says.
What makes this moment in the documentary particularly fascinating and heartwarming is a showcase of the Jung family home. The staircase of their home is lined with photos of him and his sister, and his mother has a collection of throwback BTS merch and magazine covers in a glass case going back to the early beginnings of the group.
Jimin flew to Chicago to support j-hope at Lollapalooza
Throughout the film, it's made clear that the BTS members are each other's biggest support systems. Jimin is seen tagging along with j-hope while he preps in Chicago for D-Day and the very seconds leading up to the actual performance. "I was looking awful before you came," j-hope tells Jimin of his presence. Later on, Jimin tells his bandmate that he's proud of him. "I'm happy if you're happy[...] and if I do something in the future, you have to come too," Jimin says.
Jack In The Box was in the works even before j-hope debuted
In the last minutes of the documentary, j-hope tells the camera that the years leading up to JITB and his Lollapalooza performance were all a part of destiny. It's been 17 years since he started on a path in dance and rap, he says, and now he's happy to have fun and learn new things. "I never thought I'd ever headline a performance. I thought I'd be a part of a lineup at most," he says.
When talking about the preparation of JITB, he says the album had been in the works for years. "The name was already there before I even debuted," he reveals. "I've always wanted to write music and perform alone but didn't really plan it until 2019-2020. It all happened like destiny and this is where I am now."
'j-hope IN THE BOX' is streaming now on Disney+.
This article was originally published on