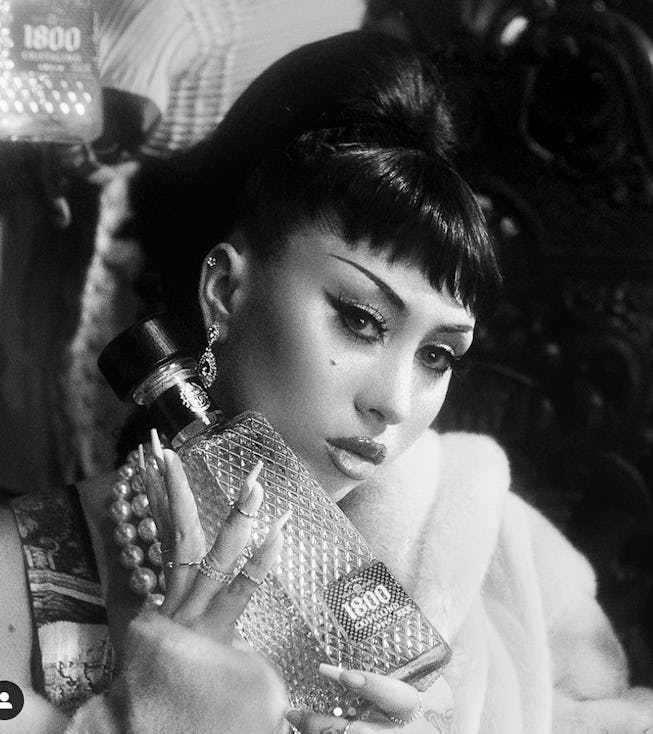 1800 Cristalino
Kali Uchis On Her Upcoming Concert: 'Sin Miedo: La Experiencia'
The singer will perform singles like 'Telepatia' and 'Te Pongo Mal' live for the first time.
Kali Uchis has teamed up with 1800 Cristalino Tequila to present an immersive virtual concert experience, Sin Miedo: La Experiencia.
The free virtual concert will feature Uchis performing hits including "Telepatia" and "Te Pongo Mal" from her most recent album, Sin Miedo (del Amor y Otros Demonios), for the first time since its release in November 2020.
Uchis created a cocktail kit with 1800 Cristalino, so fans can make her custom drink, the Por Vida Paloma, to enhance their viewing experience. Fifty percent of proceeds from each kit sold will benefit the Human Rights Initiative, a charity that provides free legal and social protections for immigrant communities in need.
NYLON caught up with Uchis ahead of the performance to chat about her connection with her fans and how she's been prioritizing her mental health as of late.
It's your first time actually getting a chance to perform songs from this album — are you excited?
Yeah, I think it's going to be a lot of fun. I'm really excited to see how my fans like it. I know that they'll be happy no matter what because we're doing it for free anyways, so, it's like a little present to them.
How have you stayed connected with your fans during this distanced time?
I have a really strong connection with my fans because a lot of them have been there from the very beginning and were really my only support system, like a family to me. So I stay in touch with them all the time. I tried to get creative with how to stay in touch with them by doing a little hotline that they could go and call on my website, so they could send me messages.
I loved hearing all their messages; they would leave me voice notes, and it would be like listening back to your voicemails or something. It was a lot of fun, and I just do little stuff with them here and there, talk to them whenever I can, whenever I have a chance. But I'm always trying to find new, different ways to interact with them that isn't just on Instagram Live.
What have been some of the ways that you've taken care of your own mental health during this time?
I think just giving myself the freedom to do whatever it is that I feel like I need to do, and not force myself to work every day or to be productive every day. There was a quote I saw the other day that is literally exactly how I like to kind of operate when it comes to my creativity. "You don't have to make a masterpiece every day as long as you get some paint on the canvas every day." That's literally what I do. I come down and I try to stay creative and try to find other things that aren't just music to keep me... I write stories, and I make paintings. Just, I guess, to keep that flow of energy always present, but never push it, you know? And I think what's really helpful is not making ourselves feel the pressure of having to make some type of masterpiece overnight all the time.
Sin Miedo: La Experiencia debuts Thursday, April 22 on YouTube.