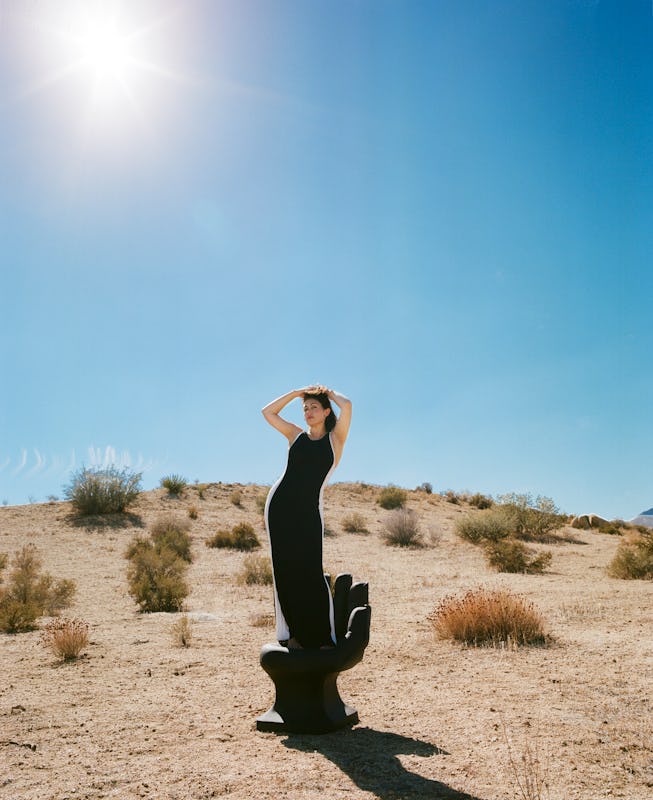 Mary Rozzi
La Force Premieres "October," A Radiant & Realistic Ode To Fall
Hear the Broken Social Scene singer's dusky new song exclusively on NYLON.
It's still summer but La Force is already preparing for fall.
La Force is the project of Montreal-based musician Ariel Engle, who is perhaps most known for being a lead vocalist in Broken Social Scene from 2017 and can also be heard singing on the most recent album from Big Red Machine, Aaron Dessner and Justin Vernon's collaborative project. She debuted as La Force in 2018 with her self-titled album that pulsed with eclectic, pop-leaning sounds. Now, she's gearing up to launch her second, XO SKELETON, set for Sept. 29, a project that's decidedly trods into completely different sonic territory.
Today, La Force releases her newest single, "october," a dusky and cozy force of a song fitting of its title. Premiering exclusively on NYLON below, the track exudes fall energy and serves as an ode to the season but not in a scarves and pumpkin spice way. Over nimbly plucked guitar and jazzy horns, her rich voice sounds like pulling over an old knit sweater as she sings about watching the cyclical decay of animals and plants, perhaps capturing the true essence of the period of time that precedes the figurative death of winter.
"'october' is a time of harvest here [in Montreal]," writes Engle of the song. "It's a time when we settle into darkness and leaves drop from the trees. It's a time when we turn inward into our clothing and protective shells. It's a song about the voices we internalize. People we can no longer see but whose voices and words live on inside us and shape us. It's a song about the uncanny. A song about the cycles of nature, cycle of life. The song reminds us that despite our grand feelings we are just like animals and plants, destined to be born, to live and to die."
Shadowy yet radiant, "october" is ultimately dark and comforting, a taste of the greater direction XO SKELETON is set to take. Hear "october" below and read on to learn more about Engle and what to expect from her upcoming album.
What are you up to right now — describe your surroundings.
Hiding from the heat in my living room, sheer blue curtains drawn against the sun. The light in here feels cool. The city has emptied out for summer. Reminds me of being a kid but this time I'm not bored just more alone.
What was the concept behind the "October" music video?
The video was my friend Caely White's idea. We talked about something non-narrative. We talked about the uncanny, the double, the outside eye, internalized eye of those who are no longer on the planet. It's some combo of dancing with yourself and dancing for the other who lives in your heart or mind or both. It's understated because no one is really watching in that thought experiment but then it's a video so people are watching but they weren't there then, it was just me and my shadow.
What can people expect from your new album XO, SKELETON?
People can expect some versions of inner goo brought to outside. Some ooze shaped into song. It's about relationships, those we have with the living, the dead and tape in our head.
What's the last album you played in full and really enjoyed, and why did you like it?
I played A Tabua de Esmerelda by Jorge Ben because to me it's a perfect record. It's both loose and very tight. There are snippets of casual conversation and then epic songs. So much heart in this work. I have no idea what was actually said but I forget when I listen to it - I just feel it and it makes me want to shed a happy tear every time.
Besides making music, what do you like to do in your free time?
Talk to anyone in the house who will engage with me and if not that, go to the local yoga studio.