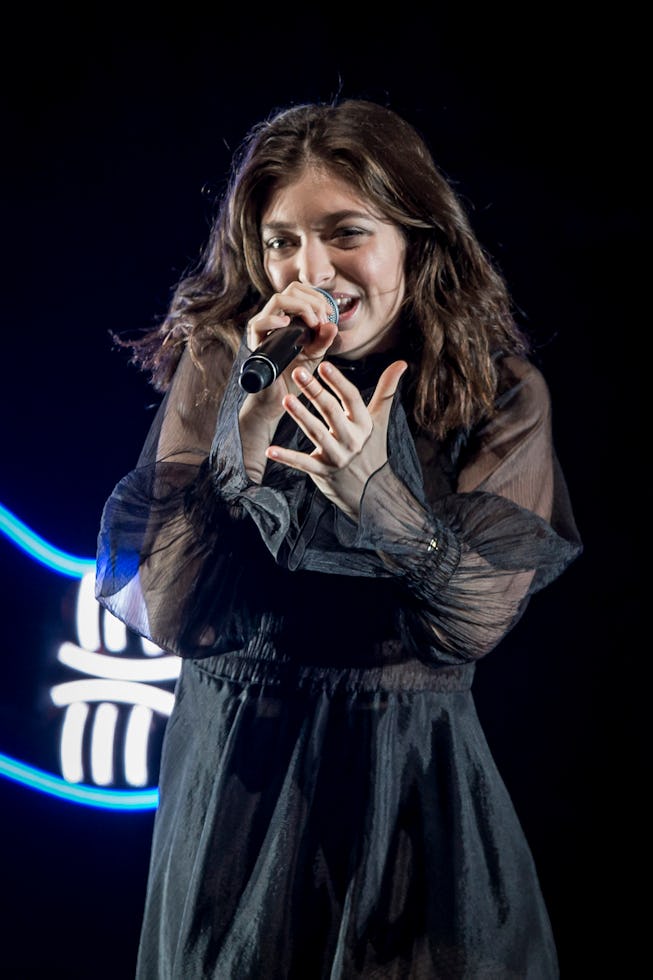 Neil Lupin/Redferns/Getty Images
Everything We Know About Lorde's Third Album
Get ready and call your therapist, because Lorde season is finally here.
As Lorde said herself, it's been a long and delicious wait for the New Zealand star's highly anticipated follow-up to her 2017 record Melodrama, and it looks like the drought is over; Lorde's next era is finally upon us.
The pop star surprise announced the title of the lead single and album, Solar Power, on Monday, June 7, with an update to her website that included the now-infamous photo of her butt as she leaps over the sand.
Though fans have been deciphering clues about Lorde's long-awaited third project for months (if not years) now, including predicting the title "Solar Power," this was the first official announcement of the upcoming album from Lorde herself. Get ready and call your therapist, because Lorde season is finally here.
Below is everything we currently know about Lorde's new album.
Lorde's new album is called Solar Power
Despite early confusion, Lorde has confirmed that her third studio album is called Solar Power, a title that she says was inspired by her 2019 trip to Antarctica. Shortly after she released its lead single of the same name, the Kiwi singer confirmed that Solar Power would also be the album title as well.
"There's someone I want you to meet," Lorde wrote in an email newsletter. "Her feet are bare at all times. She's sexy, playful, feral, and free. She's a modern girl in a deadstock bikini, in touch with her past and her future, vibrating at the highest level when summer comes around. Her skin is glowing, her lovers are many. I'm completely obsessed with her, and soon you will be too. It's my divine pleasure to be introducing you, at long last, to my third studio album, SOLAR POWER."
The album cover, which features her butt and has already been memed into oblivion, was shot by her "best mate Ophelia" who "took the cover photo, lying on the sand as I leapt over her, both of us laughing," Lorde writes.
Many already suspect that there's more to Solar Power than meets the eye, with some of her fans speculating that the album will actually be about climate change, or contain a dark twist that will disrupt its current bright and sunny narrative. Sounds like Lorde if you ask us!
Lorde's Solar Power Release Date & Tracklist
Lorde's Solar Power is due out Friday, August 20, 2020 and will contain 12 tracks and two bonus tracks that are currently unannounced. See the full tracklist below.
The Path
Solar Power
California
Stoned At The Nail Salon
Fallen Fruit
Secrets From A Girl (Who's Seen It All)
The Man With The Axe
Dominos
Big Star
Leader of a New Regime
Mood Ring
Oceanic Feeling
The record will arrive without a physical CD component, Lorde announced in her email newsletter. Instead, Solar Power will have multiple vinyl versions including a sky blue standard version, a special deluxe version (only available on her website), and a special disc-less bundle she's calling a "music box" on her website.
Lorde's Solar Power Tour
To accompany the new album, Lorde is embarking on The Solar Power Tour which she's describing as an "intimate tour" experience that will be held in theaters and green spaces instead of stadium arenas.
The tour kicks off in February 2022 in her hometown of New Zealand and will take her to Australia, the U.S., and Europe before ending her tour in June 2022 in Germany. For full dates and tickets, visit Lorde's website.
Lead single "Solar Power" features vocals from Phoebe Bridgers & Clairo
Lorde's first new music in four years, "Solar Power," is finally here. The singer released the Jack Antonoff-produced song without warning on Thursday, June 10, and it arrived with a few other secrets (there's speculation that it was leaked early but more on that later). Namely, hidden in the songs credits are two other big names that also worked on the track: Phoebe Bridgers and Clairo, who helped provide backing vocals to the song.
Sonically, "Solar Power" is a major pivot for the singer, departing from the sleek, maximalist pop of Melodrama to embrace a more acoustic and sunnier type of euphoria.
Despite "Solar Power" being Lorde's first release in four years, it still suffered a bit of a messy rollout. The track was briefly released by some streaming platforms around noon Eastern on Thursday, June 10, however was taken down almost immediately (along with "Solar Power"'s Genius lyrics page). Fans speculated that the song was leaked before its official release at 6 p.m. ET the same day.
Lorde's Solar Power Themes & Collaborations
In case Lorde hasn't already made it abundantly clear, Solar Power is dedicated to the sun and the adjacent natural world.
In the same newsletter announcing the album title, Lorde also wrote about its themes: "The album is a celebration of the natural world, an attempt at immortalizing the deep, transcendent feelings I have when I'm outdoors. In times of heartache, grief, deep love, or confusion, I look to the natural world for answers. I've learnt to breathe out, and tune in. This is what came through."
Lorde is working once again with Melodrama producer Jack Antonoff for some of the songs on the album. In a 2020 email to her fans, Lorde revealed that she and Antonoff began working on the album before the pandemic, flying between Auckland and L.A. "We're still working away — Jack and I FaceTimed for over an hour this morning going over everything. But it'll take a while longer," she reassured her fans.
It'll be worth the wait
The star said it herself in her last newsletter dispatch: "The work is so f*cking good my friend. I'm jazzed for you to hear it."
Editors Note: This article was updated on Thursday, June 21, 2021 with new information.
This article was originally published on