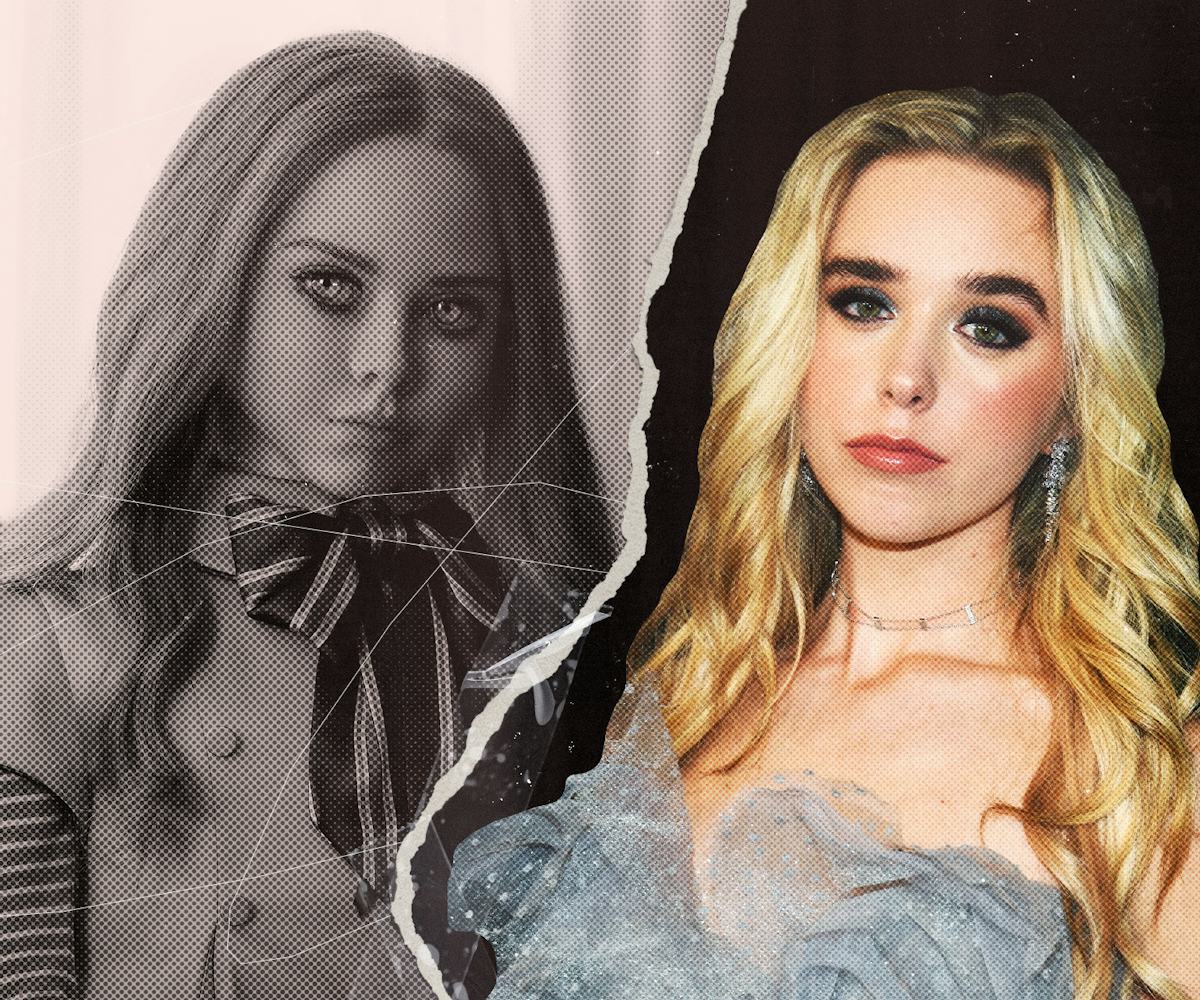 NYLON; Univeral; Getty
Meet the Voice Behind M3GAN, 2023'S Ultimate It Girl
Jenna Davis provides the killer doll with the perfect balance of innocence and rage — here's how she did it.
We are only a week into the new year and the It Girl of 2023 — nay the 21st century — has already emerged — and her name is M3GAN. Between the flawless hair, killer dance moves, and psychotic tendencies, you simply can't deny it — M3GAN is It. And behind every fictional animatronic AI comes a voice that can charm you one minute and make you swear off all technology the next. Meet Jenna Davis, the 18-year-old voice behind 2023's breakout star.
If you are one of the singer and actress's 2 million Instagram followers, it might be surprising to learn that Davis, a blonde Southern girl-next-door type who gained her following on YouTube, could be behind such vitriol and vicious line reading; but that's kind of the whole point. Who would've thought such a prim-looking doll would also be capable of murder? Here, Davis breaks down how she nailed the voice, and why M3GAN is the ultimate 21st century girl.
How did M3GAN come to you?
It was the typical audition process. I literally taped a voiceover in my closet and sent it off. I did a series of auditions and they kept asking for more and I was like, "I think this is a good sign." But in this industry, I'm never like, "Okay, I'm getting this, I'm definitely getting this," because I don't want to get my hopes up. But it was just auditions, more auditions, more requests, and things like that. Then I had a meeting with the director, Mr. Johnstone, and poof, it was mine.
Had you done voiceover work before?
I was on a Netflix show called Treehouse Detectives where I was a little sister bear. We did, I don't know, 30-something episodes of that. And that was a blast. I really enjoy voiceover because you can just go in your pajamas and you're good. But M3GAN was, I would say, probably the most challenging role that I've done just because she has so much depth.
How was the character first presented to you?
I did not get much from the first audition at all. It was a very brief description and they just really wanted to hear me play with her. The more auditions that I got for it and the callbacks and the requests, it was like, "We love how you're doing it, but we need her to be fun." So I really just had to dive in and make a choice. That's kind of how I see things when I audition for projects; I have to make my own choice to separate myself from everybody else, and casting and producers and the team are either going to love it or they're going to hate it. And with M3GAN, they loved it, so I'm glad.
What was that "take" you found for M3GAN?
My first take was pretty similar to what I did in the movie. I made her very terrifying and creepy, but she had a personality because I didn't want to make her Siri in regard. Siri has no emotion. I wanted M3GAN to be more fun but also creepy and terrifying. You listen to her at first and are like, "Okay, she seems cool. I'd be friends with her." But you turn around and she's a two-faced, totally different person.
Were you shown what M3GAN looked like before the audition?
No, it was just the script.
When you eventually saw her, did you think it aligned with the voice?
I did, but I was also so shocked. It was not what I expected. Compared to what you think of as artificial intelligence, she looks so realistic — scary realistic. I was just like, "This is incredible. How did they do this?" I didn't actually see her until months later, so I just had to really use my imagination with her and I got lucky.
What was the recording process like for you?
It was a long process of different sessions and a lot of studio time. Our director knew exactly what he wanted and I had such a pleasure working with him because he could be like, "Jenna, that's it." I just love that, because it's confusing sometimes when you're working and they don't know exactly what they want, but he knew exactly what he wanted with her. So if I just fit that mold of exactly what he wanted, he was happy and content and we moved on. For the most part, he and I just had a vision for her and we just collaborated and here she is today.
Did you meet Allison Williams or Violet McGraw at any point when recording M3GAN's voice?
It was later on because they filmed the movie prior to when I could come in, but they were so lovely. It's so cool because I've been working with them, obviously, but it was in a different way because I'm behind the camera, not in front of the camera. But I still felt so close to them in some weird way. We just connected because you do become, in some way, your character as you hop into their life and you experience what they experience.
Did you find yourself slipping into your M3GAN voice in real life?
She has this thing where she says, "It's insane, right?" I don't know why, but my mom and I have been saying that all the time. And then we look at each other and we're like, "Wait, that's M3GAN." When the trailer came out, I asked my friends if it sounded like me, and they're like, "Yeah it does." Some were even like, "I'm not going to be friends with you after this because I'm going to be scared." Obviously I'm not a terrifying, horrifying nightmare girl who's going to slaughter, but there are certain lines that are always going to stick with me. Even in the early audition process, some of the lines in the movie I don't think I could ever forget. They're imprinted in my brain.
What scene did you audition with?
When I first was being introduced to Cady and really coming to life, which was fun because a lot of auditions, you don't get to do a scene where you're introducing yourself. And I think introductions tell a lot about a person.
M3GAN also sings in the movie. As a singer yourself, did you have to tweak your own voice for that, as well?
I sing a lot and so I obviously wanted to make her sound the best I could, but they all still told me, "Jenna, you can't sound super duper good." So it was a balance. I was singing and they're like, "Can you make her sound a little worse?" And I'm like, "Okay, I've never been told that before, but all right." We just played around, then what they picked in the movie I'm really happy with. The whole film was just a lot of playing around. It just gave so much variety and so many options and was so much fun. I think that's the cool thing about M3GAN is it's comical. There are funny parts of it.
It's hysterical.
She's a 21st century villain that gets what our generation loves and loves to do, which I think is different than anything before. She's just so modern and saying all this current stuff, but she's still an AI.
Ashley Roberts
Ashley Roberts
Did you watch any of the creepy doll films that have come before in order to prepare?
I didn't watch Chucky or anything because they're just so different. I mean, I'm honored. A lot of people are comparing M3GAN to Chucky, or Annabelle, things like that. I'm honored to be even considered to be in their horror presence. But M3GAN's just so different from that. I did get a little bit of inspiration from R.L. Stine's The Haunting Hour. There was a doll in that franchise named Katie, I believe. I watched an episode of that when I was younger, and that doll terrified me. I don't even think she spoke, but I remember the fear that doll brought me when I was younger and I was like, "If that doll could talk, what would I think she would sound like?"
Did you have to keep your role in the film a secret for a long time?
Nobody knew. I told my closest, closest friends, but I had to keep it very secret. And when the trailer came out, everybody was like, "What?" So that was a fun little surprise. But it's finally here, which I have so many butterflies for. And the premiere was just an amazing night and it just feels crazy that it's actually coming out, especially because it's been a secret for so long.
At the premiere, I think I was watching everybody else's reaction to the film because I've seen the film, I've been a part of the film, so I knew what was going to happen and I was just kind of looking at my family and looking at my manager and looking at my PR team like, "I hope everybody's enjoying it." It was so cool to see everybody's reactions live because as an actor and as an artist, you always want people to enjoy your craft and enjoy what you do. And when I heard people's reactions, it was like, "Okay, they like it."
People really can't wait to see it, especially since the trailer became such a hit. Did you expect it to go that viral?
I personally love watching people's reactions. As soon as the trailer came out, people made reaction YouTube videos. I didn't realize how big the horror culture is and how much people really enjoy horror. And I'm just honored to be able to be a part of that. And I hope they love and accept M3GAN as much as they've loved and accepted Chucky and Annabelle and all that type of different type of stuff.
You obviously have your own large following, but now M3GAN has her own, as well.
It's incredible. I love the fact that she has an Instagram. She's literally in our generation right now and I'm so excited. I hope they continue it and have M3GAN hit a million followers on Instagram, something cool like that.
What do you see in the future for the M3GAN Cinematic Universe?
That would be a dream come true. Would I do seven M3GAN movies? Heck yeah, I would. I think she has a lot in her. She can go places, for sure. So if they want to make it, I'm down for it.