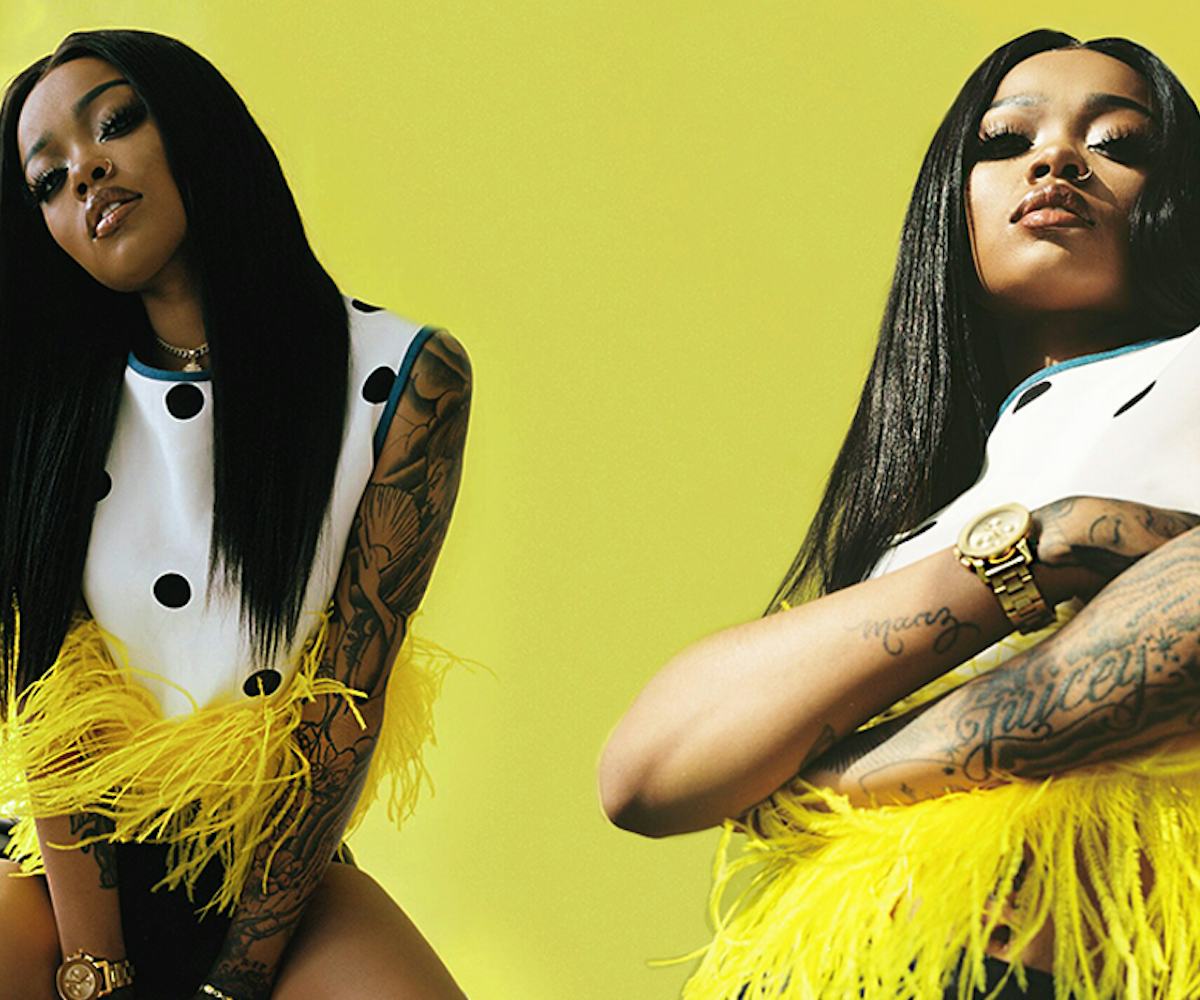 Photos by Elijah Dom
There's Something About Maliibu Miitch
South Bronx MC Maliibu Miitch may not be a household name just yet, but the crazily charismatic artist has already given those fortunately in-the-know a lot to talk about. Just ask Nicki Minaj, who recently showed Miitch some love, and more than once. As if that colossal co-sign wasn't head-turning enough, also supportive is OG rap queen, Foxy Brown, who left a comment on Miitch's Instagram dubbing her "Baby Fox," presumably pleased with Miitch's cover of "Get Me Home," the first single from Brown's 1996 debut album, Ill Na Na.
Despite the boiling buzz surrounding the rapper, with a sea of articles comparing her to Brown and/or Lil' Kim, Miitch is no overnight sensation—and it'd be foolish to pigeonhole her. The 27-year-old has been working in the music biz for years and was previously signed to Ruff Ryders and Island Def Jam. But Miitch found herself in similar disheartening situations with the labels: They wanted to mold and present their version of a superstar, with their own rules and ideas—be bubbly and cute; be the next Eve. This understandably didn't sit right with the one-of-a-kind artist. So, she went indie, and, in 2017, released the lauded EP, Top 5, which paid homage to and featured five remixed hits from female rap icons: Lil' Kim, Lauryn Hill, Missy Elliott, Eve, and Miitch's favorite OG female rapper, Brown. Calling this a brave move is an understatement—it could've been a career-killer—but Miitch's superstar-heavy talents clearly paid off, and, in late 2017, she signed to Atlantic Records, where, at last, she feels right at home.
If it somehow isn't obvious enough that Miitch is all about supporting and uplifting women, then look no further than her latest song, "Give Her Some Money," a women-empowering anthem that comes with a nostalgic New York hip-hop beat. The Nimi Hendrix-directed visual shows strippers, waitresses, and musicians on their everyday grind. It closes with Miitch and her girls handing their waitress a wad of cash, before the screen turns black and the words "There's no force stronger than a bond between women" appear. 
Miitch raps about what she knows, and she knows a lot about the real-life everyday struggle: In her formative years in the Bronx, she dropped out of high school, was in and out of gangs, and spent a week locked up in Rikers Island. Her hustle involved dealing drugs, modeling, and making the music that seemed to get her so close to breaking out in the industry with the aforementioned major label deals. Never one to give up, and with wanting to support her family in mind, Miitch fearlessly kept it moving.
That fearless aura is strongly felt on "The Count," her sublime version of Biggie's "Ten Crack Commandments," in which she fires away, in a menacing baritone, instructions to women about how to demand respect from men, how to proudly possess intimidating confidence, how to never be fucked with. (If you ask us, the first lyric, "Hit them with the penicillin, make 'em feel it," deserves many an award.) Like "Give Her Some Money," it's a visceral, soul-slaying smash. Her last commandment, "Ten: I bet they never wanna see Miitch again," is the only one we disagree with. We can't get enough of Maliibu Miitch, especially after chatting with her right before she hit the stage as the special guest on the Rico Nasty tour. Miitch's sure-to-be special full-length forthcoming project is slated to be released in the fall. Hopefully, you're not allergic to penicillin because, ready or not, world, here she fucking comes.
Top 5 was a bold but obviously, ultimately, rewarding move, garnering praise from many major music publications. Did you get any love from any of the artists that you paid homage to on the EP? 
The only person that I heard back from was Foxy, and that was recently. I was so excited. She called me Baby Fox! You know, I ain't gonna lie, she's like my favorite out of all of the OG female rappers.
With Top 5 and your own music like "Give Her Some Money," it seems pretty clear that you're all about female empowerment. 
I really wanna see other people win. I know how it took me so long to get popping, and I felt like it was always because I really didn't have no support from no other females. And I just know that us females are better off sticking together. We'll have more success if we stick together and support each other.
Before recently signing with Atlantic, you were signed with Ruff Ryders and Island Def Jam. What went wrong? 
They just wanted my personality to be all bubbly all of the time. I'm not like that 24/7. I'm a Pisces, so I go through my feelings. I am from the South Bronx, I grew up there my whole entire life. I wanted to rap about things that I love doing and what I went through, you know? I'm just super-excited about being with Atlantic. There's nothing like someone accepting you for being yourself instead of trying to change you. Everything is just so good now.
What have you learned from those deals not working out? Did you ever want to give up? What kept you going? 
Being at different labels taught me so much. Having patience was something I learned and something I never had growing up. I learned how to structure songs better. From being signed, I'm becoming more business savvy. What pushed me and kept me going after deals fell through was definitely my family... I wasn't with seeing my family struggle anymore, especially when I knew I could really do something about it. I wanted to give up so many times, but my family kept me moving and motivated. I'm so hyped about being signed to Atlantic! Atlantic saved me from the wolves! [laughs] There are so many people with opinions and ideas of how they think you should be, but it really sucks not being accepted for who you are. I'm glad I don't have to worry about that anymore.
You've been doing your thing for a while now, and I noticed you used to rap in a higher, bubblier tone. What inspired you to change your sound into what it is now? 
It completely changed! When I first started rapping, I was 19. I rapped in my natural speaking voice, which is in a higher pitch. But I wanted guys to fuck with my music just like the females did, so I switched up my tone. I really came into my sound after doing the Top 5 EP that I put out last year. Now my music is a good balance of playful, gritty, and sexy.
Nicki Minaj recently shouted you out on Instagram and in a radio interview. Are you a fan? How did that make you feel? 
That's my number one favorite female rapper. Foxy and Nicki Minaj. Nicki had posted a question about who should she have open up for her on her tour with Future. And then I commented that it should be me and Asian Doll—I love her, she's such a sweetheart. And then Nicki wrote back! She sent those little emoji eyeballs or whatever and she was like: "Where do y'all wanna perform at? What city?" I was like, "WHAT!" I was super-excited about that because that's my favorite female rapper, first of all. And then, it's like... Nicki Minaj! Not that she doesn't ever show anybody love, but it's very hard to get accepted by great people. I used to tweet all of the people that I covered on the Top 5 project, the OG rappers, and I didn't hear back... So, around that time, I thought maybe I didn't go hard as I thought I did. That kinda was weighing on me. But then when Foxy showed me love, I was so excited. And I always wanted to be an artist like Nicki, and then for her to acknowledge me... and for her to shout me out on an interview on Beats 1, too… That was crazy. It's just so crazy to be able to get love from her. Out of all of the comments she saw on Instagram, like the millions and millions of comments, she saw mine?! I was just really excited about it.
Do you aspire to have the kind of success that Nicki has? Do you think you're ready for that level of fame? 
I hope! I hope I'm able to have the success that she has. She's been around so long, and her music is so good, and always stays so good. Shit, I hope so one day. As for the fame, I was street-popping and I was always known on the streets. It's all the same thing. It's just gonna be on a bigger scale I guess.
How did you decide to call yourself Maliibu Miitch? Is she an alter ego? 
Miitch came from the movie Paid In Full, and Maliibu came from nowhere at all. I just randomly thought of it. It's not so much of an alter ego. I can be very fun, loud, outgoing, and bubbly, and that's Maliibu. But some days I'm quiet and I just want to be left to myself—that's Miitch. Real gritty, mellow, and low-key. 
What is your earliest memory of rapping that confirmed for you that this is what you wanted to do professionally? 
It'd be when my homie passed away. His name was Ty Murda. I remember the first time I ever free-styled in front of anyone was at his house on the 4th of July with all his homies. I was mad hype off the love and attention they gave me for it, and it just made me want to keep at it. At that time I was the only female in my hood rapping.