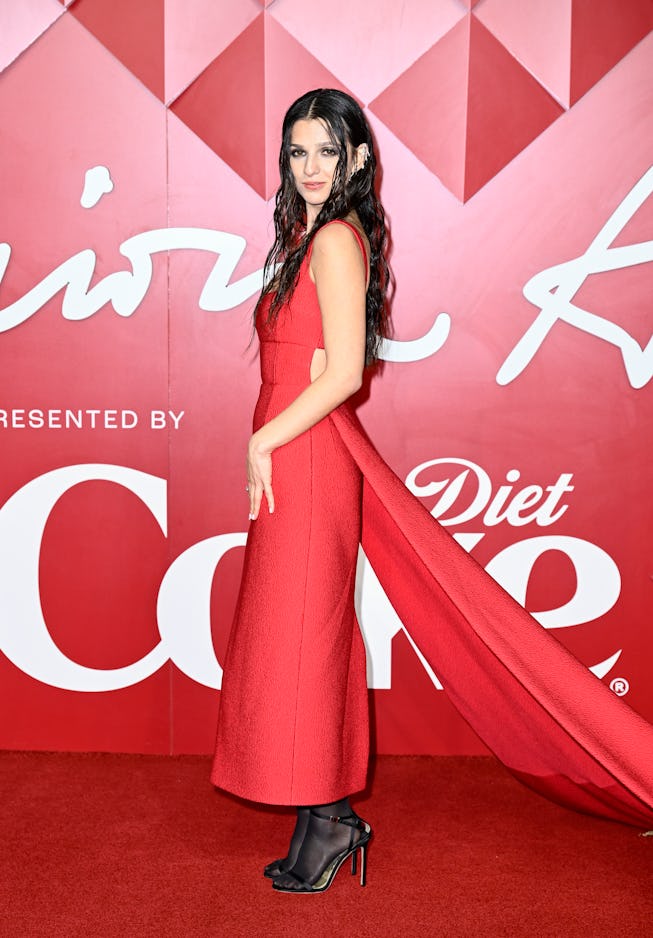 Gareth Cattermole/BFC/Getty Images Entertainment/Getty Images
See a First Look At Marisa Abela as Amy Winehouse In "Back to Black" Biopic
Production has yet to begin on the biopic, but Abela already is looking hauntingly like Winehouse.
Just over a decade after her tragic, untimely passing at the age of 27, Amy Winehouse is getting a biopic. While production has not officially begun yet on Back to Black, the studio has released its first photo of Maria Abela as Winehouse. Seen singing into an ear mic with her signature Monroe beauty mark, dramatically side-swept bangs, big updo, tiny tattoos, and gold hoops, Abela looks strikingly like Winehouse.
Abela, who is best known for her role as the privileged but troubled Yasmin Kara-Hanani in HBO's Industry, was cast last July, after producers explicitly said they wanted to go with a fresh face to play the role. Though alongside Back to Black, Abela was also cast in Greta Gerwig's The Barbie Movie, a monstrously-hyped film that's even inspired a wave of Barbie-core fashion — the combo of which is all but guaranteed to launch her to stardom. But most crucially, she can sing, according to Variety.
Though the acclaimed, sob-inducing 2015 Oscar-winning documentary Amy charted the rise and tragic fall of the late and great singer, the biopic will mark the first narrative telling of Winehouse's story. According to the studio, it will follow Winehouse's "vibrant years living in London in the early early aughts and her intense journey to fame."
Biopics don't always have the backing from singers' estates (take the recent Celine Dion biopic, which her family hates) but we can rest assured that the biopic has the full support of Winehouse's estate, as did Amy.
Back to Black is also in good writing hands: The film was written by Matt Greenhalgh, who last worked with Sam Taylor-Johnson, who is directing the film, on the script for "Nowhere Boy," a biopic about John Lennon's childhood. Taylor-Johnson also famously directed 2015's Fifty Shades of Grey. In a lengthy statement she talked about his long love for Winehouse.
"My connection to Amy began when I left college and was hanging out in the creatively diverse London borough of Camden. I got a job at the legendary Koko Club, and I can still breathe every market stall, vintage shop and street," Taylor-Johnson said in a statement. "A few years later Amy wrote her searingly honest songs whilst living in Camden. Like with me, it became part of her DNA."
He continued: "I first saw her perform at a talent show at Ronnie Scott's Jazz Club in Soho and it was immediately obvious she wasn't just 'talent,' she was genius. As a filmmaker you can't really ask for more," he said. "I feel excited and humbled to have this opportunity to realize Amy's beautifully unique and tragic story to cinema accompanied by the most important part of her legacy – her music. I am fully aware of the responsibility, with my writing collaborator — Matt Greenhalgh — I will create a movie that we will all love and cherish forever. Just like we do Amy."
According to the studio, production on the film will begin on January 16 in London.