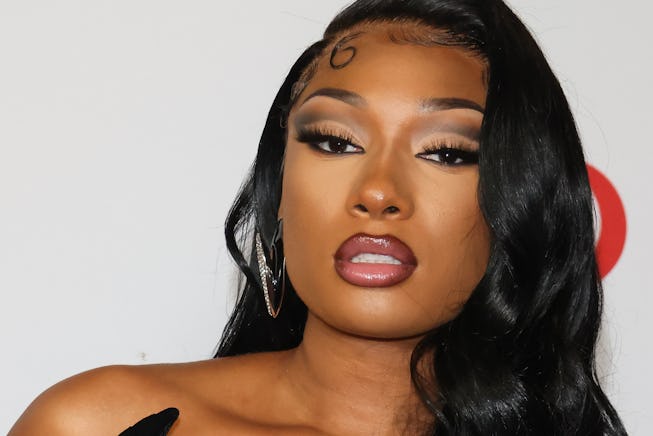 Toni Anne Barson/WireImage/Getty Images
Megan Thee Stallion Fell "Into A Depression" After Getting Shot
The rapper is speaking out about her trauma and the trial in a new essay.
Megan Thee Stallion is opening up about the complicated and very public aftermath of her 2020 shooting by fellow rapper Tory Lanez and the subsequent court battle. On Tuesday, the "Plan B" rapper published an essay in Elle where she describes "falling into a depression" following the shooting, as well as what it was like to be the target of the online vitriol and the gaslighting she received when the news went public.
Shortly after TMZ broke the news in summer 2020, the online discourse was already plagued with accusations of Megan Thee Stallion lying about getting shot, with jokes making fun of her and the circumstances of how it went down. At the time, Megan loudly pushed back against these rumors, calling out people who don't believe Black women on Twitter and still releasing music, including her scathing response to the backlash, "Plan B," which appeared to powerfully signal that she was moving on, unfazed by the circumstances. But as she now reveals, she was having a much rougher time behind the scenes.
"The truth is that I started falling into a depression," Megan wrote of that time. "I didn't feel like making music. I was in such a low place that I didn't even know what I wanted to rap about. I wondered if people even cared anymore. There would be times that I'd literally be backstage or in my hotel, crying my eyes out, and then I'd have to pull Megan Pete together and be Megan Thee Stallion."
In the end, she was vindicated; late in 2022, Tory Lanez was found guilty by a Los Angeles court in the shooting of Megan Thee Stallion. (Lanez' lawyers have filed a motion requesting a new trial and have hinted that they will appeal the verdict if a new trial isn't granted.) Speaking about the verdict in the essay, Megan says that "it was a victory for every woman who has ever been shamed, dismissed, and blamed for a violent crime committed against them."
Elsewhere in the essay, Megan reveals that there were a few silver linings about the struggles of this time period, specifically that it brought her closer to her family: "I'm thankful that this situation brought me closer to one of my cousins. I talk to her every single day, but it never clicked that she was my best friend until I endured this experience."
Megan also stated that she intends for this to be the first and final time that she'll address the shooting and legal battle publicly. "I understand the public intrigue, but for the sake of my mental health, I don't plan to keep reliving the most traumatic experience of my life over and over again," she wrote.
Now, the rapper is staying focused on her music career and hinting at new music to come. "I'm excited to get back into music, because I have been so transformed. I'm playing around with new songs and new sounds that I can't wait for everyone to hear."
Read her full essay over at Elle.