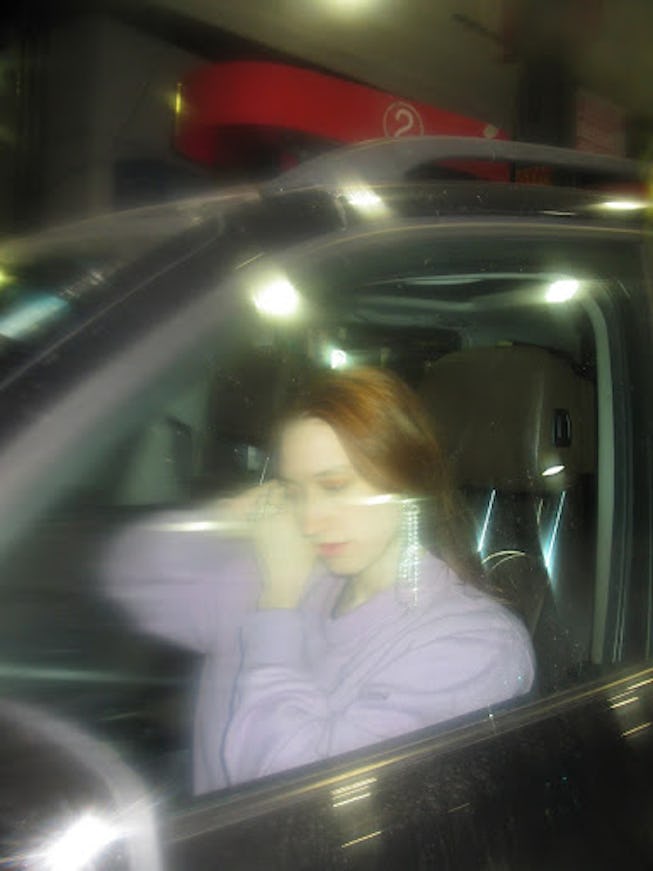 Maya Laner
Melody English's "Parasite" is Cutting, Spectral & Triumphant
Watch the New York-based performer and composer's spectral video.
In Melody English's triumphant new music video "Parasite," she is the spectral force of a symphony, bringing hypnotic melodies and subterranean growly rock to sacred spaces.
The release marks the first single from the New York City-based performer and composer — who is also one half of the indie pop project Test Subjects — since Test Subjects' 2021 album Study and English's 2020 solo debut album Melody.
For the new track, English tapped her deep classical musical background in both form and function, borrowing the aesthetic as the setting for the video directed by Fiona Kane and Richard Smith: it takes place at a concert for the philharmonic orchestra she currently contributes to. English is occupying comfortable territory; from ages 15 to 24, she focused solely on classical music and operatic singing. It provided firm musical ground on which to stand and more crucially, on which to evolve and create from.
But in the video, she moves into the role of not performer, but voyeur, courting not only her past but an uncertain present as she crawls on the ground, weaving herself between musicians, peers out over a drum, tosses mallets around, and conspiratorially gazes at the conductor through the strings of a harp; sheet music floats down like snow past a stained glass window.
The song itself is cutting, one that tugs at the all-too-familiar heartstrings that get knotted up by someone who isn't giving you enough. "I will waste my time on you forever," she sings with a breathless, gnawing clarity over guitar that recalls '90s Soundgarden. Later: "You are such a fucking parasite/ Every time I try to find the light I see you/ You are always right on cue/ I think I knew you in another life."
"It's about clinging to the familiarity of the toxicity," English tells NYLON of "Parasite." "Realizing you need to make a change but you're not quite ready to."
At the end of the video, English abandons the church and becomes her own conductor, triumphantly dancing through a technicolor strobe. She takes off her tie, her long hair dancing in the wind to fuzzed-out rock and feather-light vocals, like a storm in lo-fi.