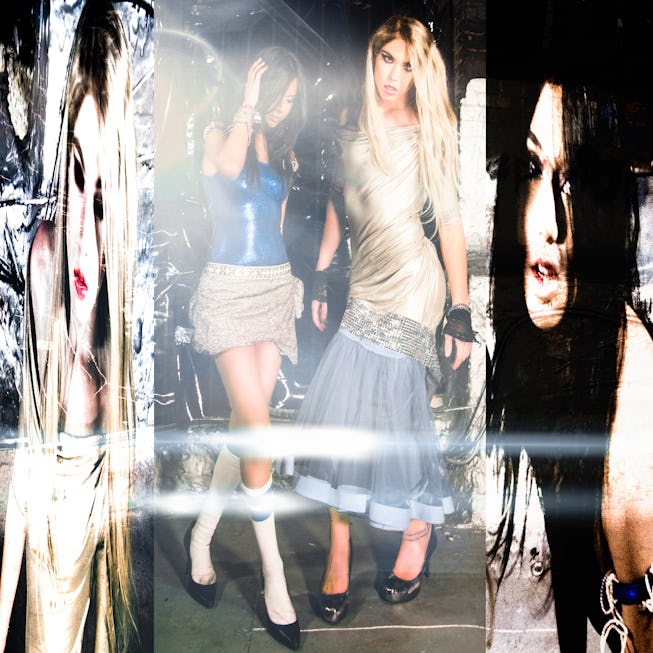 Ellis Becker-Lipton and Jacob Ace, styled by Eloise Moulton
MGNA Crrrta's "JFK-LAX" Is The Unserious Party Song You Need
The NYC-based electro pop duo premieres their Cal Glickman-directed music video.
"JFK-LAX" are the acronyms of jet-setters and MGNA CRRRTA's latest single, but where the song really takes you isn't 6,000 miles east or west — but straight to the party. That's particularly true if the party was a decade ago, in a frat house dripping of skunked beer and tinsel — invaded by glamorous, indie electro pop.
On "JFK-LAX," MGNA Crrrta, the independent electro pop project of Ginger Scott and Farheen Khan, conjures Crystal Castles fronted by Ke$ha, before she ditched the dollar sign.
The duo released their first track as MGNA Crrrta in April 2022, the fuzzed-out, propulsive Auto-Tuned "The American Experiment," and haven't stopped. They've garned a cult following in New York's downtown scene for their playful visual aesthetic, digital fluency, high-energy performances, and ability to tap into a dizzying 2010s nostalgia. They released their debut EP, Constitution 2, in 2022 and their second EP, I'm On A Saucer, last week, which features "JFK-LAX," the electronic, bassy romp that doesn't let up — the only choice is to give into its joy.
The music video for "JFK-LAX," produced by Elephant Productions, premiering exclusively on NYLON below, however, begins far away from the party. It begins in a forest. Kahn points a gun towards a moose; the bullet explodes and suddenly, the moose head in on the wall of a frat house, its snout covered in streamers.
What follows is a Project X-era house party, one where Kahn and Scott are draped in glitz and glitter, where people pour vodka into each other's mouths, use the floor like a trampoline, bouncing up and down with as much abandon as there are red Solo cups.
Director Cal Glickman captures the rapid dizziness of the house party, where Scott lays on, and later dances on, a pool table, under the flashing light of a strobe as ribbons of synth cascade higher and higher, vision blurring until its morning and everyone leaves the party, carrying their heels in their hands, — but the music plays just as loud, even if it's just in our heads.
"All our videos are very different," Kahn tells NYLON. "But I like to see this one as MGNA Crrrta took a trip."
The song was, in fact, born of a cross-country flight. Scott made the beat in October 2022 right after getting home from a Los Angeles show. It was not only Scott's first time in L.A., but their first time traveling for music in general.
"I wanted to make something that was so stupid, so I made this really bit-crushed bass thing or whatever and I had Farheen over and we made this track it evolved over the months we had it on our computers," Scott says. "It really is just about having fun and, like, trashy party vibes."
Fittingly, the video was filmed inside an actual frat. (Or "literary society," Scott says.) "Me and Ginger went to our friends' show at this Columbia frat house where the video was set," Kahn says. "We were both so high, there was so much happening."
"They were low key fans too," Kahn adds. "One of our fans stayed with them and showed them our music and one guy was like 'are you MGNA Crrrta?' and we were so gagged."
The story of Scott and Khan's friendship is a tale as old as Minecraft source code: The two met online, on what Ginger describes as a "really weird Minecraft server," when they were both 11 years old. They stayed in touch and became friends when they were teenagers, brought together further by beef with some of the people on the server. They both ended up in New York and, in November 2021, Khan told Ginger, out of nowhere, they needed to make a hyperpop song.
"I had done some production stuff when I was chronically online when I was 15 during the same Ayesha Erotica wave that happened on Twitter," Ginger says. "I was producing, but not really releasing anything."
In addition to Kesha and Crystal Castles, they love the unserious party music of groups like The Black Eyed Peas, LMFAO, Zed, and Deadmau5, as well as the pop divas: Britney Spears, Charli XCX, Lady Gaga, and Grimes.
"Party music is where we've been going with it," Scott says. "Initially it started way out there experimental, but I feel like it's more pop but staying experimental in a way, but our influences are really there."
MGNA Crrrta plays an I'm On a Saucer release show on Thursday, May 25 at 77 Fulton Street in New York City. Get tickets here.