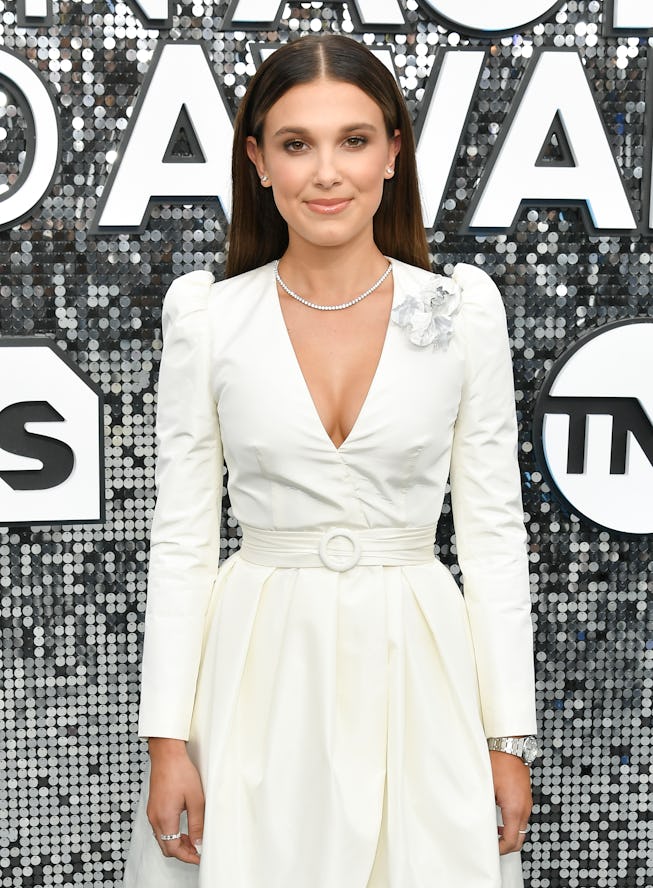 Variety/Penske Media/Getty Images
Millie Bobby Brown Is Engaged
The 19-year-old actress may not be able to toast the engagement, but she did quote Taylor Swift's "Lover" in her Instagram announcement.
Spring has sprung, and it looks like love is already in the air — at least for the kids. Millie Bobby Brown, best known for her role as a telekenetic kid in the massive Netflix hit Stranger Things, is getting hitched to her boyfriend Jake Bongiovi, which she announced Tuesday morning to her 62.8 million followers.
The 19-year-old actress may not yet be able to legally toast to her own engagement, but celebrities grow up fast in Hollywood — especially celebrities who have been acting since they were 12 — and love famously knows no bounds. Bongiovi, who is one of Jon Bon Jovi's four children, similarly can't toast to the engagement, as he is 20 years old.
"I've loved you three summers now, honey, I want 'em all," the actress wrote on Instagram, sharing a Taylor Swift lyric from her 2019 song "Lover," the same week Swift split from boyfriend Joe Alwyn after six years together. Art is timeless and life goes on, I guess!
It's not the first time the couple has worn their Swiftie card on their sleeves. In November 2022, Brown posted a video of her and Bongiovi singing along to "All Too Well (10 Minute Version) (Taylor's Version)" in their own version of carpool karaoke. Here's hoping the couple can snag tickets to her sold-out shows...
It's fitting she made the announcement on the same platform where she met her betrothed. The two met "on Instagram," she told WIRED magazine while answering questions for its' "Web's Most Searched Questions" videos last year. Apparently, one of the most Googled searches surrounding the actress is: "how did millie bobby brown and jake bongiovi meet."
"We were friends for a bit, and then, what can I say?" she said in November 2022. If that's not an accurate depiction of dating in the digital age, I don't know what is.
Bongiovi also took to Instagram, the place where it all started, to announce the news, posting two photos of the beachside engagement with the caption "Forever."
You know what they say: The couple that posts together, stays together.