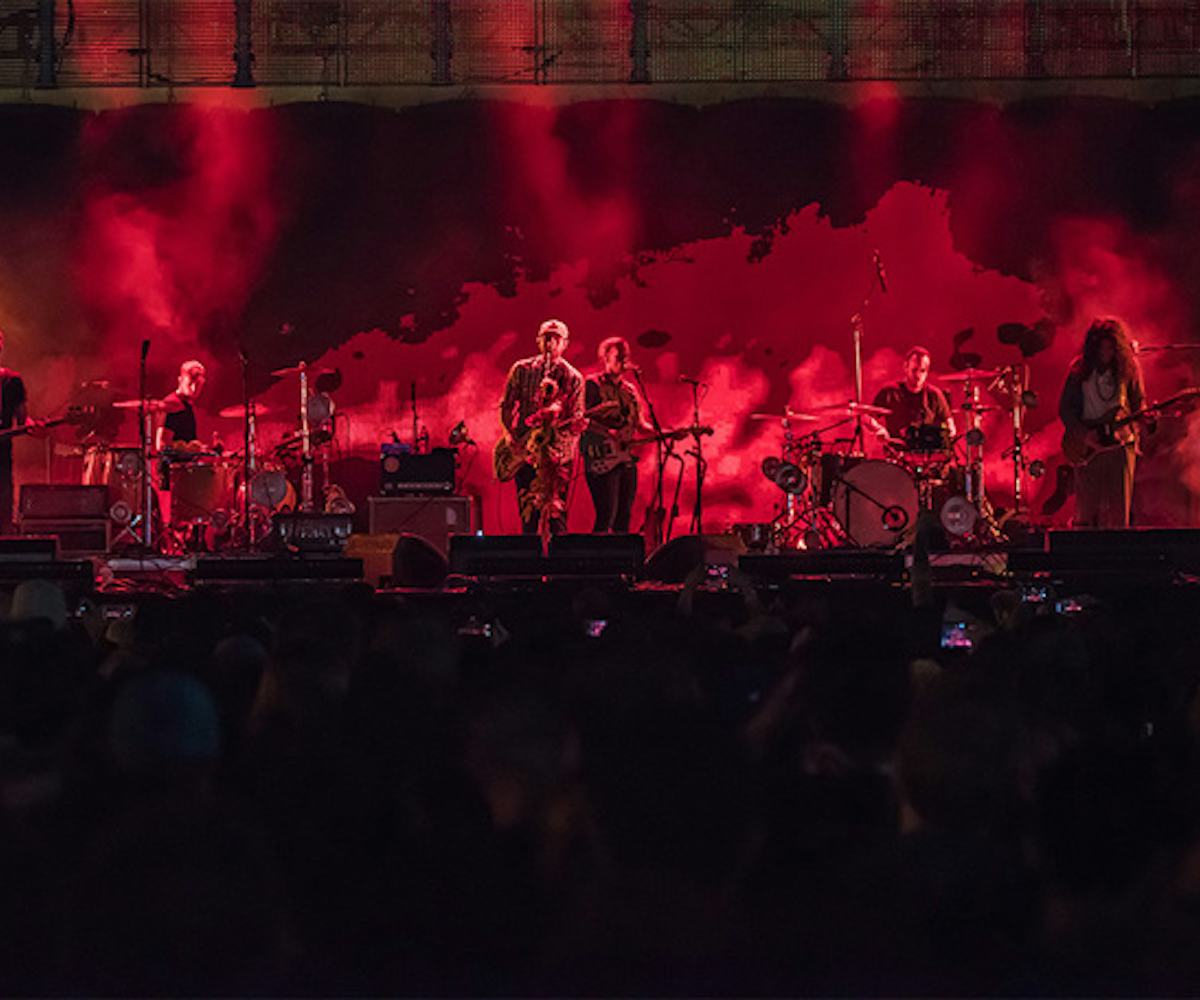 Photos by Alan Cruz
10 Musicians Share The Best And Worst Things That Happened To Them In 2017
Hear from Tegan & Sara, Best Coast, and more
On Saturday, September 10, hundreds of people gathered under the nearly full moon to watch Brand New play High and Low Festival in San Bernardino, California. Alongside other headliners, including Death Cab for Cutie and Tegan and Sara, the fest had an array of sounds worth standing under the blazing hot sun for. And with supporting bands like Now, Now, Best Coast, and Bad Suns, the heat really didn't seem so bad.
To celebrate the festival, NYLON talked to bands about their own highs and lows of 2017.
Tegan and Sara "Our highs include launching the Tegan and Sara Foundation. We are so proud and excited to fight for LGBTQ women and girls. Our community has been so supportive and so inspiring to us throughout our career, and we are overjoyed to be able to use our platform, visibility, and access to raise funds for grassroots organizations who are centering women and girls. Also, we finally got to go to Brazil, Chile, and Argentina. It's so cool that we still get to go to new places after all these years and that people actually know us there. Another high is that we released songs with All Time Low and Matthew Dear, two artists we admire and love. We also partnered with Kiehl's and had our own packaging in the Kiehl's stores for our favorite face wash. Who would have ever thought!? Plus they donated the proceeds to our foundation which was super-cool.
The lows are that every single day the news further cements how awful last year's election truly was. And how much racism, misogyny, and hate it unleashed. Hurricane Harvey has been really sad to witness. The people who are now without their homes, pets, and belongings are constantly on my mind. It could so easily be any one of us in their shoes. The constant attack on transgender people has been a massive low. We have transgender friends and family and so many transgender fans, and this year has been a really tough one seeing their fear and anxiety grow."
Elder Brother's Dan Rose"The highs were the first time I heard the new War on Drugs album and finishing our new record. Every time I remember that we have a human Cheeto as our president is a low point. Also, the Oakland Athletics suck, again."
Best Coast"The highs for me have been moving into a new home and participating in the Women's March in downtown L.A. with a big group of my friends. The lows for me have been anything and everything involving Donald Trump and his evil administration."
Citizen"In February, Citizen went to Philly to track our third album [As You Please], and it was easily the high point of the year thus far. We had a very open-door policy throughout the sessions, so we had friends constantly in and out of the studio. Hanging out with your friends for six weeks straight definitely made it feel like it wasn't work, even though we were always moving and always trying to make the record better. We'd walk to the park and play basketball once it got a bit warmer. Wednesdays were Dave & Buster's day, so we'd track some shit, then go grab a Mountain O' Nachos.
On the flip side of all this amazing stuff was the low of 2017, which points less to a specific happening and more generally to the Trump administration. It's been tough watching each passing day yield a new sickening action, There's a lot of marginalized people that have more reason to be troubled by it than I do, and I try to keep that in mind. Whether it's the energizing of white supremacists or specific policy changes, he is constantly making decisions contrary to my beliefs and my common sense. I have a feeling that the positives of the next few years will be a bit hazed by his bullshit, but also hope that some sort of change can be prompted from it all."
Bad Suns"Off the top of my head, a high has been that we sold out two nights at the Fonda in our hometown of Los Angeles, and that was pretty sweet. We all live together and moved into a house together, so that's a high, too.
A low... maybe Inauguration Day? Maybe all these natural disasters that are seemingly a direct result of global warming?"
(Sandy) Alex G"I had to move out of my house recently in the middle of summer, which was a low. I've also been having some writer's block. I got to spend some time with my family before this; we went to the beach, which was a high. And I got to put out my record this year in May, which feels great."
Jessica Hernandez and The Deltas"I'm pregnant, and I'm about to have a baby, so that's definitely the high. Lows... I think with the pregnancy, some crazy things happen on the industry side, which were a bummer. But I'm persisting, and I'm on tour five months pregnant and trying to be a good example for my daughter when she comes out. Like, 'My mom's a badass, she fucking toured five months while pregnant.' The lows are always more personal. I have some nervousness about taking some time off."
Kevin Devine"I have an 18-month-old daughter, and that's kind of a consistent and replenishing high. She's the best. She's also learning to be a person, which involves her talking back and saying, 'I don't want it,' which is good for a kid and especially for, at least right now, a femme-identifying kid; 'no' is not a bad thing early. Music has been really good this year. A lot of touring, which has been great. And a lot of great stuff about to happen.
I think the shared communal low is the scary socio-political climate. But even in that, there's a high, which is that you're watching this left grow for what feels like the first time since the '60s, an actual, vocal, motivated, mobilized, collectivized left. We're reassessing things that were off the table, like socialism, Marxism, and street movement. The shared nightmare that we're pushing back against is definitely the low."
Now, Now"For this time, I can't think of a low. There's not a moment where I was like, 'Oh, that's a low.' The stress of how releasing a new song after many years was going to go—I guess that's kind of the only low. I felt confident in it, even in my stress of 'what's going to happen.' At my core, it was still like, 'This is going to be good. This is going to feel good, I'm going to feel very fulfilled from this.'
The high is playing shows again and people screaming the songs back to us, which has never happened. This whole time is just a high. Everything all around has just been good. It's an amazing new chapter."
PUP "A low would be seeing what ya'll went through from your political situation—we're from Canada. But we're rooting for you. A high is having the privilege to do stuff like this. I feel pretty lucky that the band gets to do stuff like fly here today. It's our life and job, and I'm really thankful for that. We've been writing new music, finishing up shows here and on the West Coast, and it's been nice. It's nice that people have responded to our music and will have us around at these fun events where people look cooler than we do. There's also a lot of good music coming out."